*this post is a review post, I was sent an item to review, but opinions are my own*
If you follow me on social media you will know that I have been VERY excited about the fact that I have got myself a new phone and that I have finally wandered into the world of Macbook, because my trusty old laptop has died it's final death.
This is exciting, I love getting new gadgets, but something that needs to be considered when you do get a new gadget is making sure they don't get broken or damaged, you want to protect and look after them. So, you may want to invest in a case or protective skin for your new device to make sure it's kept as safe as possible from bashes and dents.
CaseApp make some great cases and skins to fit most phones and devices so you can pretty much go wild and customize a case to suit your personality and what you want. Their site is very easy to use and you can use your own images or create something using their features and tools.
I came up with something that anyone who knows me would say is totally perfect for me, and that makes me smile every time I look at it. It fits my phone perfectly and gives me a sense of security knowing it's helping to protect it too.
So what did I create?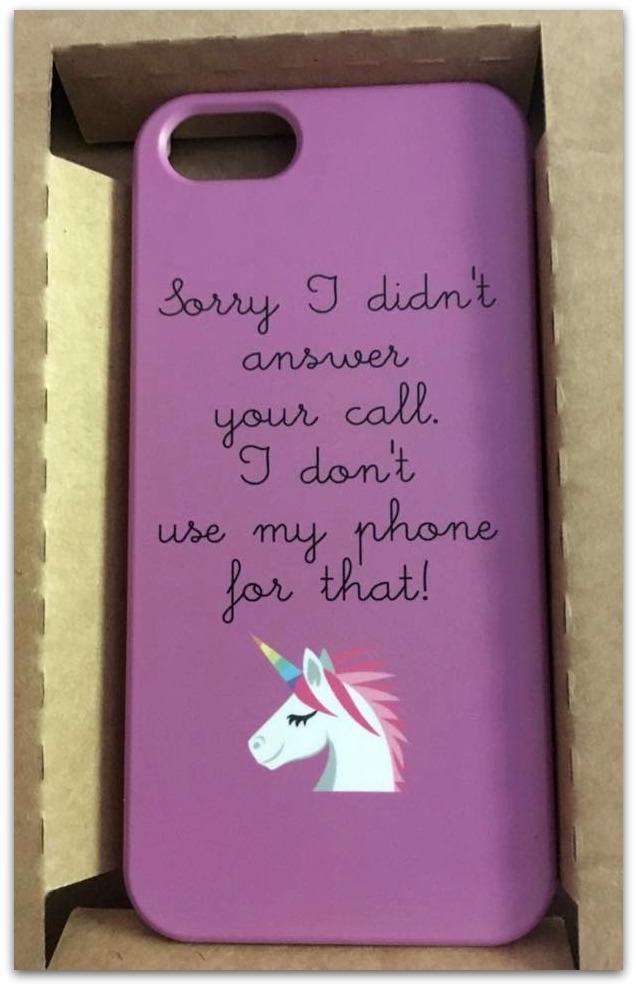 I love unicorns and I also find it hard to talk on the phone. Message me, chat to me on social media, send me an e-mail? I am your woman, but I don't like talking on your phone.
So this came out just how I wanted it, and it's perfect.
So if you are looking for a new phone case then you really need to check out what you could create to fit your phone, or iPad or device.
I have some good news though. Use this code CATSKIDSCHAOS20 to get a discount on a phone case, but you could also be in with a chance to win a voucher to design your own case with our blog and CaseApp.
To enter this giveaway all you need to do is tell us in the comment section what you would put on your perfect phone case if you could design it? Would it be a picture, a favourite image of somewhere, or something quirky like mine?
Then click on the Rafflecopter link to complete your entry.
Winner will be chosen by Rafflecopter on 24th July!
So get thinking about what you would create and good luck!
Terms & Conditions
Over 18 entrants only
No cash prize alternative
No spam entries
Entrants must complete all requirements.
Winner will be contacted to arrange reciept of the voucher. Winner has 14 days to reply or a new winner will be chosen.
Please see our GDPR policy for privacy and data protection information.