*this is a partnership post, I have been kindly sent items to take part in this project to share about*
I am going to tell you a little secret about me, something that may surprise people who think they know me.
I am not that crafty, in that I can't really draw or paint, or sculpt, but I do like creative crafts and I love things that mean I can follow a pattern and come up with something made by me, that's unique but also tried and tested. I happen to love and be quite good at patchwork or quilting, but it's not something I have done in a while, although I did make both my children a quilt for their cots, when they were babies. It's something my mum taught me and it's very cathartic and satisfying as well as creative.
I am trying to get back into some old hobbies and past times so when Crafter's Companion asked me if I would like to take part in Project Linus, and create a quilt to donate, I thought it would be a great opportunity for me to get back into quilting and give something to a good cause too. The Quilt For Kindness campaign is such a lovely way to create something with love to give to someone.
Crafter's Companion is helping to spread the word about Project Linus UK by featuring a four-series long 'Quilt-along' within its magazine 'Sew Inspired'. Readers will be taught how to make a complete quilt throughout the year, inspiring and educating them in this traditional craft, then participants will be encouraged to donate their finished quilt to Project Linus UK. A Linus quilt is more symbolic than simply practical, they carry the message that someone cares.
So how does it work?
Once a volunteer has made a quilt they give it to their local coordinator (there are 130 around the country) who sews a label on the back and logs it in. Each coordinator give the quilt a number, records who gave it to them and which organisation or institution has received the quilt. In this way, when a letter of thanks is received from the recipient they know which volunteer they have to pass it onto. The quilts are then taken to the children's ward of hospitals, where they brighten up the clinical look of a hospital bed, women's refuge, hospice, foster homes, homeless families, and those disadvantaged in other ways where they give comfort and a sense of security.
This is a great project, one because it's creative and will help me to work on some old skills and learn some new ones and two because it is inspiring and because it's for a good cause, I will be encouraged to keep going and make sure I finish it.
I am now on leave for the summer, and am itching to get started, now I have some time on my hands, and I am going to take my project on holiday with me too, to enjoy whilst we are relaxing. I am also hoping to get my tweenager involved, she loves crafts and creating, so I think this will be a project we can both enjoy.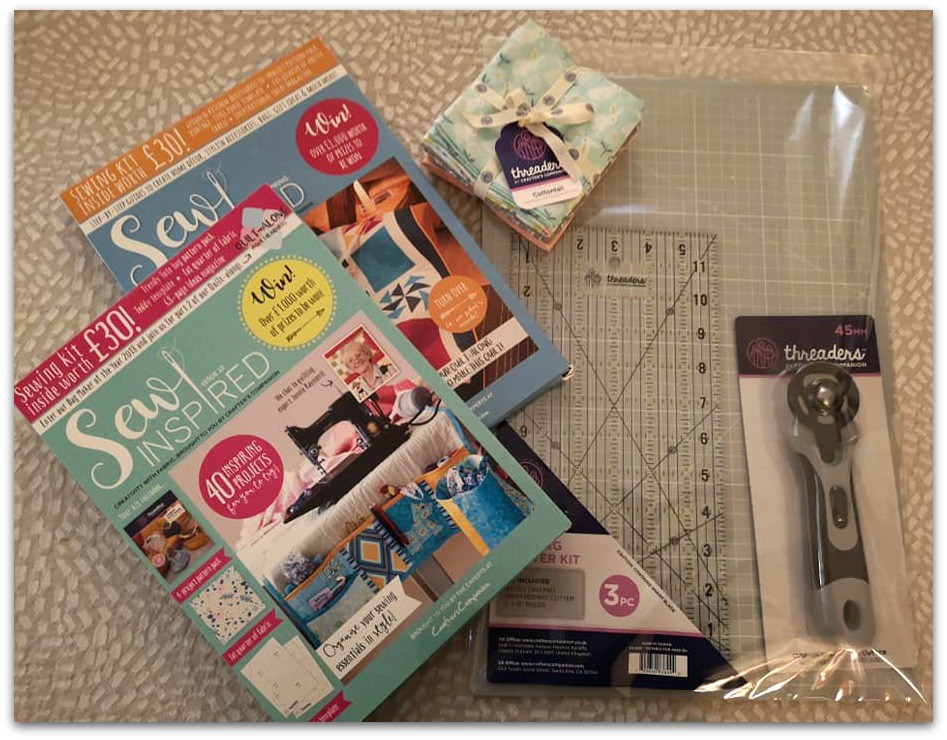 I have my kit all ready and some lovely materials to get started with, and I plan to update here and share on our blog and social media as I go and let you keep me accountable for progress and hopefully I can show you a beautiful quilt that will go to someone who can enjoy it. It's such a lovely project to get involved in, and you could take part to.
In fact, we are delighted to be able to help two people get started with taking part in Project Linus, and Quilt for Kindness by helping with a giveaway.
You will win one of these kits worth £34.99 to get you started, and help you get ready to make your quilt.
The winner will be chosen by Rafflecopter and in order to enter, you need to simply comment on the blog here on if you have ever made a quilt before or if this is a new hobby you would like to try, then follow the link to complete your entry. Two people will be chosen on 11th August 2018
So why not enter and keep an eye for my updates on how I am doing with my own quilting adventure.
Terms & Conditions:
There are two items to giveaway. Each person will receive one full starter kit. Sewing materials not included.
No cash prize alternatives
Winners must be over 18.
UK entrants only
Winners must complete all entries and spam entries will be deleted.
Please see our GDPR policy for privacy and data collection information.