This summer my Tweenager is off to her first camp and festival. She and her dad are spending five days away, camping and enjoying a fun time.
She is already getting ready, and planning to have a great time, and because she is super organised, she has her list of things she is going to take, we have our tent and sleeping bags ready and it's all very exciting.
She has been having great fun experimenting with some temporary Tattoos she plans to wear during her time away, and getting creative with some FabLab Festival Face Tattoos.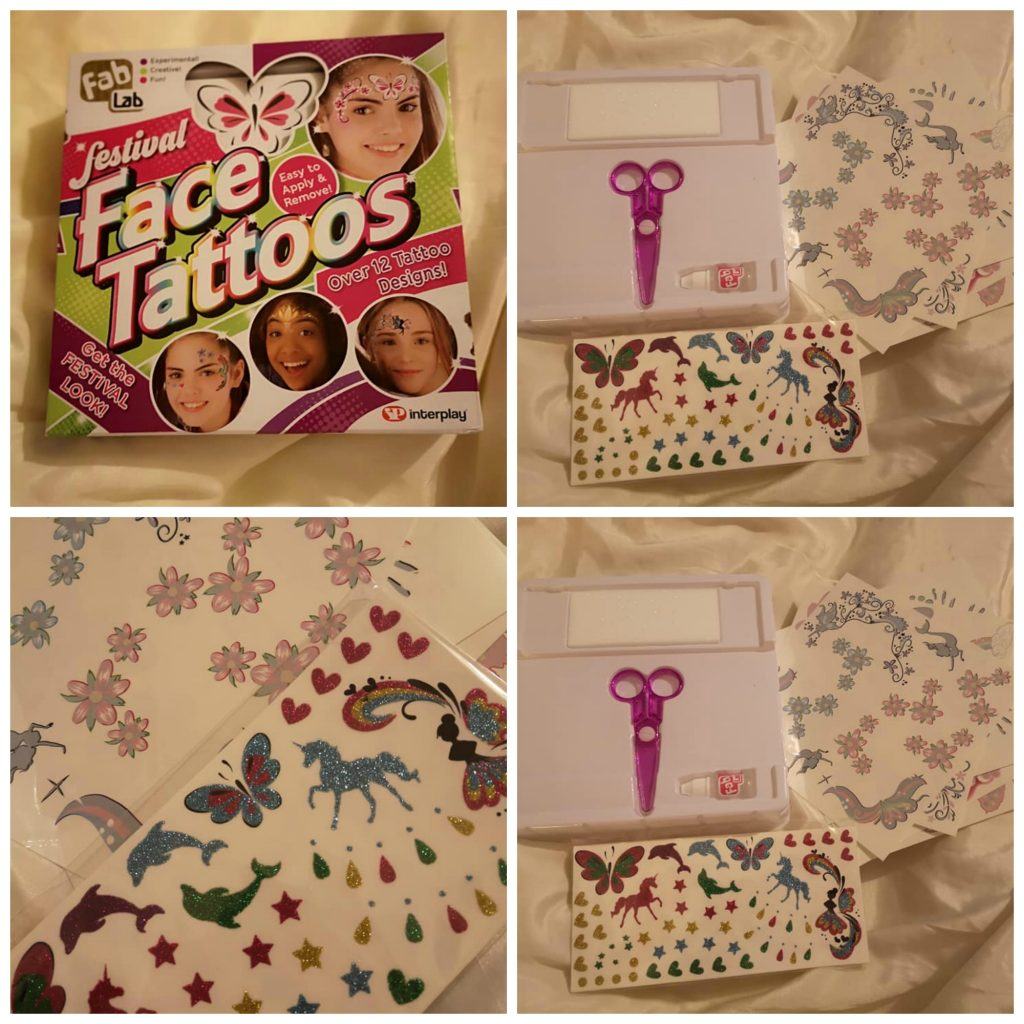 Apply gorgeously sparkling and elegantly designed glitter and matt tattoos with ease. Every pack comes with over 12 intricate and utterly glamorous or fun and cute designs that can be customised for an individual look! Vibrantly coloured, you can find one to match your outfit! And they are easy to remove again too, so you can go from glam to natural as you please.
Mums will love these too. With such easy application and removal afterwards, giving kids that can't sit still a colourful and fun look, is as easy as it can be!
FabLab Festival Face Tattoos – £12.99rrp
Get the latest festival look with this new FabLab set.
Contains over 12 gorgeous temporary tattoo designs especially formulated to be easy to apply and easy to remove with the baby oil provided.
Includes glitter tattoos to add sparkle and to customise your look!
Great fun to do and perfect for festivals, parties and sleepovers!
Contains no harmful chemicals.
Fully tested and 100% non-toxic
Available from Amazon, and perfect the summer holidays!
They are so cool, I am tempted to try some myself, sadly she won't let me, she says I am too old! Boring!
But what we can tell you is that we have one box of these fab tattoos to give away, which is good news…
All you need to do is tell us either who these would be for, or where you will be wearing them this summer, in the comment section, then head to enter via the link.
A winner will be chosen on the 19th August. Good luck!
FabLab Festival Face Tattoo giveaway

Terms & Conditions
One winner will be chosen and will be contacted by e mail to organise receipt of their prize.
UK and over 16 entrants only
Winner has 21 days to respond, then a new winner will be chosen
No spam entries and entrants must complete all requirements
NO cash prize alternatives
Ends 19/08/18
Please see our GDPR and Privacy information for data storage policies