*This is a collaborative post, but all opinions and images are our own*
We are a family who loves technology and using what it has to offer, for learning, for having fun, and also for making life function. Our children have access to some amazing technology that we didn't have, and the advantages and skills that new devices and technology brings to them, and us is amazing. I grew up watching Star Trek (the old, cheesy ones, that seem so weird and silly now, but we loved them then, yes I AM old) and they used devices and technology that seemed at the time to be very futuristic but if you look at the tablet devices and phones we have now, you can see how those have actually started to become "real life". As I use my phone to order a grocery shop, an app on my tablet device to check my bank statement and arrange to get a new bank card, watch my children learn a language using my laptop, and make a plan to chat to someone over video call on my pc later today, I realise how much technology does for us.
So, when we were invited to learn about the new Microsoft Surface Pro, of course we were very excited.
The Surface Pro is a powerful tablet which turns into a touch screen laptop, designed for the needs of families.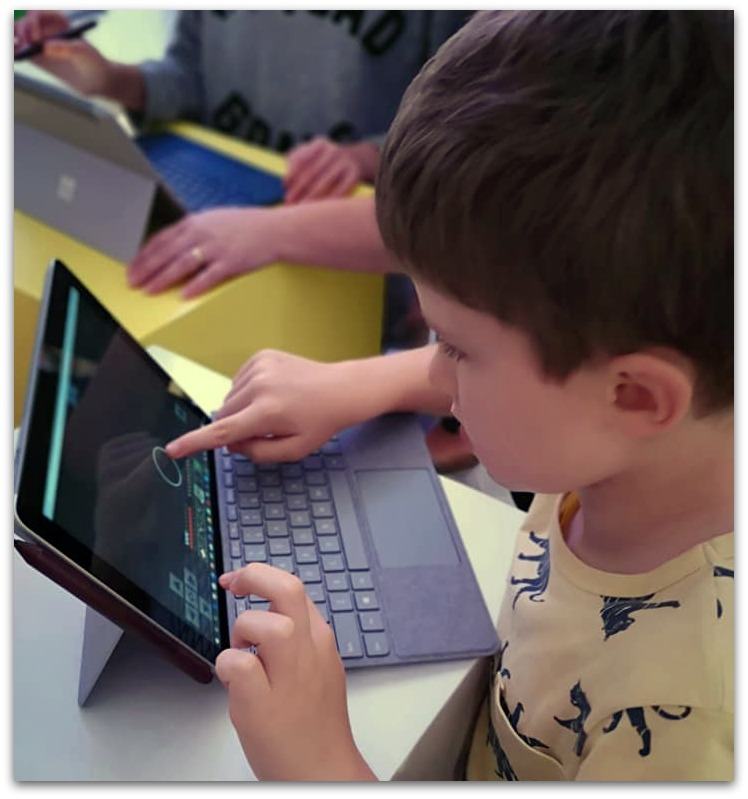 Whilst the small boy got to grips with the Surface Pro I spent time listening to a panel talking about it, and discussing how the Surface Pro works and what benefits it can bring to families using it.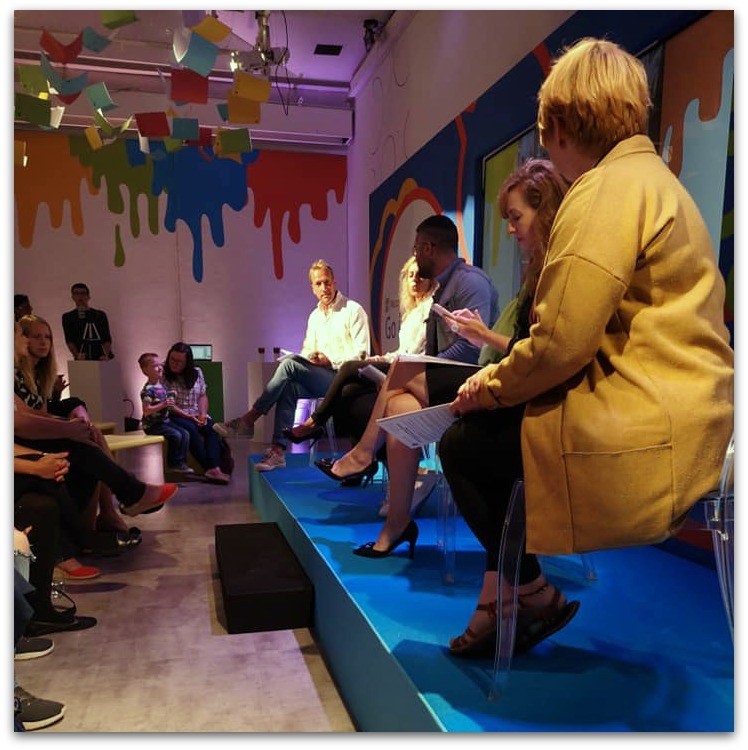 It was really interesting to hear the panel talk about technology, and how using a device like the Surface Pro can be beneficial to children and families. I know for me, there is always a nagging worry that somehow, by letting my kids use screens and devices, that I am not parenting them, or that it's bad for them. Ben Fogle led the discussion and it was helpful to hear people who work in technology and education talk about using the Surface Pro safely, and how it can be used to help kids learn, and develop skills. Hearing about how Microsoft has worked with parents and experts to provide safe software, and apps that can help parents monitor what their kids are doing on their devices and how much screen time they are having and what they can access was also very helpful. I came away feeling reassured as well as impressed.
The Surface Pro itself is also very impressive, and I am hard to impress!
It works both as a touch screen tablet, and is light, easy to use, works fast, with many many features that you expect from Microsoft (and their parental controls when compared to other similar devices and software providers are excellent) and the ability to use lots of popular and well known apps and programmes too. It can be used with a special pen that works the screen or your fingers and I was impressed by how smoothly and easily it functions. It comes in a smaller size, similar to most tablet device sizes and a larger size, the size of a laptop screen.
The clever bit for me is the fact that you can convert both tablets to a laptop. Both will work via bluetooth and connect to a keyboard, which then turns them into a functioning laptop. For me this is a huge win, because, lets be honest, tablets and laptops are not cheap, if you are looking at those that do everything you need, so to be able to have a tablet that can then be converted to a laptop with the functionality of both, that can be used for all family needs, is a winner. The keyboard can be attached and detaches easily and also acts as a case, for the device, making it portable too. It makes sense to me budget wise to have something that can function as both a laptop and a tablet, if you are looking to invest in something for your families needs.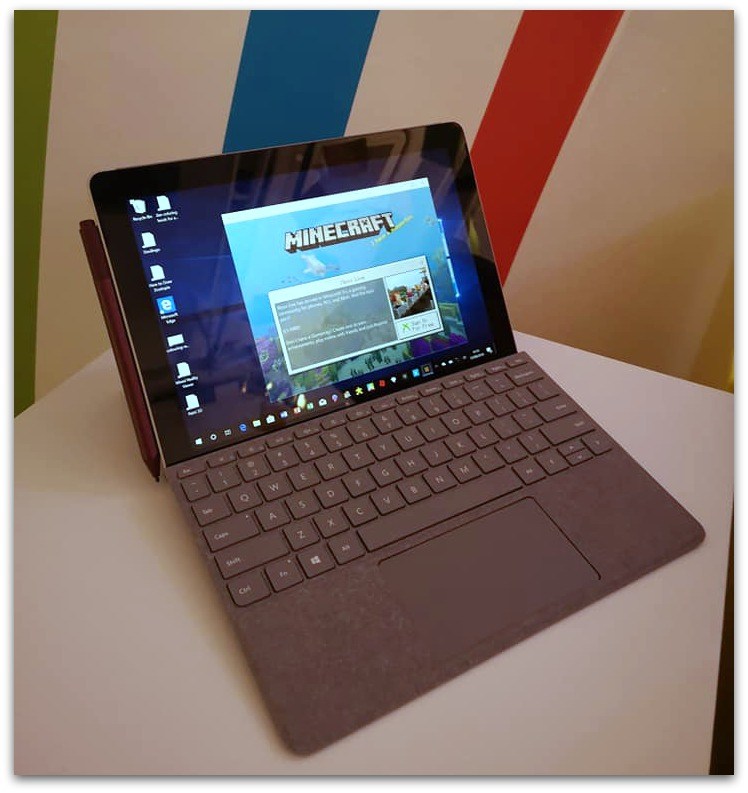 This really is a family friendly, all purpose device, and whilst being kid friendly, with all the software you need for them to play, do homework and learn on, it also could function as a work or family laptop too. It's charge time, and battery life are also very impressive.
The small boy was also very impressed and had a great time learning to use some apps, and software, and getting to grips with how the Surface Pro works (and of course, because he is a child of the technology era, he had things sussed faster than his mum) and tried out some new games and some old familiar ones.
We came away having learned a lot, very impressed and both wanting one for Christmas, now we just have to speak to Santa and ask nicely! 😉