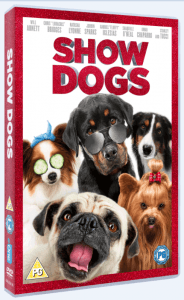 This autumn, there is a new adventure to enjoy, and it's a pawsome tail (see what I did there?) about Max a dog on a mission…
Follow the rebel dog with a cause, Max , who reluctantly teams up with a human FBI agent Frank to recover a stolen baby panda. A hot tip leads Max and Frank to Las Vegas and unfamiliar territory; the world's most exclusive dog show. To stop Max barking up the wrong tree, he must go undercover as a contestant to get the lowdown from his fellow canines. Along the way the street-wise Rottweiler and his hapless human must learn to work together; with help from their new friends, the crime-fighting duo, hot on the smugglers tails, must sniff out another kidnapping plot to save the day.
This is a fun and tail wagging adventure that the whole family can enjoy and we have loved watching it. It's a great movie to watch, and even though we are mainly cat fans in this house, we do love a fun dogs win the day movie too.
Show Dogs is now available on Blu-rayTM and DVD from 1st October, courtesy of Entertainment One.
The good news is that we have TWO copies of the DVD to giveaway to our readers too.
All you need to do is leave us a comment on the blog telling us what your favourite breed of dog is and why, and then click onto the link to enter the giveaway.
Much easier than trying to go undercover and track down a baby panda…
Good luck!
Giveaway ends on 25th October 2018
Terms and Conditions
No cash prize or alternative prize
UK entrants only
Entrants must complete all giveaway requirements
Winners will be notified by e mail and have 28 days to respond.
Please see our GDPR and Privacy information for details on how we store data and use it!