*this is a review post. We were sent products to try, but all opinions are our own*
I don't have a huge sweet tooth, but I do love chocolatey treats and frankly, chocolate is life. Whilst I do enjoy indulging in the odd treat every now and then (ok, may more every than now) I am also trying to look after myself, and also find nice treats that the kids can enjoy too.
Finding something that tastes nice, that gives me that chocolate hit, and that I can hand to my kids and feel good that they are getting a treat but that's not too loaded with sugar and fats, is a hard ask.
But CHOC Chick might just fit the bill. Little bags of chocolatey goodness, but with less of the "what am I eating??" than reaching for a bar of chocolate off the shelf in the shop…
Made with cacao, which is known as a superfood, and something that is good for us, with a range of tasty snacks, with wholesome ingredients.
The creator of CHOC Chick says
"I love chocolate! It's always been a big part of my life, and some of my earliest childhood memories are of making and eating chocolate as a child in South America.
I resolved to set up CHOC Chick to promote the pure goodness of chocolate in its raw state and bring the delights and benefits of raw chocolate to everyone."
Their range of snacks, made with cacao and other good ingredients are just perfect for a sweat treat but also that little bit better for me. Made with naturally raw, ethically sourced cacao, with a choice of quinoa pops, plantain bites or cacao nibbles are great slipping into your bag, or even for popping in a snack box or lunchbox. They would make good travel snacks too.
They are not too sweet, but are delicious and moreish. My kids were a little skeptical at first, but after they had tried them they declared their approval. They are chocolately, but not too sweet, and crunchy and there is just enough in a packet to make them a good snack.
For me, they are the perfect treat snack, knowing that I am eating something that is made well, sourced well and also from quality ingredients, that tastes good, is a winner.
My favourite are the plantain bites, followed by the cacao nibs, the kids liked the quinoa bites. The husband, who has a very sweet tooth, enjoyed them all, and they are definitely a snack that I will happily be adding to my list of healthier and better for us treat list. They are reasonably priced and available in WholeFoods, Holland & Barrett, and other good food stores so you can easily get hold of them too, to give them a try! They are gluten and dairy free to which makes them great for my allergy boys too!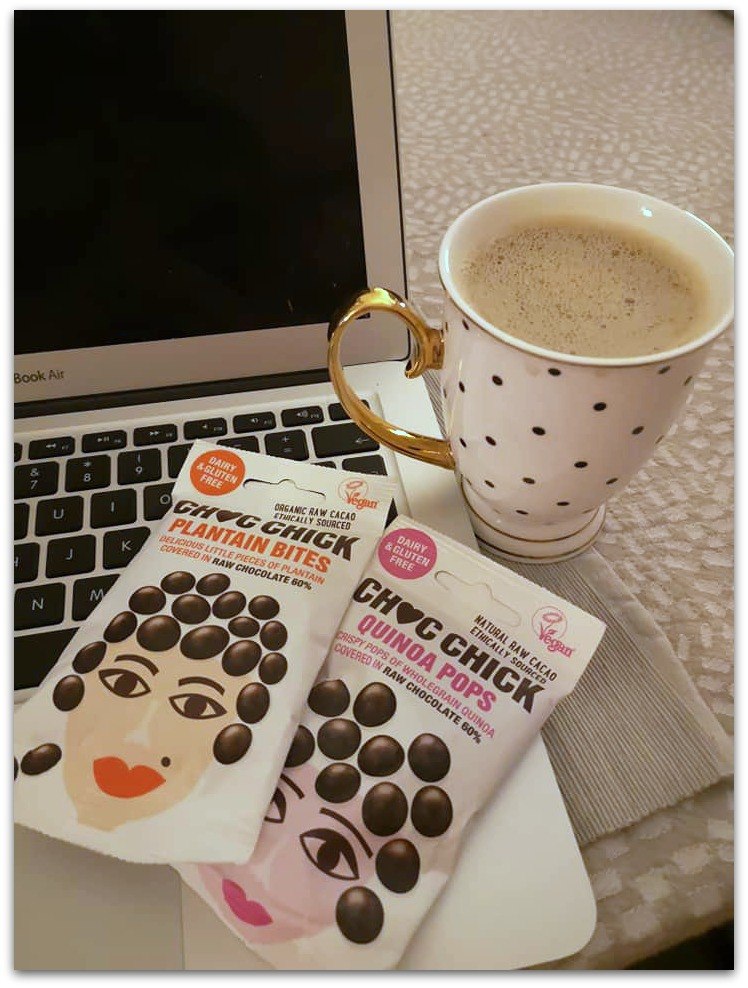 I had to hide these packets so the kids didn't find them, so I could fully try them and appreciate them. Not a bad snack to enjoy with my coffee, whilst I work.