*this is a review post. We were kindly sent an item to review and share about. All opinions are our own*
If you have cats, you will know that they like to sleep in all sorts of places and spaces, and sometimes where they shouldn't. My cats like to sleep in clean laundry piles, under my duvet (usually when I have just put fresh bedding on our bed) in the children's wardrobes (Jasper particularly likes to sleep in the dirty laundry basked in there, strange cat that he is) and Layla prefers to sleep on the shelf in my wardrobe where I keep all my nice, expensive, dry clean only sweaters and jumpers. Cats don't follow the rules and they will do what they want and sleep where they want!
Recently Layla has taken to feeling the cold, and as a result she likes to sleep pretty much on top of me, at night, and in the daytime when I am home she wants to be on my lap or near me. She's old and likes her warmth and cuddles.
For Christmas this year, we have something fun for her, when I am not about and she needs a cuddle or somewhere to curl up and be warm.
You are either going to want to hum the Tune to Baby Shark round about now, or the theme from Jaws, depending on what you prefer…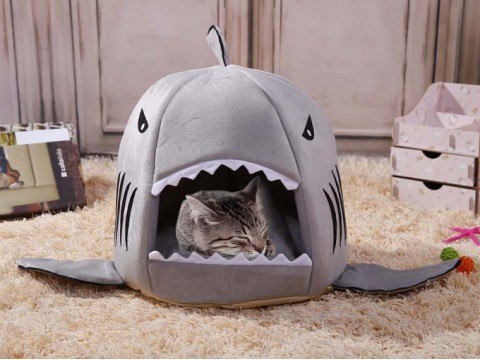 So are you humming Baby Shark or Jaws?
Seriously? Why do cats get all the fun? Why can't I sleep in a soft cosy bed, shaped like a shark? Even my kids want one.
I love fun and quirky stuff, and picking out gifts that are practical, or useful, but that are also fun and will make their recipient smile, is something I like to do, if I can. I am now slowly starting to do my Christmas shopping and am having a lot of fun browsing over at Coolgift for friends and family.
If like me you are shopping and you are looking for last minute little gifts, or something different, and fun, or interesting, then their site is not only a lot fun to browse but they also have some great items to suit all sorts of budgets from stocking filler to pet ideas, or bigger and more practical items then you may find what you are looking for there. They are handy for general shopping and have ranges to suit whether you are looking for lifestyle items, homewares and practical, or toys and games.
We have been very impressed with their customer service and delivery speed too. I can safely say that Layla is crossed off my gift list and we think she will love it. Jasper will be getting one too! My kids say that the shark bed will make them look scary but cosy!
We have some good news if you have a cat, or you are looking for a fun gift for your cat, or for someone who has a cat who might appreciate a fun, warm, cosy bed.
We have one brand new Shark bed to giveaway to our readers. You know the cat in your life wants one! This would probably also be suitable for a small dog, too, but don't tell the cats I said that! 😉
To be in with a chance of winning one, all you have to do is tell us where your pet likes to sleep? Is your cat like ours and sleeps in strange places they shouldn't? Do you find cat hair on your best cashmere jumper and know your kitty has been napping in your cupboard?
Share in the comments then click on the link to complete your entry.
Good Luck. Are you humming Baby Shark or Jaws yet?
a Rafflecopter giveaway

Terms & Conditions:
One winner will be chosen at random via Rafflecopter.
Entrants must complete all entry requirements. Spam entries will be deleted.
UK residents and over 16 entrants only.
No cash prize alternative.
The winner will have 21 days to reply to notification via e-mail of win, then a new winner will be chosen.
Please see our privacy and GDPR information on the blog to learn how we store and share data.
Closes 10/12/18