*the winners for this giveaway have been contacted and the prizes sent. Unfortunately we had some issues with someone spamming and had to work with Gleam to find the correct entries*
It's that time of the year again. Christmas is coming, and we and everyone else is getting organised, planning gift shopping, food shopping, spending time with family and friends. The festivities haven't started yet, but they are coming and we are trying to get organised to enjoy them.
One thing we do every year is an advent calendar for the children (and ahem, the adults, we don't like to miss out!) and whilst we do like to do things traditionally, I am afraid when it comes to advent calendars we do opt for the chocolate filled ones. A little bit of chocolate at Christmas doesn't do anyone any harm, I don't think.
Because my bigger boy and smaller boy are allergic to cows milk, it's a bit harder to find nice advent calendars for them, that are dairy free and also taste good. Pretty packaging doesn't always mean nice contents, we have learned.
Moo Free make an advent calendar, that is not only dairy free but soya free too, which is great, because a lot of people with a cows milk allergy can also struggle with a soya allergy, and a lot of products contain soya.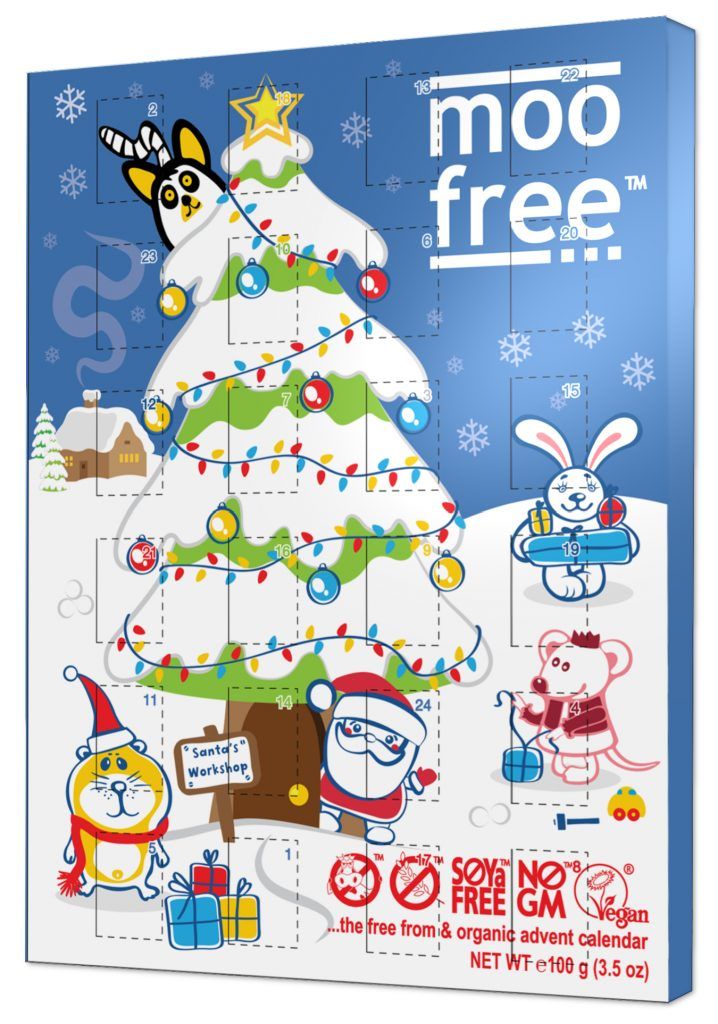 Organic, vegan, soya free, and perfect for Christmas for those of us with dairy or soya allergies or for those who are vegan.
They are reasonably priced, and available in many shops and online, so you can get your hands on them, too.
I may have ours ready to go, hidden so the kids (and the husband) can't find them until the 1st of December.
One thing ticked off my to do list. I feel like I am slowly getting organised.
We are delighted to share that we have three Moo Free Advent Calendars to giveaway.
Three winners will win a calendar to share or enjoy themselves just in time for December to start.
All you need to do to be in with a chance to win is to comment on this post saying who the advent calendar is for, and why, and then click on the link to complete your entry.
Three winners will be chosen when the giveaway closes on November 27th and the calendars will be posted asap to arrive in time.
Win a Moo Free Advent Calendar

Good luck!
Terms & Conditions
No cash prize alternative offered
Spam entries will be deleted
Over 13 years old entrants only
Uk entrants only
All entry requirements must be completed
Winners will be contacted via e mail. Please see our data and GDPR policy for information on privacy and data storage