*This is a book review, I was kindly asked to review, but all opinions are my own*
It's such an honour to be able to review books written by other people, one day I hope to be able to write my own book, but I thoroughly enjoy reading and sharing about the work of others and this lovely book A Gift from Woolworths, by Elaine Everest, is a book that I am delighted to be reviewing.
The only problem I have with book reviews is telling you about them, without giving the story away entirely, and spoiling it. It's more a taster so you can go and read and enjoy yourself. I will do my best.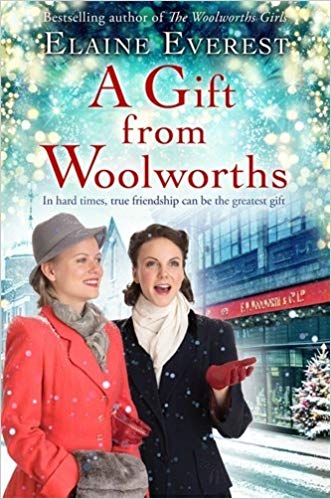 Will the war be over by Christmas?
As the war moves into 1945 the lives of the women of Woolworths continue. When store manager, Betty Billington, announces she is expecting Douglas's baby her future life is about to change more than she expects.
Freda has fallen in love with the handsome Scottish engineer but will it end happily?
Maisie loves being a mother and also caring for her two nieces although she still has her own dreams. When her brother appears on the scene he brings unexpected danger to the family.
Meanwhile Sarah dreams of her husband's return and a cottage with roses around the door but Woolworths beckons.
Will our girls sail into times of peace, or will they experience more heartache and sorrow? With a wedding on the horizon, surely only happiness lies ahead – or does it?
I have a bit of a thing for war time stories, and reading about the lives of people who lived through the war, and romance always appeals. World War 2 was a very difficult and horribly traumatic time for so many, but in all of what went on, the lives of ordinary people, the women left behind to manage, and get on with life, has to be remembered, and Elaine Everest does this beautifully in this heartwarming story about friendship, life challenges and choices.
She's captured the feel of the time, and the lives of the women and people, facing the problems and trials of normal life, whilst living in the shadow of the war that was battering the world. I have to admit that I started reading this at lunchtime one day, and pretty much finished it all in one sitting, late into that evening. It's an easy read, but that isn't a bad thing, even if it does distract you from cooking dinner or replying to e mails! For me, living today, it's hard to imagine the lives of the women and men of that time, but the way the book is written captures some of that so we can be part of a little bit of it and get involved in their stories.
This is a lovely book, that is perfect if you like a bit of history, getting absorbed in the lives of ordinary people and the lives they face and live, and whilst I won't tell you if you get a happy ending or not, you won't want to put it down until you know.
A Gift from Woolworths is available to buy and enjoy here
Well worth a read. I hadn't read any of the other books that are written as part of the series, and you don't have to, to be able to enjoy any one of the books Elaine has written, but I will definitely be reading the other books and thoroughly enjoyed this one. It's well worth a read, and hopefully I haven't given too much away!
You can also read what lots of lovely other bloggers have had to say about this book too…