*This is a collaborative giveaway post*
This Christmas we are all about doing things differently. Less stuff that clutters up the house, that we either didn't need or want and more thoughtful, planned for gifts and to be honest, we are trying to go for practical and even things that can be used straight away or experiences. I am trying to come up with fun ideas, that shows thought and love rather than just buying more things.
For the husband and I, spending time together is really important for our relationship. We don't have lots of babysitting available to us, so we don't go out as often as we would like, but we do try and make date nights or at least a night at home where we eat together, without the kids in tow, and spend some time together, a priority, and I know this is something other couples do, too, when going out isn't always easy to plan for.
For me, the gift of a night in and some lovely treats, to spoil us, is something that we really appreciate and the gift of some quality items that we can enjoy as a treat is something we really appreciate.
I am a big fan of gift hampers particularly around Christmas, because they can be filled with treats and things someone likes and will enjoy and you are giving a gift that isn't going to be wasted. Hampers can be a really luxurious way of giving a gift to someone.
The Hamper Lounge
have some fantastic hampers to suit all tastes and likes, and you can choose one that's pamper and bath and body based, or one that is full of gourmet treats and wine and other lovely things. They have something to suit him, her, and couples. Their hampers are beautifully presented and you can literally make them a gift that works for anyone you have in mind. You can choose something that is perfect for the person or persons you want to spoil, or indulge for yourself for a really special treat. You can also create your own bespoke hamper too, if you want to create something to suit an indivdual or for a special occasion. All hampers can be sent for next day delivery within the UK which means you can make sure your gift arrives in good time too.
You can't really go wrong with a hamper full of delightful goodies, I don't think.
With that in mind, we have a discount code for our readers using

TMHOCAB10 will get you 10% off a purchase on their site.
We also have a really special treat for our readers. We have partnered with The Hamper Lounge to giveaway one gorgeous hamper. One lucky person will win a
Cosy Night In
a hamper worth £95.99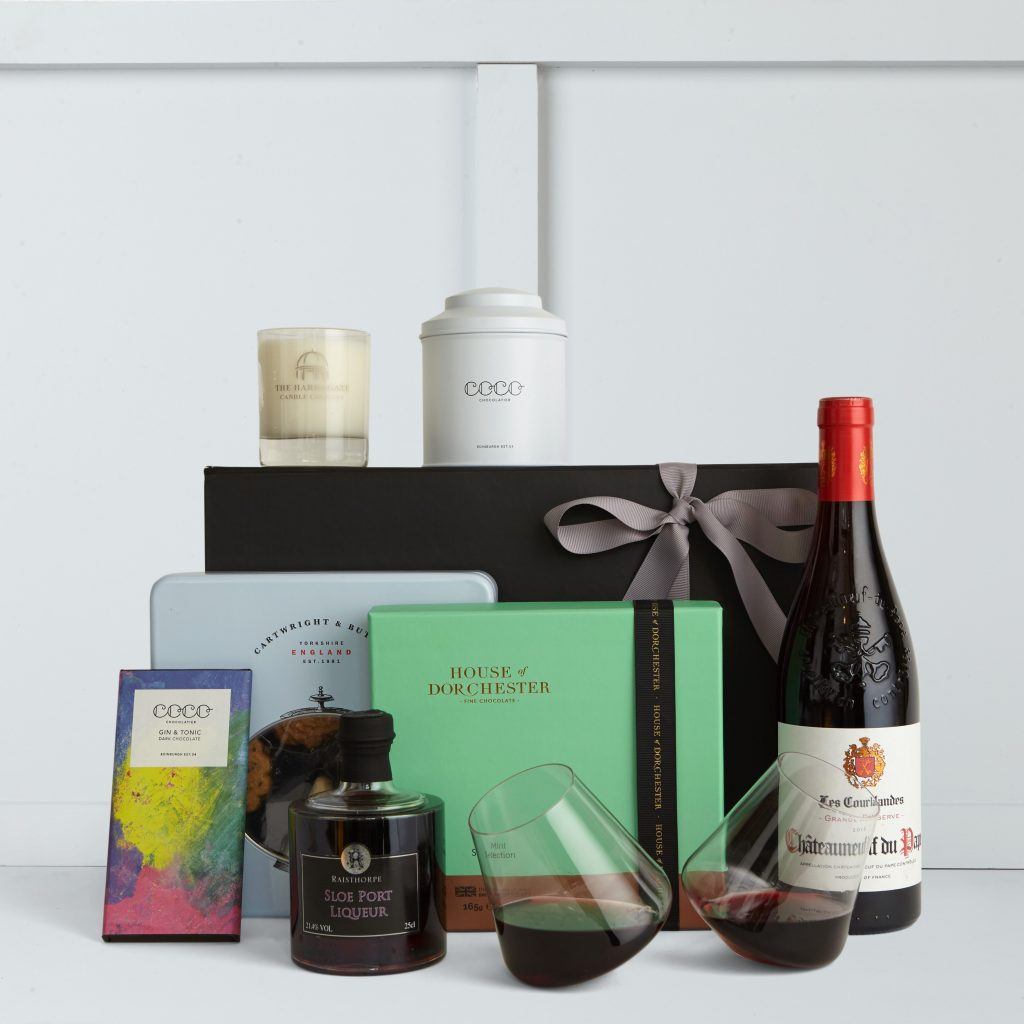 This lovely hamper for a perfect night in of treats and indulgence contains:
Plain Drinking Chocolate by Coco Chocolatier
Gin & Tonic Dark Chocolate Bar by Coco Chocolatier
Mint Selection by House of Dorchester
Biscuit Assortment Tin by Cartwright & Butler
Les Courlandes Chateauneuf du Pape 75cl bottle
Sloe Port Liqueur by Raisthorpe Manor Fine Foods
Scented Candle 20cl by The Harrogate Candle Company (choose your scent)
One winner will receive this fantastic treat in time for Christmas and will be chosen on the 10th December.
In order to enter, you simply have to comment sharing one item you think is an essential in a gift hamper, and then click on the link to complete your entry.
Win a Hamper Lounge Cosy Night in Hamper RRP £95.99

Terms & Conditions:
UK entrants only
Over 18 years entry only
No cash alternative available
All entry requirments must be completed
Spam entries will be deleted
Winner will be contacted via e mail and has 21 days to respond then a new winner will be chosen
Please see our data protection and GDPR policy for information storage