*This is a review post. We were kindly treated to a visit by GoBoat in exchange for a review. All opinions are our own*
GoBoat London invited us to spend some time enjoying part of London from a different point of view.
As a family, we are always looking for fun things to do, especially in the holidays. We like getting out and about and doing things that are a bit different. Now the kids are a little older, we can be adventurous in new ways and when we find something we have loved, we like to share about it.
The mission of GoBoat London is to make the canal waters accessible to all, in a sociable and sustainable manner.
GoBoats have been designed to support a sociable experience. Our boats allow guests to comfortably face each other, whilst enjoying food and drink on a large picnic table in the middle of the boat. Hiring a GoBoat is a fantastic way to spend time with friends, family and colleagues whilst watching London slowly drift by.
From our base location in Merchant Square, GoBoats have access to a stunning section of the London canal network. Guests will leave Merchant Square and sail up to Little Venice, along the Regent's canal up to Camden Lock. Please see our map below for more information on the route you can take.
We have never done a boat ride as a family, like this and the husband (who was volunteered to be the boat master) has never manned a boat. It sounded like a really fun thing to do, so we set off, ready to enjoy a picnic whilst enjoying the sights of Regents Canal.
The weather sort of behaved for us. It hailed before we arrived at the boat moorings, and it rained as we got back from our ride, but during our time on the canal, it was clear and cold.
The staff at GoBoat are lovely, helpful, and practical. The boat, how to manage it, how to navigate the canal, and what to do and what NOT to do, is all explained and you are set up with your boat. You can take a picnic meal, and you can take alcohol (although the person controlling the boat needs to stay sober, a sensible thing) and you get a brief test drive lesson and off you go. You aren't really rowing your boat. They are light, sturdy, engine powered boats that go up the canal at about 4km per hour. This allows you to have a gentle passage along. We were booked on a two-hour tour, which allowed us to potter all the way from Merchants Square in Paddington, to Camden Lock and back.

Getting there, getting set up, setting off. Mum making kids pose for photos when all they REALLY want is lunch. Dad, in charge of a boat whilst eating sandwiches, multitasking at it's finest. 
The boat is pretty easy to steer and manage and if you follow the simple guidelines you are given, you should have a smooth and easy time. We had a brief clash with some rubbish in the water that got caught on the propeller of our boat, but it was easy to remove and on we went.
We were also hunting for Easter Eggs festooned along the canal side, which kept the kids busy enjoying the sights and looking out for them.
It really is a lovely experience. Once you have got to grips with the boat, and are confident in negotiating other boats, and the odd tunnel (which again, as long as you follow the rules, are not really too hard to manage) you can enjoy the views as you pass by parts of London that you know well. London Zoo, Primrose Hill, Regents Park, and up to Camden and the lock.
It's very peaceful, even though you are in the middle of a busy city. People wave hello from the canal banks and other boats, and we saw ducks and ducklings and took lots of photos.

London is one of my favorite cities and to spend some time enjoying it this way was a really lovely way to spend a few hours. The children thoroughly enjoyed themselves, and it was a treat and a bit of a novelty for them. The boat fits 8 people so we had a lot of space and life jackets are provided (the children have to wear them) and you can enjoy eating and taking in what's going on around you.
So if you are looking for something to do, why not give it a try. Grab your lunch, grab your captain's hat, and enjoy a gentle float down the canal.
This is a great activity to do as a family, or with friends to celebrate an event, or just if you fancy something different for a day out. We thoroughly enjoyed it, would definitely do it again and we highly recommend it.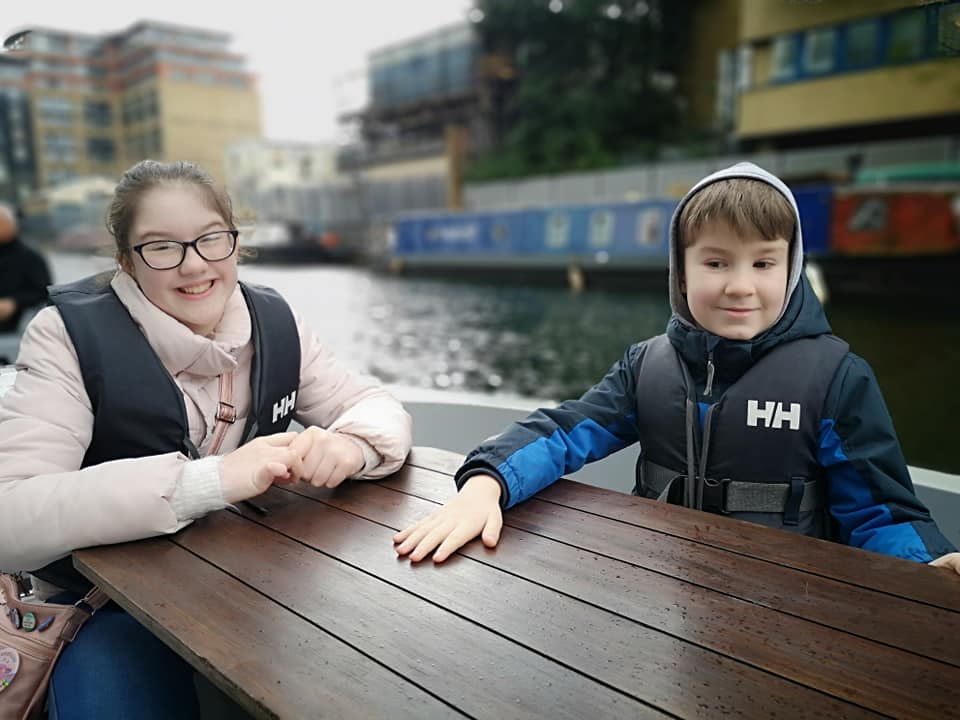 You can watch more of our GoBoat adventure here on our Instagram