*This is a review post. We were kindly sent items to review and share about. All opinions are our own*
My kids love making slime, playing with slime, and basically all things slime. I have to say, it's not entirely my favourite thing, but I will admit that it's fascinating to make, and play with and when done safely it can be a lot of fun, and it keeps my kids very peacefully and happily occupied for hours, so I really can't complain. Ooze Labs have some fantastic slime kits that are great for making slime experiments and we have had some seriously slimy fun, with them.
Slime is fun, but there is also some science behind it, and it's not just about sensory play and mess, although that is very much part of it.
Learning how ingredients work together to make slime and what causes slime to be the texture it is, and how it goes from several diferent ingredients to combine to make actual slime. It's science and the kids can learn in a fun and easy way, about chemical reactions and their results as well as having some creative fun.
Ooz Labs Chemistry Station is the perfect set up for this.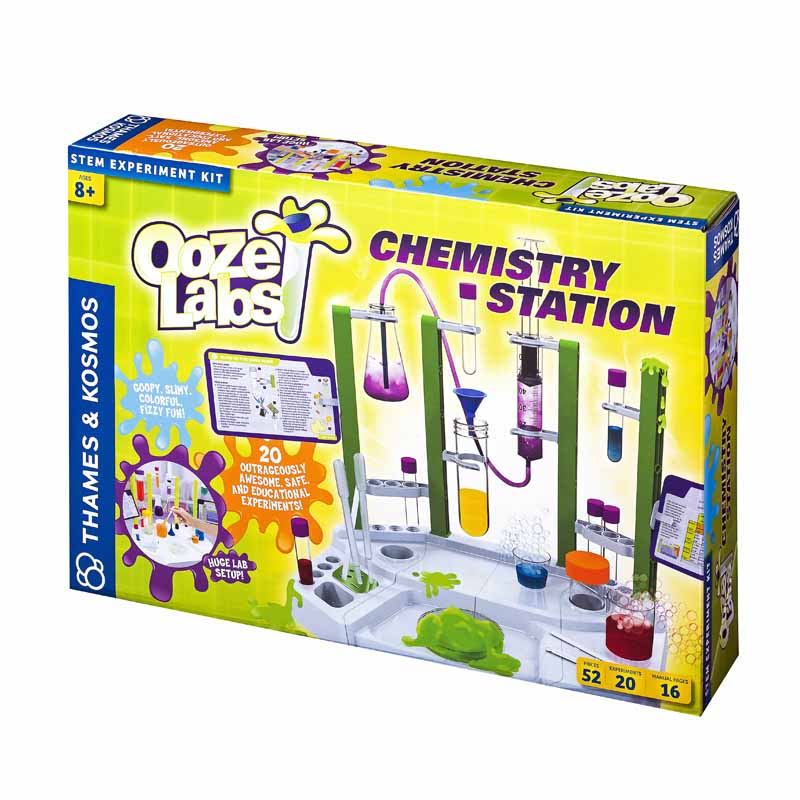 Grab your beakers and test tubes and step up to your special laboratory station for some exciting chemistry experiments. See how much fun chemistry can be as you do slimy, fizzy, colourful, and bubbly experiments. This cool laboratory setup has lots of different vessels and pieces of lab equipment so kids can play the role of chemist while doing real, safe experiments. All of the experiments use non-hazardous chemicals. This playful introduction to the basics of chemistry includes approximately 20 experiments. The experiments are presented on printed cards that can be clipped onto the lab station for easy reference. Experiments include glowing slime, colour-changing slime, fizzing reactions, oozing bubbles, rainbow in a test tube, chromatography, cabbage juice pH tests, solutions, filtering, crystals, fire extinguisher, and underwater volcano. The kit includes a large plastic chemistry station, experiment cards, various vessels in different sizes, syringe, measuring cup, pipette, spatula, tube, petri dish, funnel, non-hazardous chemicals for the experiments, and experiment manual.
This is a great kit. It does require a little bit of adult help, but not much, and to be honest, between the two of them, they had a lot of fun creating coloured slim and playing around and learning about mixing things to make the perfect slime.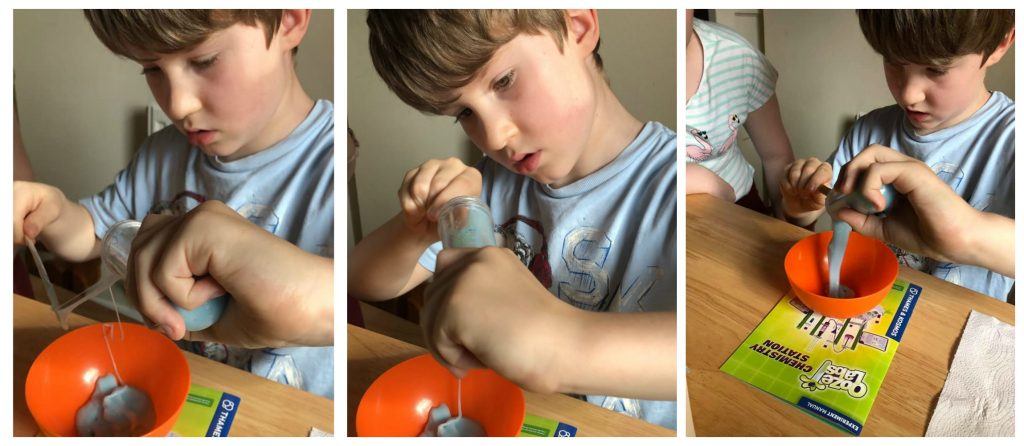 Lots of learning, lots of slime…
The kit comes with everything you need, and is easy to set up and has all the fun of a chemistry set with slimy results. It would make a great learning gift, or an educational resource for kids who love slime or want to learn how to make it. It can also be played with again and again, because you can get refills to create more slime.
The kids love it, because it's fun and they are allowed to make slime. I love it because though it's slime, and they use all my kitchen bowls to keep it in, it's educational and they are learning whilst having fun.
That's a win all round, I reckon?
*You can win two tubes of Ooze Labs slime. We have two to giveaway. Simply click on the link below to enter. Follow the instructions and be in with a chance to have some slime fun at home*