*This is a review post. We were kindly sent a DVD to review and share about*
We are BIG fans of How to Train Your Dragon here, and have faithfully read all the books and watched all the movies, ahem, more than once. So we were VERY excited when a new movie, continuing the story of Hiccup Horrendous Haddock the 3rd and his clever Dragon Toothless, came out.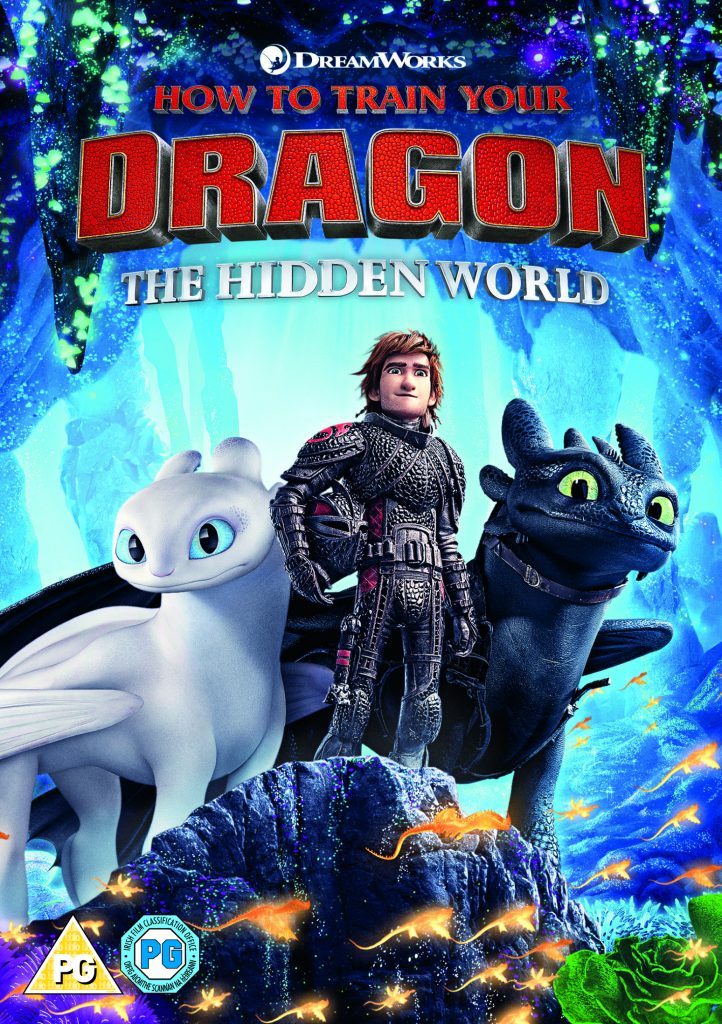 Nearly ten years after the first movie wowed audiences around the world, Hiccup and Toothless return to captivate fans with an adventure of a lifetime in DreamWorks Animation's HOW TO TRAINYOUR DRAGON: THE HIDDEN WORLD. The final quest from Dean DeBlois' (Lilo & Stich, How to Train Your Dragon trilogy) arrives on May 27, 2019 and on 4K Ultra HD, Blu-Ray™, DVD, and On Demand June 10, 2019 from Universal Pictures Home Entertainment. Hailed as "the perfect conclusion to one of the best animated trilogies of all time" (Scott Menzel, We Live Entertainment) and certified fresh on Rotten Tomatoes®, the film opened at #1 in over 40 markets. The 4K Ultra HD, Blu-ray™ and DVD versions feature over an hour of exclusive behind-the-scenes bonus content including an alternate opening, two DreamWorks animated shorts, deleted scenes and more.
What began as an unlikely friendship between an adolescent Viking and a fearsome Night Fury dragon has become an epic trilogy spanning their lives. In this next installment, the heroic pair finally fulfill their destinies; Hiccup (Jay Baruchel) as the village chief and ruler of Berk alongside Astrid (America Ferrera), and Toothless as the dragon leader of his own kind. As the Vikings and dragons of Berk face their darkest threat yet, the evil Grimmel (F. Murray Abraham), and Toothless discovers his soulmate, Light Fury – the bonds of Hiccup and Toothless' friendship are tested like never before.
The all-star voice cast behind all of the beloved characters from the previous films returns with Jay Baruchel (The Sorcerer's Apprentice, This Is the End), America Ferrera ("Superstore," The Sisterhood of the Travelling Pants), Cate Blanchett (The House with a Clock in Its Walls, Ocean's Eight), Gerard Butler (300, The Bounty Hunter), F. Murray Abraham (Isle of Dogs, The Grand Budapest Hotel), Kit Harington ("Game of Thrones"), Craig Ferguson (Brave), Kristen Wiig (Despicable Me 3, Ghostbusters), Jonah Hill (The Lego Movie franchise, 21 Jump Street) and Christopher Mintz-Plasse (Trolls, This is the End).
I don't often become a fan of a movie series but I am hooked on this one, and it's a firm favourite in this house, my small son is slightly obsessed, and can name every single dragon, character and knows the plots off by heart. The music in the movies is amazing and the animation is brilliant.
Basically, even if you are not a fantasy fan which I am not, How to Train Your Dragon is a winner. The third in the series doesn't disappoint and continues the tail (see what I did there?) of Toothless and Hiccup and if you don't cry at the end, I don't know why! (No spoilers, it's a good ending, though)
We have thoroughly enjoyed The Hidden World, and it is out now on   4K Ultra HD, Blu-ray™, DVD and On Demand on 10th June, from Universal Pictures Home Entertainment.
We also are delighted to say that we have one DVD copy to giveaway.
One winner will receive a copy of How to Train Your Dragon – The Hidden World, to enjoy at home. A great gift or just to add to your collection of movies, or to watch as a family.
To enter, all you need to do is comment on this blog post. We want you to invent a dragon name and share it with us. Go wild and be inventive. We can't wait to see what you come up with. Click on the link to complete your entry. The winner will be chosen by Gleam and sent the DVD via post.
This giveaway will close on the 28th June and the winner will be contacted via e mail. 
Good luck. Get your dragon skills working and come up with some fun and fantastic new dragon names.
How to Train Your Dragon – The Hidden World DVD Giveaway

Terms & Conditions:
Over 16 UK entrants only
No cash or alternative prize available
Winners must complete all entry requirements. Spam entries will be deleted.
Please see our GDPR and Privacy page for information on how we store and share data.