These speculaas spiced muffins are easy to make, and when they are baking make the house smell AMAZING!
I must confess, whilst I am not a huge cake eater, or biscuit muncher (contrary to what you might think if you follow me on social media…) I do like spiced cakes and biscuits. This Speculaas Spice mix, works well in lots of recipes and is perfect for these muffins. These are gluten and cows milk free, in this recipe, but could be made with normal flour, and milk of your choice.
Speculaas spice mix is originally from Holland, is a spice mix that has been used in many Dutch recipes for biscuits and cakes over the years. Most recipes for biscuits and muffins are handed down through families, with the ingredients being tweaked or changed as they pass through the generations. I have had very sweet spiced biscuits or muffins in my time, and those that are not so sweet, but still have that lovely, warm spicy bite to them. The Speculaas Spice Company says:
"We pride ourselves in supplying you with only the finest spices in our speculaas spice mix with no artificial flavours, colours or preservatives.
 Where possible our spices are either organic, Fairtrade sourced or both.
The vandotsch speculaas spice mix consists of a perfectly-balanced mixture of nine organic spices including real, high grade, cinnamon from Sri Lanka, cloves, ginger and six other spices in order to give our spice mix that unique kick"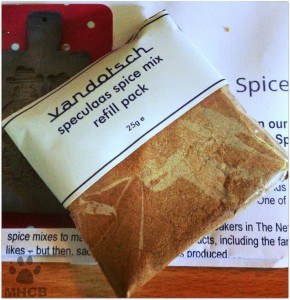 This is a basic muffin recipe, that I have adapted to use this lovely spice mix. To me it smells like Christmas and although I like to bake all year round, this is a great spice base to use for Christmas and festive baking.
You need:
280g of plain flour, we used Dove's Farm gluten free plain flour.
2tsp of baking powder
1 large egg.
200ml of the milk of your choice. We use soya milk or oat milk for this recipe in our house.
65g of butter or oil, of your choice. I used dairy free spread. I find Pure spread works well for baking and doesn't leave any aftertaste.
2 tsp of spice mix
80g of dark brown sugar
1 tsp of vanilla extract
icing sugar to decorate
Muffin tin, with cases, and oven preheated to 180 degrees
Beat the butter eggs and vanilla extract together until fluffy and light, then add the egg, then add the dry ingredients, mix in and then add the milk, mix again until smooth, and a thick batter like consistency. Pour into the muffin cases, and cook for approximately 20 minutes, until golden, and a cake skewer comes out clean. Sift some icing sugar over the top, whilst they are still warm, and then allow to cool.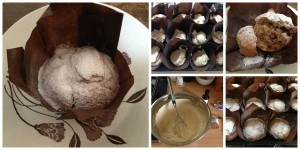 Enjoy with a cup of tea, or coffee, or like my children often prefer, with some yoghurt, for dessert after supper. These are not a "sweet" muffin, although you could add more sugar, if you wanted to. They would be perfect for breakfast, warm with some butter or nut butter I think. The spice is perfect, gives it warmth and flavour, but is not too overpowering.
You could also ice these, with a vanilla buttercream, and they would work well.