*This is a review post. I was kindly sent a book to read and review. All opinions are my own*
Lillian White has a little problem, or actually a few problems, in fact she seems to manage life whilst navigating them:
 On the morning of her wedding, Lillian White awakes with a hangover from hell, a naked stranger and no recollection of the previous night. As her eyes become focused the panic sets in as the once intimate, romantic Bridal Suite resembles the aftermath of a wild, drunken party. Unread messages flood her inbox from her soon Husband-to-be but with only hours to spare, can she still go through with the wedding?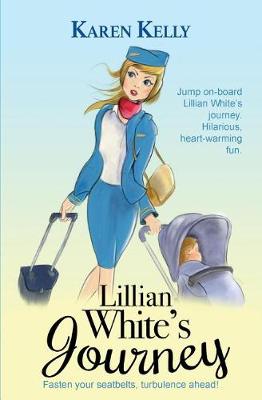 It is always hard for me to write book reviews because I want to say LOADS about the book, but then you won't want to read the book for yourself, so I will try to keep it to the minimum of spoilers where possible.
I am currently midst reading a lot of rather heavy material, related to something exciting I am going to be embarking on early next year. Let's just say reading about psychology and mental health, whilst interesting, it's not exactly light relief or relaxing with a cup of coffee material.
So I am always keen to get my hands on something easier to read, to enjoy and give me an excuse to retreat to the bath with a book and a glass of wine.
Karen Kelly's first book, Lillian White's Journey is a perfect getaway book.
Karen Kelly lives with her husband Dave, children Charlie and Maggie and their devoted collie, Baxter. A successful Blogger, Volunteer Radio Presenter, Mum and Homemaker. Karen formerly worked as cabin crew for various airlines including Caledonian Airways and Thomas Cook. Previously, she worked in hospitality, is fairly well travelled and for a short stint lived overseas. Formerly a fitness instructor, including Zumba, and still today enjoys running (including the odd short marathon!) She has lead a colourful life with colourful friends, loves writing and is already thinking of a follow-on title for Lillian White. If she's not running around like a headless chicken, she can be found with a large G&T and a bucket load of crips!
Lillian is a funny, normal, endearing character. She is relatable. I think I liked that most. She also seems to manage to attract a little bit of chaos everywhere she goes. The story starts with the end, if that makes sense, then winds itself back until you are able to see what has led up to her being in a rather, ahem, tricky situation, and you find out what happens. Will it all work out in the end?
I normally take about a week to read a book, but in my quest for light relief, I have to admit, I managed to finish it in three nights, and thoroughly enjoyed it. Karen has used her experiences as cabin crew to make Lillian very real, and there are one or two moments that really made me chuckle. Of course through the story you really get to know and like her, and you really want things to be ok for her and for a happy ending.
You can find Lillian White's Journey here. 
I hope I haven't shared too many spoilers but this is a fun, easy to read, character filled book, and it's well worth packing it if you are going on holiday or if you want something that will make you laugh and distract you from life. I suspect I will be reading it again, and I am looking forward to more books from Karen, or perhaps a follow up second book about Lillian…