*This is not a paid or sponsored post or giveaway*
Menstrual cups are a big thing.
By the way, this post is going to be talking about periods. Just in case the title hasn't given that way.
When I first started looking into alternatives to tampons and disposable pads after I developed a raging allergy to the plastic and chemicals in the most common brands that most people use, menstrual cups were a thing but not a really popular thing, more of a "thing that hippies and weirdos use". Now they are very commonly used, much much cheaper (the one I tried way back nearly 12 years ago was expensive) and there is more than one brand available as companies have hopped on the bandwagon.
Many women love them, and swear by them. They are a safer alternative to tampons, with less risk of toxic shock syndrome.
They work on the basis that you insert one, it sits comfortably covering the entrance to your cervix and collects menstrual blood, so can be work during your period, and allow you to do life as normal, including swimming etc. They have to be emptied and take some getting used to wearing them. Lots of people swear by them, and rave about them.
However they don't work for everyone, and I myself do not love them.
They do not physically work for me. In fact tampons also do not work for me. I have scarring and damage from my first birth and delivery that means my poor cervix and vaginal canal do not like anything being placed in there, and left. So something like a moon cup simply doesn't work for me. I have tried. Lots of times. I want them to work but they just chafe. Sorry, tmi. Internal forms of sanitary wear are a no, for me, or are they? They also need to be emptied and rinsed, and I am afraid that is just beyond my capacity. I have fairly heavy periods and do not want to have to deal with emptying a cup whilst out in public toilets or travelling.
I prefer to use cloth, washable pads, most of the time, but there are times, when I want to go swimming, or not have to use pads. After a lot of reading, surfing the internet, and trying to find a solution, I thought I was just going to have to deal with things. There are items like menstrual sponges (nope, not for me) or hormonal medications that can stop your period, but those for me are also currently not an option.
Enter Flex.
A disc that sits beyond where a normal cup or tampon sits, so you can't feel it, and it doesn't sit in contact with your vagina walls at all.
It can be worn for 12 hours, and changed and is disposable so there is no washing or rinsing needed.
They can be inserted really easy, and pause very little risk of Toxic Shock Syndrome.
They are not as environmentally friendly as cups, because they are disposable, but they are less waste when compared to plastic pads and liners. You use less of them, and they are comfortable and discreet. They can be worn during swimming and sport. They do take a couple of cycles to adjust to, to make sure you are wearing them properly, but so does a moon cup.
You can find out how they work here
I have to say, I have been delighted to find something that works for me, it felt a bit depressing to think that I was restricted in terms of being able to live normally during my period. These work really well for me, and many other women too. You order them online, and have them delivered to suit your cycle and needs. They are latex free and hypoallergenic. Budget wise they work out as cost effective, when compared to monthly supplies of disposable sanitary products or investing in cloth sanitary wear.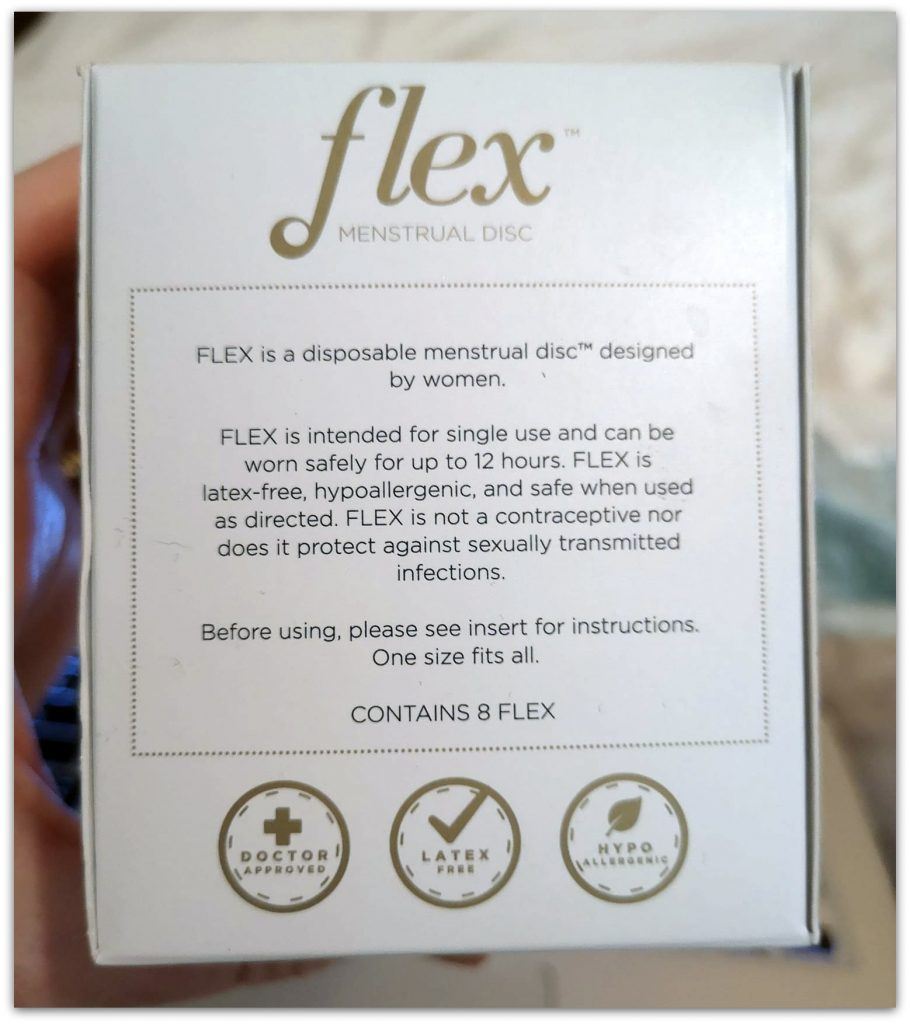 Basically, they are a win win in my book.
If you would like to try Flex discs for yourself, I have a set to giveaway.
A pack of 8 discs, which is enough for at one cycle, with full information and instructions included. Valued at £16.
To enter you simply need to comment on this post, telling us why you would like to try these and what makes periods easier for you? Then click on the link to complete your entry.
One 8 pack of Flex Discs for periods

Terms & Conditions:
One winner will be chosen and contacted via e mail to arrange delivery of the item.
No cash prize or alternative prize offered. 
UK ENTRANTS ONLY.
Please see our GDPR and Privacy policies for how we use and store data. 
Spam and incomplete entries will be disqualified.
This giveaway ends on 26th July.