*This is a review post. We were kindly sent some items to review and giveaway*
As a mum, and someone who works with children and families, I am very pro messy play. Kids being able to explore and create using all sorts of mediums and tools, is an important part of their learning. I do know however that sometimes messy play isn't always the most practical thing for parents to enable, so I am always keen to find things that can help. Little Brian Paint sticks are a great piece of art kit to keep up your sleeve for when your kids want to paint and create but you need less mess.
Messy play is very much something I think all kids should be able to enjoy, and it's very well known, if you work with me or attend my groups, that I run, that I LOVE a bit of messy play. From making snow, to water beads, to painting, play dough, sand and water play, cornsilk, and many other forms of messy and sensory play, I am a big fan. As a nanny, I loved doing messy play with the kids in my care, and their parents loved it too, because they didn't have to clean up. As a nurse working with children with special needs, I learned how important messy and sensory play was for children with special educational needs, to be able to enjoy. Now as a parent, and working with families, I still am enthusiastic but I also know that sometimes messy play needs to be managed when you want your kids to have fun creating, but also don't want to spend ages cleaning up.
Little Brian Paint sticks are idea for that job.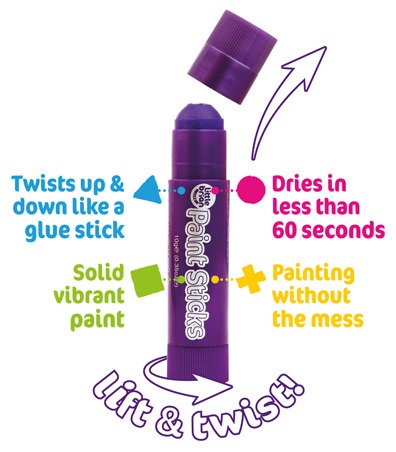 How do they work?
Water soluble and child friendly, the Little Brian Paint Sticks have solid colourful paint that you literally twist up and down, exactly like a glue stick! So, there is no need for water (that always gets dirty!) or brushes (that you only have to clean afterwards!) Available in packs of either 6 or 12 different colours, these super silky paints use strong vibrant colours and can be used on all sorts of surfaces including paper, card, canvas and wood and sshhh….Little Brian has a little secret!
How do they dry?
There is no need for a washing line of paintings across the kitchen with Paint Sticks! The Paint Sticks are extremely versatile and dry within seconds too so unlike traditional paint there is less chance of getting paint on those sleeves! However, for those with advanced artistic ability, the Paint Sticks can also be used with water to produce wonderful 'wash' and blended effect artwork so they will take a little longer to dry.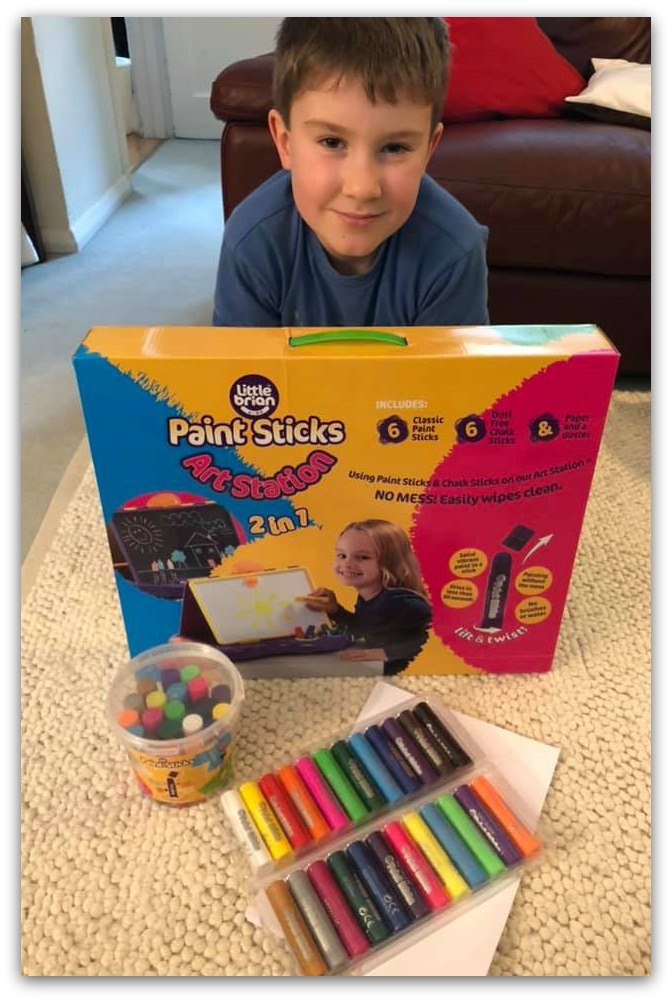 Too good to be true?
We have put them to the test. My artist in residence and product tester, who happens to be a big fan of both getting creative and messy play, has tried and tested these paint sticks out and they come with a thumbs up from him. Their paint sticks come in a wide range of colours, neon colours and sparkly colours to maximise your art options.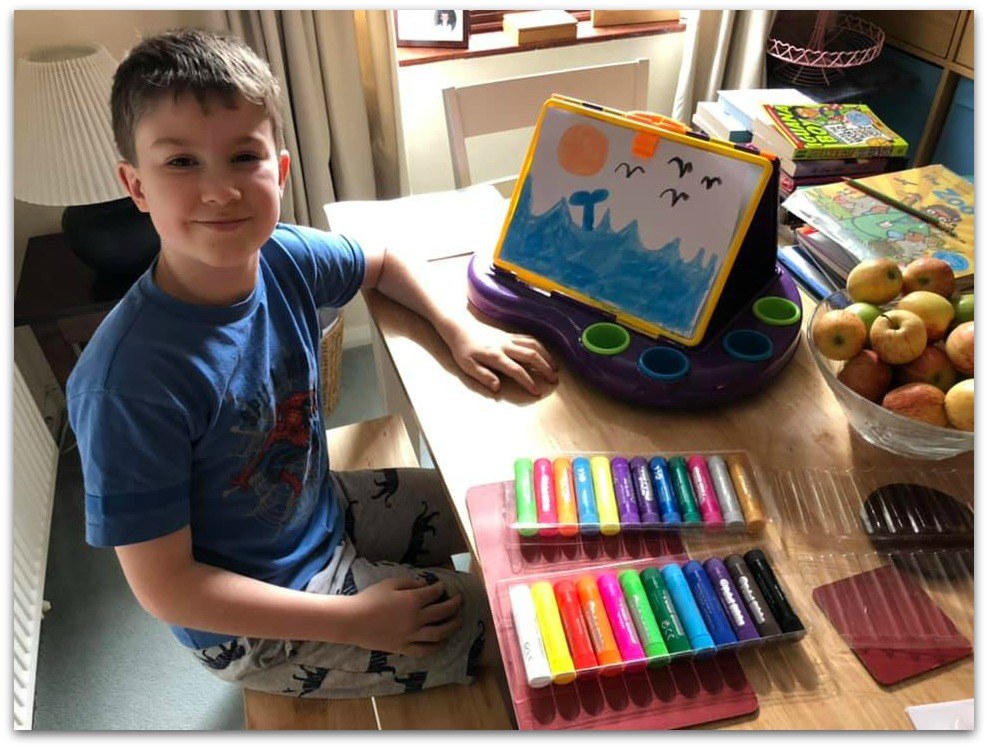 You can create your own art station with the Little Brian, and get all set up to do drawing, painting and keep it all tidy. This paint station is perfect for both being at home and getting creative but also might work for travel, to take with you to be able to pull out when your kids need something to do. It all folds up neatly and has a board for clipping paper as well as a chalk board. The paint sticks work really well, are easy to use, and are smooth and do actually dry fast. They also do wash off clothes, ahem, because my children like to test all claims of products.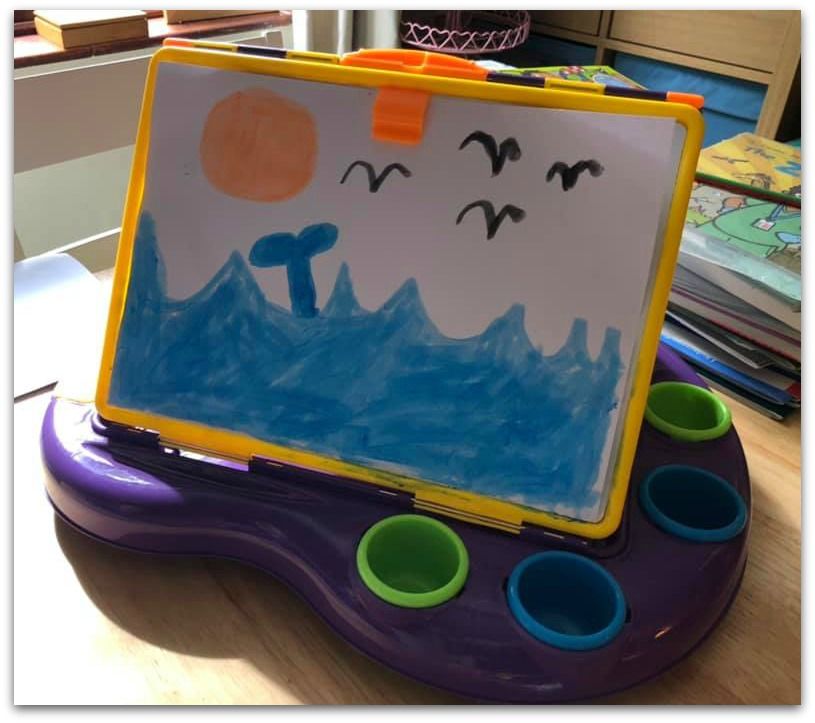 The paint station is a great set up for both home and away.
Little Brian Paint sticks buckets are available from Amazon and Argos
We are delighted to offer one lucky budding artist a bucket of Little Brian Paint sticks to get busy making all the art, with minimal mess.
One winner will be chosen and will win a bucket of these fabulous paint sticks. Each bucket contains
Classic Colours x 12,.
Day Glow Colours x 6,.
Metallic Colours x 2, and comes in a bucket that you can store them in, and carry them about.
To be in with a chance to win, all you need to do is tell us what messy play activity you like most to do with your kids, by commenting on this blog post and then click on the link to complete your entry.
Win a bucket of Little Brian Paint Sticks RRP £12.99

Good luck. A winner will be chosen on 17th August 2019
Terms & Conditions
UK entrants only.
Spam entries or entries that haven't fulfilled all entry requirements will be disqualified.
Winner will be chosen via Gleam App and contacted via e mail to arrange delivery of prize. Please see our GDPR policy for data use and privacy details.
No cash or alternative prize available.
Ends August 17th.