Unless you live under a rock, you won't have failed to have notice that all over social media people are talking about Second Hand September which is #secondhandseptember across Twitter, Instagram, and Facebook.
The principal behind it is:
"Every week 11 million items of clothing end up in landfill. Throwaway fashion is putting increasing pressure on our planet and its people – it's unsustainable. Now there's something you can do to help. Join Second Hand September and pledge to say no to new clothes for 30 days."
To be honest, for me, it's not that hard. I rarely buy new clothes, in fact the last piece of clothing I bought was a pair of jeans after my much loved old pair finally started to fall apart. I don't particularly enjoy clothes shopping and I am pretty boring in my fashion tastes, preferring jeans or combat style pants, and plain t-shirts. I buy stuff that lasts a long time, and I don't do shopping hauls or buying loads of clothes I will only wear once or twice.
However, I have a tweenage daughter who not only loves clothes, but also loves shopping and she does like buying clothes and is far more trendy than her mother. She drags me shopping on occasion, and is often full of advice on what I should or should not be wearing. She occasionally approves of something I own and will "borrow it" and I am lucky if I get it back.
We recently took her to Bicester village, with my Dad. It's a fun place, but very much "how the other half live" despite the brands and famous designer items being discounted. (I fell in love with these boots but there is no way I would pay the price they asked for them, even if I could afford them.
She was a bit upset when I told her that her Dad had not let me take the credit card with us and that we were not going on a free reign shopping spree…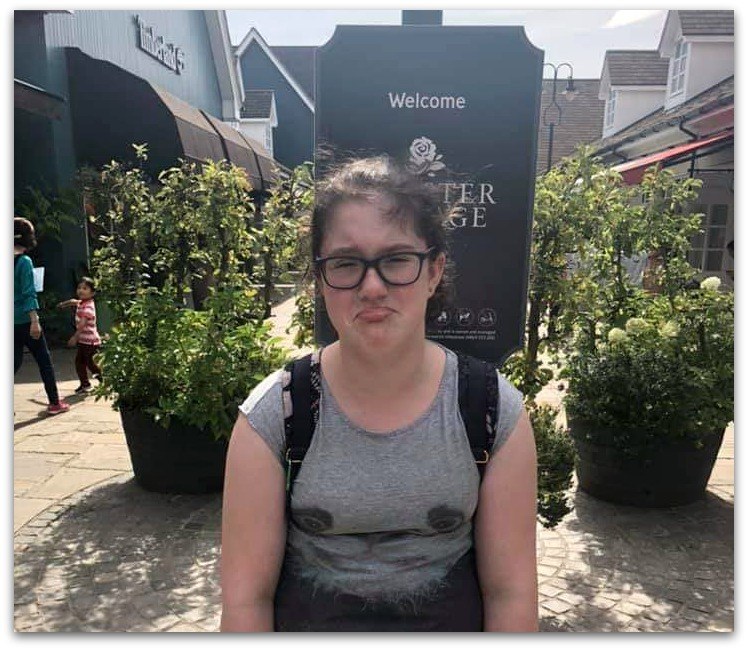 When mum says you can't shop til you drop or melt the credit card…
She's had another growth spurt and is now officially an inch taller than me. I am in denial about this.
However, I cannot deny that she needs some new clothes. A lot of her stuff is too small, for her and whilst I am happy to stick to either not buying anything this month, she does need some new things.
She usually chooses very well and wears clothes until they are too small, and is careful with her clothes, but even I draw the line at this top which is more than I would spend on two weeks food shopping. Ahem, note the brand?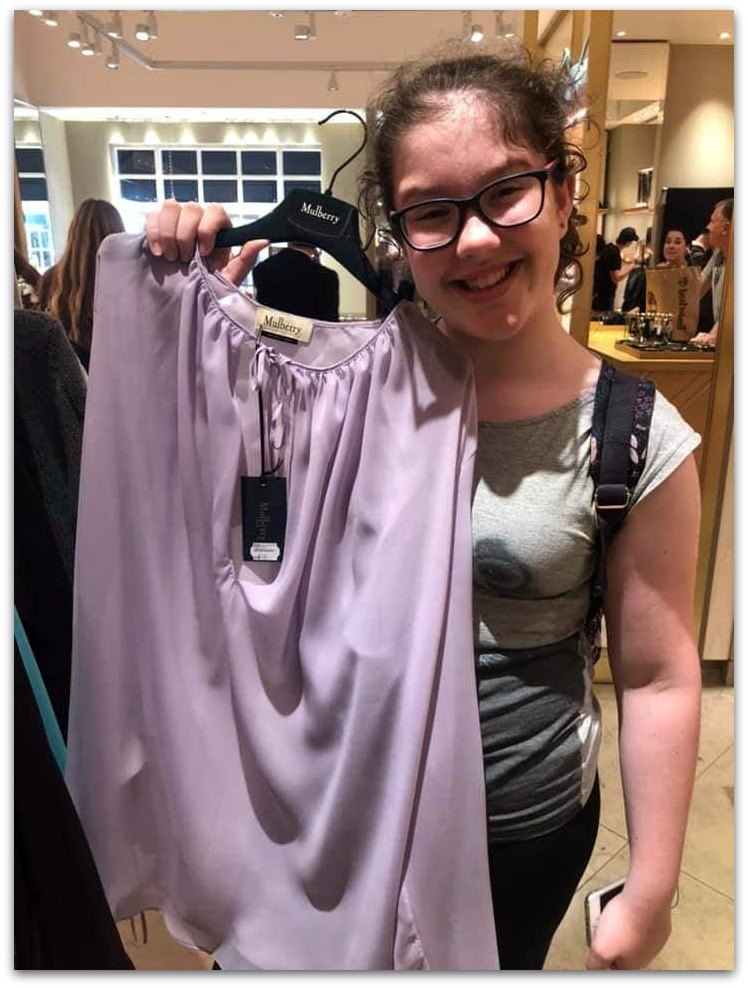 Yeah, it's lovely, but no, I am not letting you buy it for that price…
But, here is where I am challenging her. Instead of going to the usual spaces for clothes shopping, ie H&M, TopShop and Matalan, or Primark, we are going to cruise the local charity shops and see what we can find. I think we will actually have a lot of fun, and find some things she will like, and make her money go further, but she is not entirely convinced. She has agreed to try, and see.
I think it will be good for her, and she does understand why it's a good idea to not always buy new clothes, and that we don't NEED new clothes, and she is aware of how fortunate she is, in terms of what she has access to and can buy but she's a teenage girl, who loves clothes shopping, and is totally normal for her age. So it may not work.
She's going to share a bit about her side of things, next week, but meanwhile, wish me luck, shopping isn't my favourite, and I hope I can prove to her that secondhand September and doing some shopping in charity shops isn't as bad as she thinks it will be…