*This post does contain Amazon Affiliate links, if you click and make a purchase I do make a small amount of revenue*
I love reading, but don't seem to be able to enjoy reading as much as I used to, probably because as a busy working mum and wife, I don't have that much time. One of my "not a New Year's Resolutions" was to read more this year, and so far that has been a bit of a fail.
But I was resolved to go on holiday this year and try and read, and enjoy at least one or two books. I have a new iPad with the Kindle app, which makes life a lot easier packing wise, for space, because even though I love a real book, I also read fast so all the books I wanted to read would NOT have fitted into my bag.
I actually managed to read 11 books. Because I speed read and some of them were fairly light and easy, it didn't take me long, and my kids are now of an age where I can sit and read whilst they potter and entertain themselves sometimes so that helps.
So what did I read?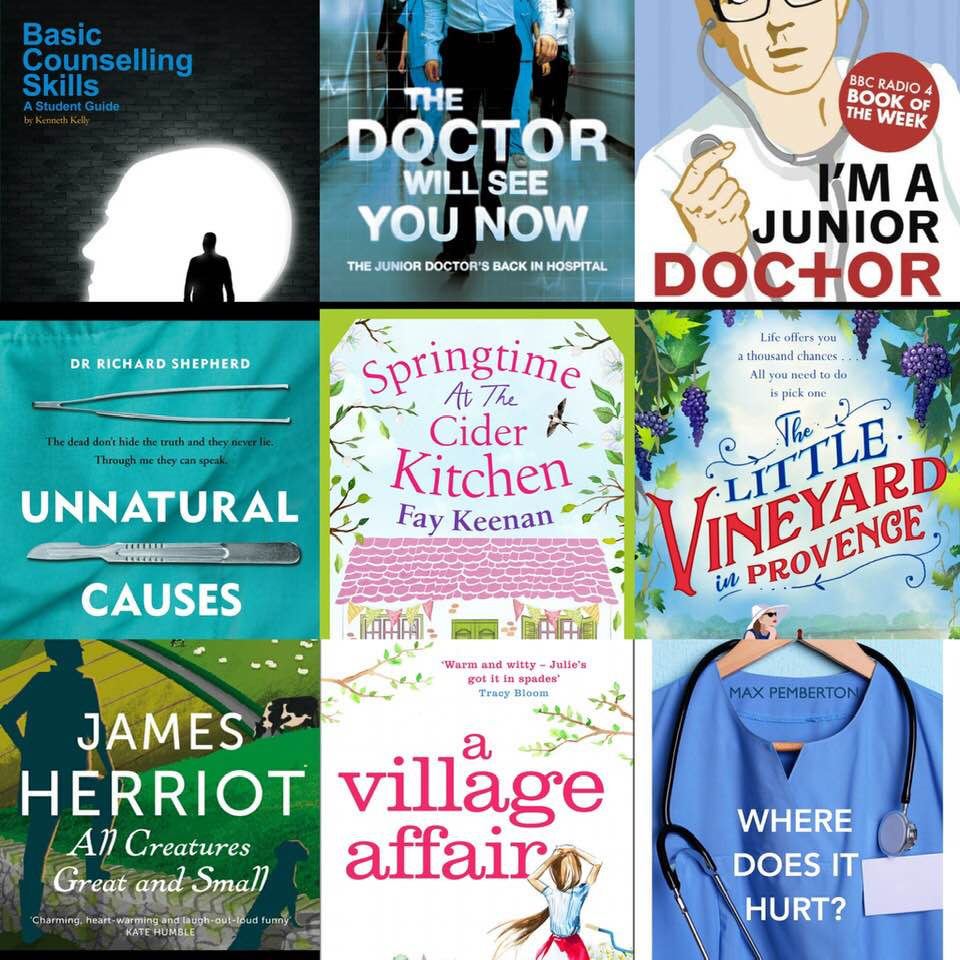 I have become a fan of Dr Max Pemberton and his three junior doctor books are brilliant, eye opening, and also a little sad. I thoroughly enjoyed all three, and he sums up life as a junior doctor in our struggling NHS really well. Trust Me I'm a Junior Doctor , Where Does It Hurt and The Doctor Will See You Now are all great reads and whilst there are some medically bits, it's not too bad if you are squeamish.
Carrying on the medical theme, Unnatural Causes by Dr Richard Shepherd, who is a very prominent pathologist who has dealt with famous and infamous crime scenes and accidents, many of us will recognise, and his story, of why he became a pathologist and the effect of his work on his personal life and self. It is gritty and hard to read in places and he is brutally honest about things he has seen and what he has worked on but if you love crime and want a taste of real life it's worth reading.
An old favourite that the tween also read, is All Creatures Great and Small by James Herriot. I felt like some nostalgia and he's a favourite "old school" author of mine. The tween has enjoyed his books so far too. Yorkshire vet life, for the win.
As part of my pre reading for starting back at university next year, I read my first recommended reading book on my pre list about basic counselling. It was easy reading, actually, for a first book.
I also enjoyed a couple of lighter romance and fun books, to make a change from learning or medical reading.
The Little Vineyard In Provence is lovely, gentle and was recommended by a friend. An easy ready for on holiday and a heartwarming end.
Spring Time at the Cider Kitchen and a Village Affair, again, light and easy, with happy endings.
I also re read Eleanor Oliphant is absolutely fine, because the first time I read it, I really didn't enjoy it, and again, I still feel meh, about it. I don't get why everyone has raved about it and I just didn't enjoy it. I wonder if it's just me, or if anyone else just doesn't get the hype about it.
I re ready The Fire and The Fury about Donald Trump, which I enjoyed the first time round, and found interesting and horrifying in equal measure the second time round. I am not a fan of Trump. It's a different and interesting read, that's for sure.
A fairly eclectic and random selection of books that I mostly enjoyed. Not bad for a holiday.
Now I just need to keep the reading habit up, it's not a bad one to try and achieve.