*This is a collaborative post*
My parenthood journey has meant making a fair number of sacrifices as we have had kids, and our priorities have changed a lot. Before we had children, our house seemed to stay clean and tidy, and things rarely got broken or damaged. Once we had childen we realized that sometimes, having nice things just for the adults, wasn't really a priority. Our bedroom, for example, became a kind of everyone room, and to be honest, it has been a bit neglected and needs a makeover, now the kids are older and we have our space back.
Our bedroom makeover is taking shape slowly. We both have ideas about what we want, and for how it should look, but coming to an agreement and also working within our budget has to be managed.
Thankfully we both have fairly simple tastes, so it's not a question of me wanting loads of floral decor, bedding and trimming and him wanting simple and plain. I tend to prefer uncluttered and actually have fewer clothes, and stuff than he does, so our main point of discussion has been storage and making that work for both of us. (funny story, when we got married and moved in together, he had so many clothes, that he took over both spaces in our wardrobe and I had almost no space and had to protest and stake a claim for my own clothes, thankfully he lets me have equal space these days mostly, he does have more work clothes and suits than me, so I don't mind too much though)
We also feel strongly that a bedroom should feel calm and have good lighting, good blackout blinds to block out light in the early mornings and solid windows to block out sound.
One thing we would like and are working on is a "grown-up bed". 
For us, a comfortable and cozy bed, that we both feel we are getting good sleep in is vital, but we are passed the stage of any old bed and mattress will do, and now we can make our room about us, and make some effort, we both would love a TV bed. TV beds are something we have been looking at for a long time, and as we both love technology, we both agree that we would like one.
Being able to watch a movie or our favourite programs is something we enjoy, and to be honest, as tired parents, we often collapse into bed to watch something, rather than staying up trying not to fall asleep on the sofa.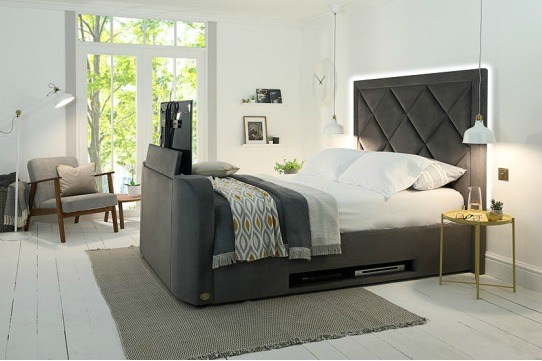 I also like the idea of having a tv that can be hidden when you don't want to use it. A tv hanging on a wall or taking up surface space isn't ideal, and our room is not that big, so an Ottoman TV Bed would work beautifully. A stylish and comfortable bed, with a tv that glides out when you want to watch, but then can be hidden to keep the room looking tidy and stylish when you are not using it.
The bed in a bedroom is usually the biggest feature in a room, so making sure it's comfortable, practical and also stylish, is pretty important. Investing in a bed that you love, and that fits well into your room, is worth putting some thought and planning into, and budgeting well, to buy a quality bed with the features you want. A tv bed seems like a luxury to me, but one I think we deserve.
Now, we just need to agree on what we watch, that's a whole different topic we are working on…