*This is a review post. We were kindly sent products to try*
If you want a yummy, gluten free vegan fruit snack, for on the go, lunchboxes, or for when you want something sweet but that bit healthier, then you may want to try Gregory's Tree.
Fruit with a twist. 
Gregory's Tree offers great tasting, organic, fruit snacks that help you #BeatTheDip.
Gregory's Tree double fruit twists are just 60 calories. They can be enjoyed on the go or as a post-meal fruit snack.
I often find myself craving something sweet, usually if I am very tired or hitting the mid afternoon, can't drink anymore coffee, but the chocolate bar in my drawer is calling me slump.
I also have two kids who claim starvation most of the day, and seem to want to eat me out of house and home.
So healthy fruit snacks are handy to have.
Made with real fruit, no nasties, no added sugar and suitable for vegans and those who can't have gluten, these are a perfect handbag or keep in your desk snack. They are not messy or faffy to eat, perfect for when you need to get out but grab something on the go…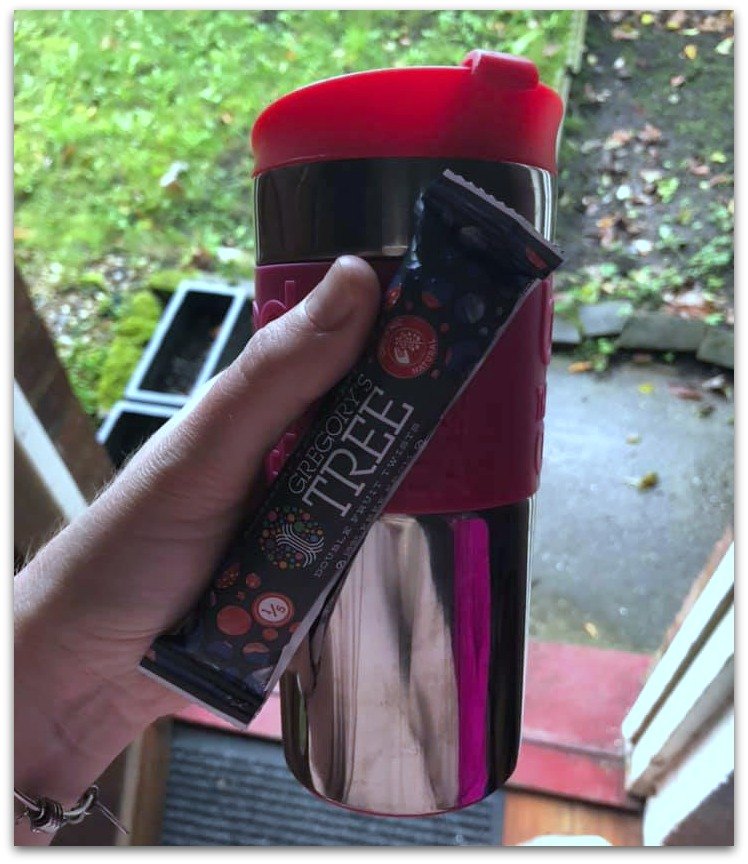 Pretending to leave the house in a calm manner, but grabbing a snack to go with my coffee.
They are also great if you want to give your kids a fruit snack that is full of the goodness of fruit, but also giving you peace of mind that they are eating something that doesn't contain added sugar or other things that can be found in many fruit bars. These are a snack that would be ok if your school is strict about sweets and treats.
My kids love them, which is great (except it means I have to hide them if I actually want one) and it's great to know they are allergy safe for our family's gluten and dairy allergies too.

They are also great as a calorie controlled diet addition, with only 60 calories and containing fruit fibre. So you can have a treat that's fruity and soothes your sweet tooth, but that is also guilt free, if you are keeping an eye on your nutritional intake.
You can get your hands on them at good health food shops, or online from Amazon and Morrisons. We'd recommend them. Now I need to go make sure my kids haven't eaten the ones I hid in my desk drawer…