*This is a review post. We were invited to enjoy a trip to the circus in exchange for a review*
We hadn't been to the circus as a family, before. I met the husband at the circus. Almost 23 years ago, I was invited by a friend to use a ticket she had and he was with a group of friends I was with that night. The rest, as they say, is history. So it seemed right to celebrate life, by taking the kids to see the famous Zippo's Circus.
Zippos Circus is back on the road for with a nationwide Big Top 2019 tour – The Magnificent Top Hat – celebrating 21 years since Ringmaster Norman Barrett MBE first appeared at Zippos Circus. Known to be the World's Greatest Ringmaster, and holder of the Guinness World Record for the longest-serving Ringmaster, Norman will present a spectacle like no other as astonishing acrobats and aerialists, amazing contortionists, clever comics and daredevil motorcyclists come together for this year's magnificent production.
The thrilling Brazilian Lucius Team of five motorcyclists in the famous Globe of Death will take centre stage plus, and returning by popular demand is Paulo Dos Santos – a brilliant 3 foot 6 inches tall showman, acrobat and martial artist. They will be joined by a colourful troupe of artists from all around the world including foot jugglers, Kenyan tumblers, Cuban Springboard acrobats, knife throwers, contortionists and dancers.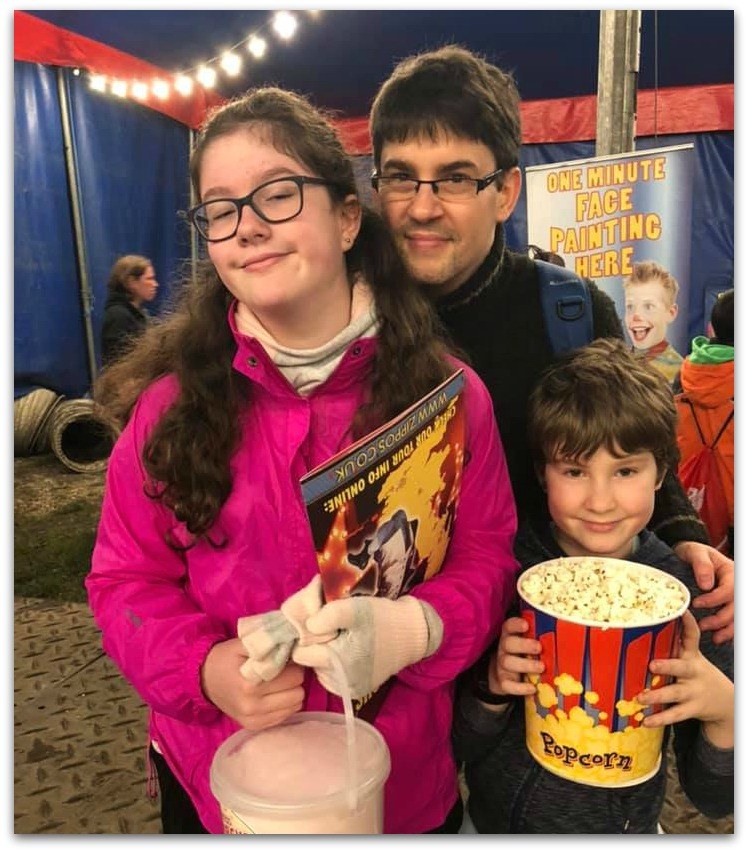 It's hard to describe what we liked about our visit to the circus because basically it was so much fun and just as I uttered the words "now THAT is impressive" another act would appear and I would have to think again.
All of the acts, the performers and the whole show is loud, fast, fun, entertaining and in parts mindblowing. 
It takes a lot of skill, time and dedication to perform to a crowd the way the team in a circus do.
From hanging upside down in a rather terrifying looking pose whilst still managing to look incredibly calm and glamorous, to being in a metal ball with 5 motorbikes riding inside it at speed, to fun acts with cheeky budgerigars, fire throwing and contortionist skills, there is pretty much something for everyone to be amazed at.
The children were rather awestruck by what they watched and it was well worth the late night we had to go and enjoy it. It's a proper old style circus, with humour and fun, as well as a lot of skill and showmanship. Each of us had our favourite acts.
The tween thought that Elbernez the Contortionist was amazing, with her skills and what I would call contortionist act. Being able to shoot a bow and arrow with your feet is pretty impressive and she was incredibly graceful and inspiring.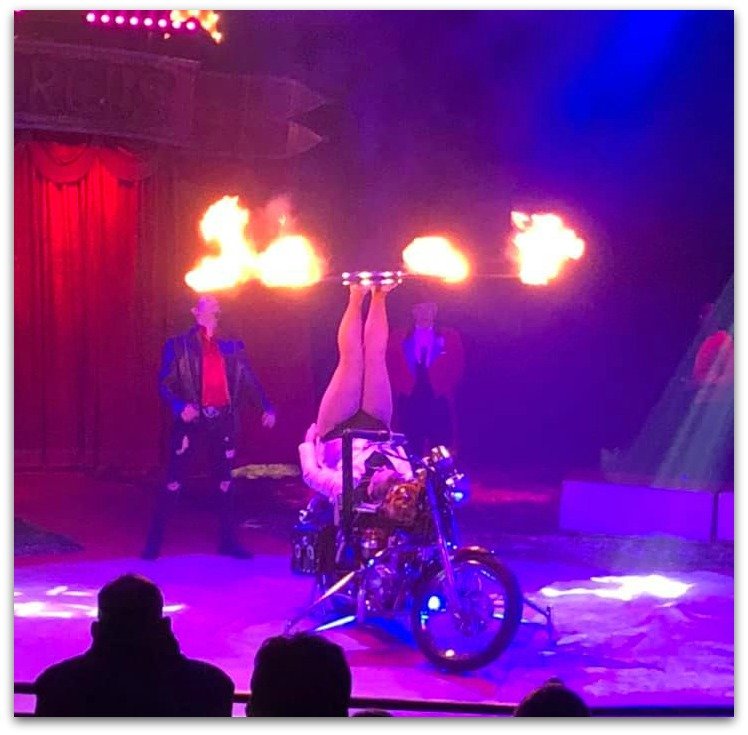 The foot juggling from Germaine was something that impressed me, mainly because she juggled things on fire with her feet, and it made me laugh thinking of everything I juggle in my life, I need her skills, clearly.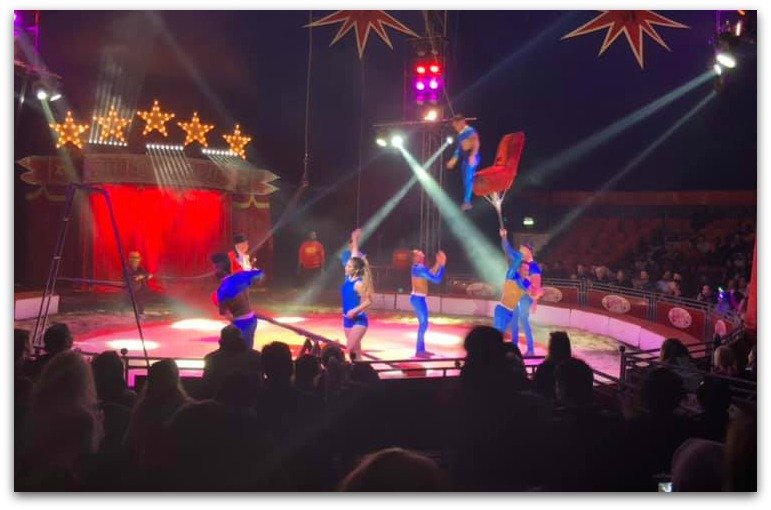 The boy loved the acrobatic skills of the Revolution troop with their amazing gymnastic and leaping abilities. Holding your breath as they leapt in the air to land prescicely is a bit of a rush.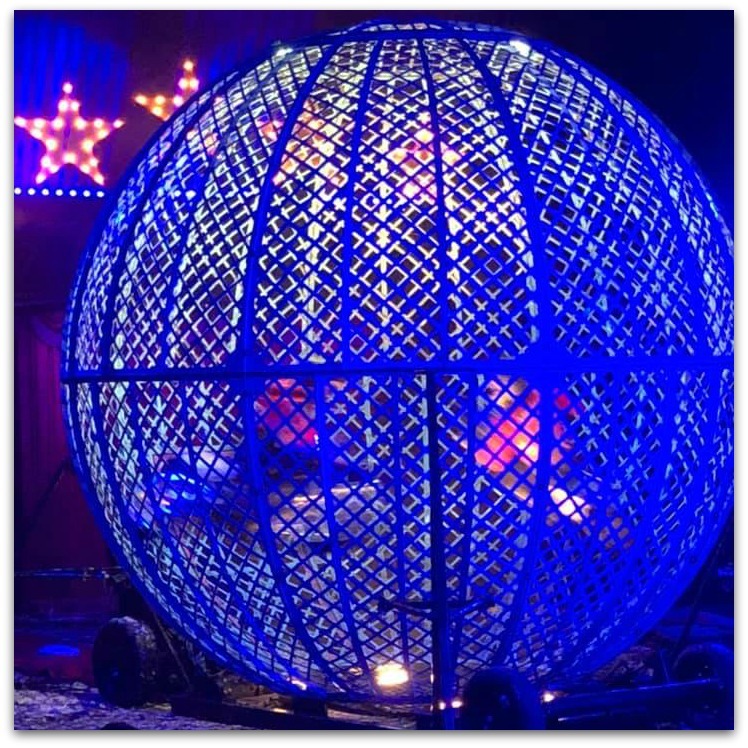 The Globe of Death with Lucius was a bit of a show stealer and the husband's favourite, although we were all impressed. 5 motorbikes in a metal globe with a lady being ridden around. As you do. Scary but you can't look away and awesome to watch. As my small son said "I hope they practice that a lot to get it right".
The whole show is fun, and you won't be bored. There are even performing budgies to make you laugh and finish of the show.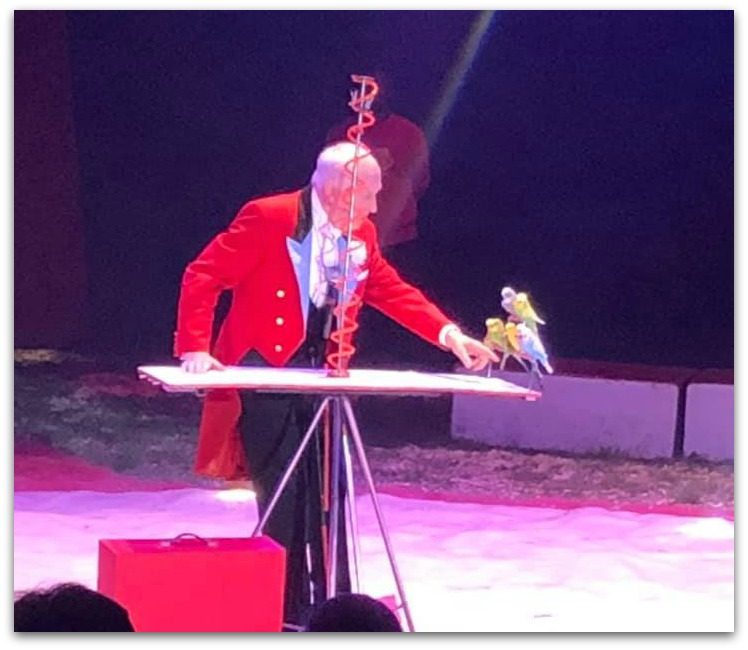 We had a blast and thoroughly enjoyed it, and the kids were delighted with their first circus experience and already are asking when we can go again. You can see a few snippets of the show here in our little video too, or catch up with our stories on Instagram.
Zippo's circus is definately worth a visit for a treat, to celebrate something special, or just for some family fun. They are currently in Hampstead Heath this week, and next weekend and you can find out where they are and book tickets here