*This is a collaborative post*
Christmas is on the horizon, and it's that time of year where I am working on gift ideas, for the people in my life and also leaving the odd hint here and there (ie sending wish lists to my husband) about what I would like for Christmas too. I am not a person who does a lot of stuff or things, to be honest. I like to keep things simple and what I really want, and to do the same for others.
Sometimes it's nice to get something different, though, and I prefer to support small business where I can, and get or be given things that mean something, or are that little bit special.
Jenny Mein caught my eye, recently, because I happen to love fine bone china, and I also collect trinket boxes.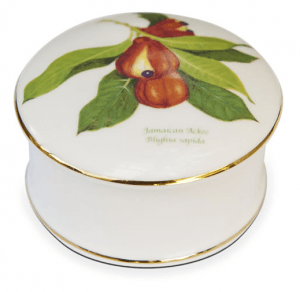 I have fallen in love with the trinket boxes!
Jenny uses her artistic talent to create beautiful illustrations based on her memories of her childhood growing up in Jamaica and the flowers of the Caribbean found there. Taking those, she has created a range of stunning china items that are delicate but also eye-catching. You really get the feeling you could be in a lush garden full of scented flowers and plants.
This one particularly has my attention, and would look perfect on a dressing table or as part of a collection.
Each piece created is made with love, and an example of art combined with quality and something you will want to treasure forever, and even hand down as a gift to someone.
I would be thrilled to find one of her pieces in my Christmas stockings or under the tree. I am hoping my hints have been received and interpreted correctly.
We are also delighted to share that we have one beautiful Ackee trinket box worth £22 to giveaway on our blog with Jenny.
All you need to do to be in with a chance to win is to comment on this post sharing who you would gift it to, or if it is for you, and then click on the link below to complete your entry. A winner will be chosen on the 30th November, just in time for Christmas gifting.
Jenny Mein trinket box giveaway RRP £22

Terms & Conditions:
One winner will be chosen and notified via email
UK over 18 entrants only
No cash or alternative prize available
Winner must comply with all entry requirements
Spam entries will be deleted
Please see our GDPR and Privacy policy for data storage and usage.