*This is a review post. I was kindly sent skincare items to try*
It's no secret that I am often tired, and I feel tired and often look more tired than I want. I am trying hard to look after my skin, and deal with signs of aging, and skin issues, so I am always on the lookout for products that help to perk my skin up. Skin Doctors Skincare has some great solutions that work for me.
"Skin Doctors Cosmeceuticals is a problem-solution brand providing clinical strength cosmeceuticals that offer consumers topical alternatives to surgery. At Skin Doctors, we understand that beauty isn't just skin deep, and therefore provide a range a products that make an actual visible difference so that you can feel confident on the inside as well as being confident in how you look."
Being a mum and being tired go hand in hand, I think, but sometimes I need a little bit of extra help and finding products that do that gives me a little bit of extra confidence that I look less tired than I feel.
Their Instant Eyelift works really well to tighten up and improve the under-eye area.
"Take care of bags, puffiness and wrinkles around the eyes. This temporary eye lifting serum painlessly smoothes away the signs of ageing in just a couple of minutes. The gel-like formula has been created for ease of application so you can achieve maximum results that can last for up to 8 hours!"
You do have to follow the application instructions precisely, but if you do that, it really does make your eye area look less tired. It works for about 8 hours so it's great for a day when you need to feel and look your best, or for a special event or night out.
Instant Facelift is also a handy little bottle of magic to keep in your skincare regime.
"Want an instant result without the surgical pain or expense? Instant Facelift contains a matrix of ingredients that once dried holds the skin taut, reducing the appearance of fine lines and wrinkles whilst taking years off tired, sagging skin. This product is perfect for an instant pick me up and also acts as a fabulous make-up primer."
This is a great under makeup primer that sinks into skin gently and helps to boost your skin when it needs it most. It absorbs well and works well under makeup or alone if you just want to give your skin a proper dose of skincare to make it feel and look better.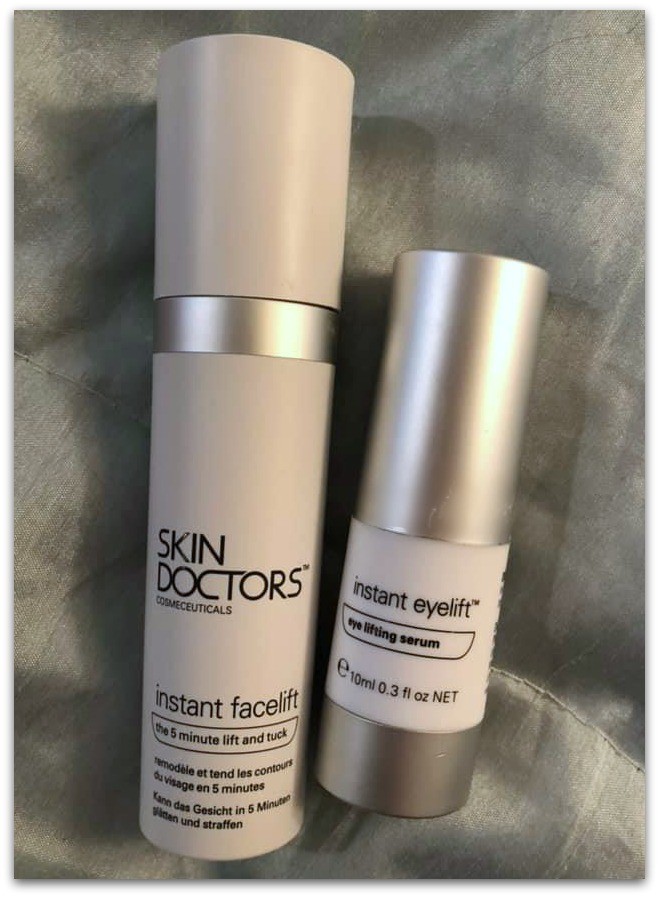 Skin Doctors have worked hard to produce skincare that is reliable and does the job. I have been really impressed with how well the products work and how "less tired" they make my skin look. A little goes a long way, and budget-wise they compare well with other brands.
So if like me, tired skin is a concern for you, then it might be worth trying their products out. Looking less tired makes me feel a lot better and more confident, that's not a bad thing.