Mushroom risotto is a quick and easy go-to meal for me, that I make when I want something quick, comforting but also filling. It took a long time to persuade me that mushrooms were not the devils food, and he avoided risotto because it often can be loaded with cream, cheese or butter that he can't eat, due to his food allergies, but this recipe works well and he asks me to make it.
This isn't a proper Italian risotto that you would get in a restaurant, although I do try to stick to the proper way to make it, but it works for us and is cheap, easy to make and tastes good. It also works well as leftovers and there is nothing more satisfying than warming it up and enjoying it the next day for lunch, and in fact, it tastes better the next day.
I make this entirely dairy-free, but you can, of course, use butter instead of vegan substitutes if you need to.
The trick to risotto is making sure you are stirring and keeping an eye as you add the stock and GOOD ingredients. Good wine, good stock, herbs.
This makes enough for 4 people as I said, I make enough for lunch the next day too.
You will need
300g of arborio risotto rice
1500 mls of good vegetable stock.
1 glass of good white wine
500g of mushrooms of your choice. I use a combo of shitake, brown cup mushrooms and any fancy mushrooms I see in the supermarket that I think look good. Wipe them and cut them into small chunks.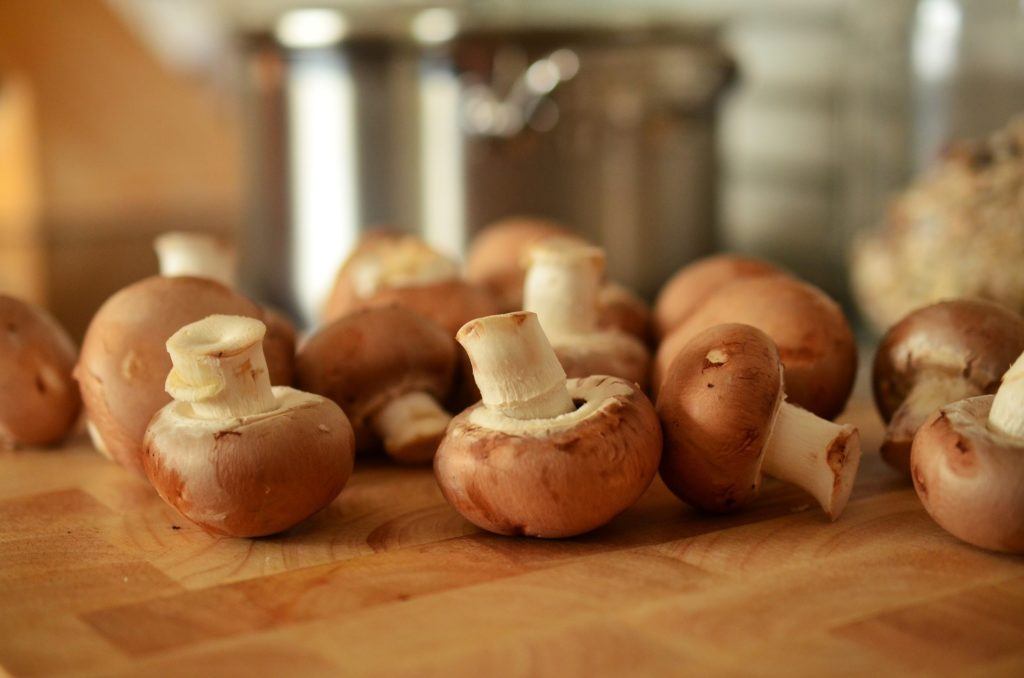 1 clove of garlic finely chopped
1 small white onion finely chopped
fresh thyme, two tablespoons finely chopped
Olive oil
Vegan butter (we use Naturli for this )
Gently fry your onion and garlic in the olive oil on low heat, in a wide-based but large saucepan or casserole dish. Let them soften for a few minutes. Then add a large knob of butter (about tablespoon) and let it melt. Add your mushrooms and stir, and let them shrink down and fry for about 3-4 minutes.
Add your rice and stir it thoroughly to make sure the rice, oil, onions, and mushrooms are all well mixed together.
Pour in your glass of wine (you can also drink a glass of wine whilst cooking too)
Stir the rice and allow it to simmer on very low heat, and watch carefully for the wine to absorb.
When the rice has absorbed the wine you can add your stock. Pour in about 300mls at a time, and stir, and watch it carefully and keep stirring. The stock will absorb. You will know if you run your wooden spoon through the rice and the bottom of the pan doesn't have any obvious liquid.
Keep adding the stock in small amounts until it's all absorbed and the rice is plump and fluffy.
Stir in about two tablespoons of your butter, then cover the rice and leave it to sit for about 25 minutes.
Add your fresh thyme and serve.
To reheat the mushroom risotto leftovers the next day, simply add a small knob of butter to the risotto and warm in a pan, or cook for 2 minutes in the microwave.
Not authentic but I promise it's delicious.