I am not a food snob, but there are some things I am very fussy about and proper roast potatoes fall into my list of things that can and should be made well. I know there are easy to cook frozen brands out there, and those are fine in a pinch, but for me, making really good roast potatoes for lunch or dinner is cathartic and worth the effort. This recipe is also gluten-free and vegan too.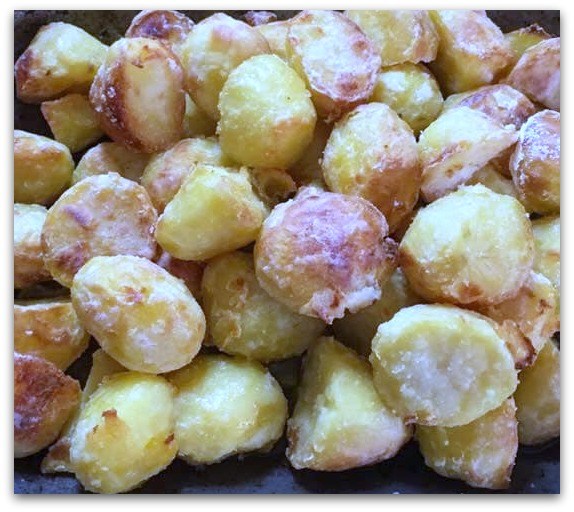 Roast potatoes need to be crispy on the outside and fluffy inside. I find the best potatoes for roasting are Maris Piper potatoes, and I will also say this, teach your kids to peel potatoes. It's a great chore for them to learn and it means you condo other things, and if you are like me and hate peeling potatoes then it's a joy to get someone else to do it for you.
If you want to be less wasteful of food, you could also try making potato peel crisps, with the skins. My kids love these and they are a great snack or can be served alongside another meal.
You will need:
For my roast potatoes, you need 1kg of Maris piper or other potatoes. Washed and peeled.
Two tablespoons of cornflour.
A tsp of salt.
200mls of a high heat oil. I use a basic olive oil or rapeseed oil. You can, if you are not vegetarian use goose fat or lard.
How to:
Chop your peeled potatoes into two-inch chunks (I am old, I don't work in metric, sorry) and place them in a large pan of cold water with a little salt.
Bring to the boil and let them simmer gently for about 5-7 minutes.
Meanwhile, using a roasting pan or ovenproof dish, heat the oil in the pan in a 200-degree oven.
When the timer is up on the potatoes, drain them. Leave them to sit for about 5 minutes.
Then sprinkle the cornflour onto the potatoes, in the pan, and as my kids say, give the pan a really good "shoogle" (I think this is a word my Scottish Nana use, meaning to give something a shake) until the potatoes are all coated.
Then take the hot oil tray out of the oven, and carefully tip the potatoes in. You can spoon them in if that feels safer. It will splatter so be careful.
Put the tray back in the oven and let the potatoes cook for about 30 minutes. Then take the tray out and give all the potatoes a good turn and stir with a spoon.
Cook for a further half an hour until they are golden, crispy and perfectly roasted.
Make sure you get to eat at least one, or two, before serving, just to make sure they taste perfect. If you are lucky enough to have any leftover, they work well cold, with salads or in potato salad too. (that rarely happens here though!)
If you don't have time or don't want to peel and boil your potatoes, this is my cheat's version that works really well, too.