*This is a review post. We were kindly sent a game to try as a family*
If you are looking for a fast-paced and fun game that the whole family can enjoy then Splash might be perfect.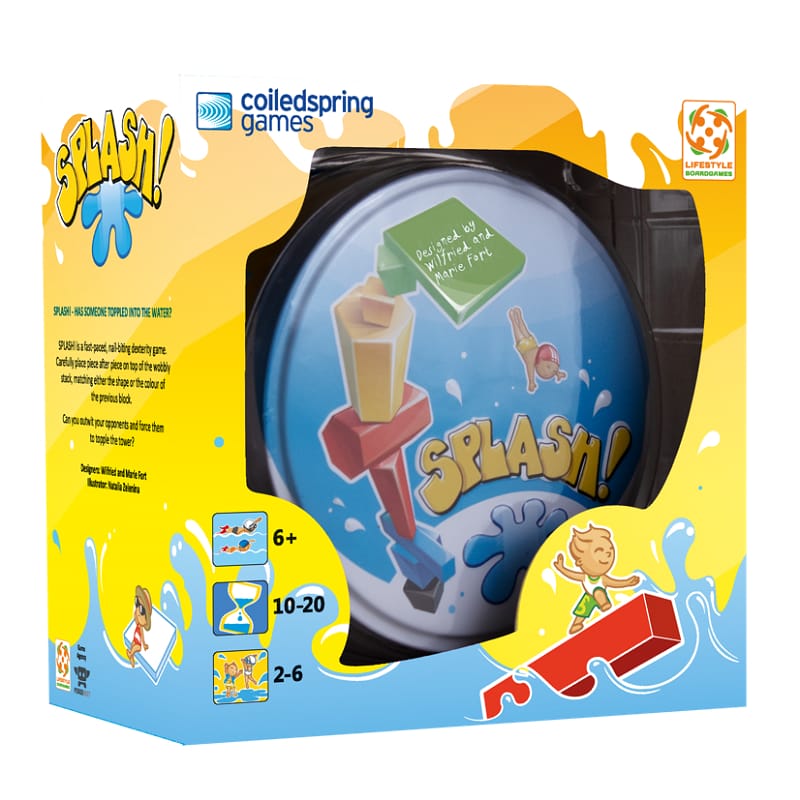 I am always looking for games to keep the kids busy and to enjoy as a family that everyone can enjoy and Splash is easy to play, easy to set up and because it's small and compact when packed up, you can take it with you on holiday.
SPLASH! is a fast-paced, nail-biting dexterity game. Carefully place piece after piece on top of the wobbly stack, matching either the shape or the colour of the previous block. Can you outwit your opponents and force them to topple the tower?

The game comes in a neat little tin and contains 30 pieces of wood in various shapes.
Each player is given the same amount of pieces and takes a turn to choose a piece, and the best way to make the game flow is to use a different shaped piece each time.
The first player gives a piece to the next player who then places this piece on the table or hard surface to form the base of the tower. Everyone takes a turn to place a piece and make the tower grow without knocking it over.
 Each new piece must be placed on top of the highest, uncovered piece on the tower but it must be either the same shape or the same colour. 
If the tower is still standing after each player has placed a piece then you carry on. If the tower falls then the player that caused their neighbour to make it happen takes a water droplet token (hence the name Splash)
The tallest tower left on the table forms the base of the new tower. If there are several towers remaining the player that collapsed the tower chooses which tower becomes the new base.
You can have several towers on the go and the person with the maximum of three water drops is the winner.
It's a game of skill and also trying to trip up your opponents and it's a lot of fun whilst also teaching turn-taking and strategy. It's a great educational game too.
It might be a bit fiddly for younger kids but it's brilliant fun for kids 6+ and can be played over and over and we would recommend it as a fun and easy game to pull out and play or take on holiday. Just don't get too competitive, everyone wants to win.