I don't think I tried Hasselback potatoes until I was an adult or at least I don't remember having them but I love them. Potatoes are life in our household, or at least they are a mealtime staple and this is a way of making them that is easy and delicious. The concept is simple. Sliced through but not totally so they resemble hedgehogs and baked, usually with flavour added. Easy to make and there are varied recipes that I have found. I decided recently that we needed to liven up our menu and remembered that I hadn't made Hasselback style potatoes for a long time and my children had never had them so they were added to our meal plan this week and were eaten with demands for more.
I keep our recipe simple and it's gluten-free, dairy- free and vegetarian.
I use Maris Piper potatoes and you need a sharp knife for slicing. I like to do two smaller potatoes per person but you can do little potatoes or bigger. It's a very flexible recipe.
This recipe serves 4 and you will need:
8 medium potatoes, not as big as a jacket potato size, scrubbed well.
5 table spoons of mild olive or sunflower oil
3 gloves of garlic crushed and chopped
two tablespoons of vegetarian gravy granules – we use Bisto granules but you can get other brands too and if you are not vegetarian or concerned about food allergies just use what you prefer.
Take a sharp knife and carefully slice into each potato until you are almost down to the bottom but do not slice fully through. Make slices across each potato in thin strips.
Place them in an oven proof dish, and heat your oven to 190 degrees.
Meanwhile heat the oil in a pan on the stove, gently. You are not frying anything, just warming and mixing.
Add the garlic to the oil and stir. Then add your gravy granules. Stir and heat through for 2-3 mins on low.
Pour the mixture over the potatoes and make sure they are well covered and coated.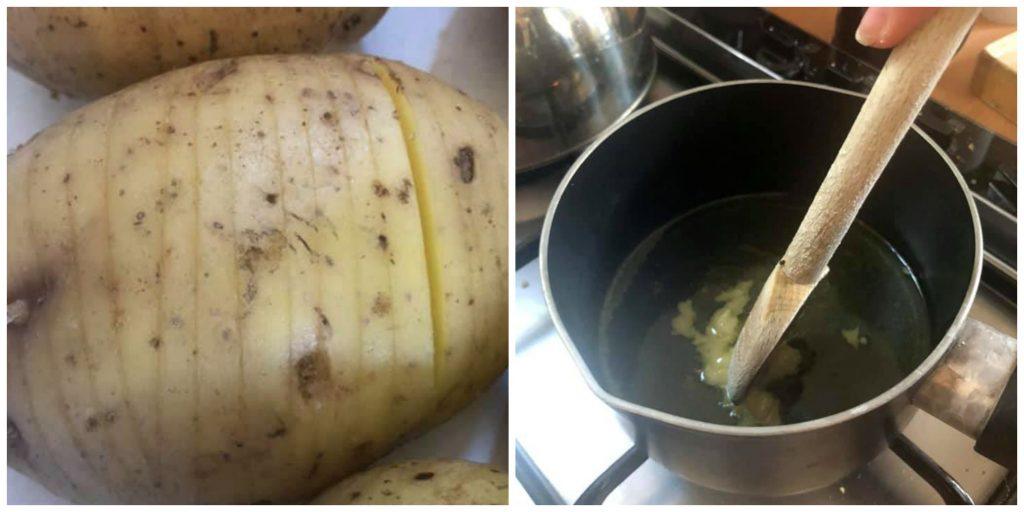 Place the potatoes in the oven for 45 minutes. After 45 minutes you need to check on them and baste them with the mixture and cook them for a further 25 minutes.
They will be golden, crispy and the sliced areas will have absorbed all of the oil and flavours.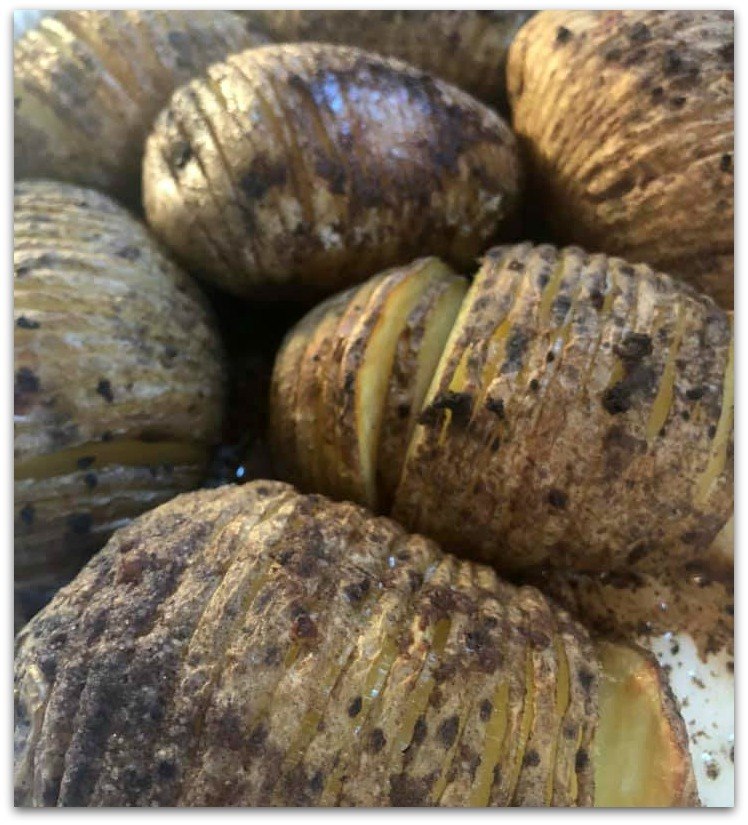 Serve with any meal. They are also great cold as leftovers in a salad (not that we ever have any leftover here)
We also have a foolproof potato gratin recipe and you can cheat and make yummy roast potatoes with minimal fuss too.
What's your favourite potato dish?