I have to admit, I spent a long, long time, and many attempts at perfecting this recipe, for potato gratin that doesn't contain cows milk, before I got it to the point where I felt it was worth sharing. It's taken some testing, and tasting, to get it just right.
I love rich, cheesy, comforting dishes, a cheesy potato dish, or a bowl of pasta smothered in cheese sauce is my idea of heaven. Unfortunately, having two family members with cows milk intolerances and a daughter who struggles with eczema when she has consumed too many cows milk products means that my indulgence in such dishes only happens when we go out to eat.
I decided to see if I could come up with a potato dish that was rich and cheesy but wasn't made with cows milk, and was gluten-free, if possible. I experimented with gluten-free flours, and cheese sauces, and baking times.
This recipe does require a bit of work, and prep time, but it is worth it, and is perfect as a family dish, but I also think good enough to serve at a dinner party, and of course is ideal if you are feeding someone who can't eat gluten or cows milk-based products.
You will need
Gluten-free flour (we use Dove's Farm Plain flour)
Goats milk (you can use soya, but I find it doesn't like being cooked at the high temperatures you need for the gratin to cook and crisp up and can look a bit curdled, although it does taste ok)
Your choice of oil, fat or butter (I use a mild olive oil, but you can use dairy-free spread, or butter if the dish isn't for someone who is cows milk intolerant)
A bay leaf
Salt & Pepper
Pecorino cheese, (a sheep's cheese similar to parmesan) and a hard, milk goats cheese, (or whatever you like, depending on what you are catering for in terms of dietary requirements) 300g of each, grated.
1kg of potatoes, peeled and sliced into 1/4 inch slices. Use a floury potato such as Russet, King Edward, Maris Piper or Desiree.
A large baking dish, lightly oil the base and sides.
First you need to make a roux, or basic white sauce. Most people get a bit freaked out by this, but it's actually quite easy.
Warm 500ml of goats milk in a pan, with a bay leaf, soaking in it. Allow to come to just before boiling then remove from heat. In another pan, melt your butter or add your oil and stir in 25g of plain flour, until it forms a paste. Slowly pour in the warmed milk (discard the bay leaf) and stir continuously, as the sauce thickens. If it forms a few lumps, just whisk firmly, the lumps should dissolve. Once you have your sauce thickened to the consistency of double cream, take off the heat, and add half of each of the grated cheeses to the sauce and stir again, until it is melted in. Add salt and pepper to taste. Pecorino is salty, so just check as you may not need more salt.
Place slices of potatoes on the base of the baking dish, in a layer, until the dish bottom is covered. Pour some of the cheese sauce over the potatoes, then repeat with another potato layer, until you have layers of potato just below the top of the dish. Sprinkle the remaining cheeses on top, evenly and then bake at 180 degrees, (160 for a fan oven) for 50 minutes to 1 hour, until the potatoes on the top are crispy. The potatoes inside the dish will be tender and cheesy.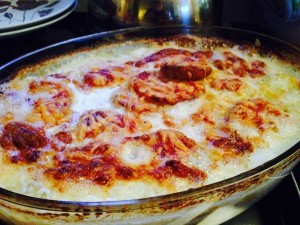 Enjoy as a main meal, or as a side to pretty much anything. Personally, I like to grab a bowl full with some salad, or even on its own.