*This is a review post, I was kindly sent some FadeOut skincare to try*
FadeOut skincare is designed with 35 years of skincare experience behind them and as I get older I am aware that my skin does need more help than it used to. So trying out some of their treatments to brighten my skin and deal with some minor issues I am noticing was something I was looking forward to. They promise real results in 4 weeks which is a tough ask, I think.
I have been using their Advanced skincare set, and so far have been very impressed. It's a very sensibly priced range of skincare that is easy to use and not faffy or complicated. Day cream, night cream, eye cream. Done. I like that. I don't have time for lots of potions, lotions and too many things to remember to put on my skin.
ADVANCED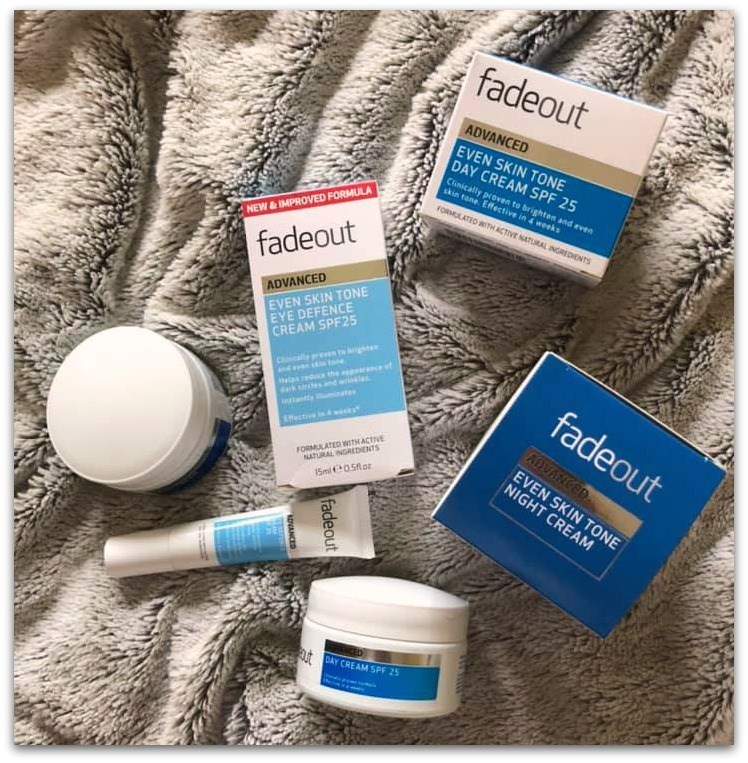 Improve the appearance of uneven skin tone with Fade Out's advanced brightening cream, formulated with Niacinamide, Lactic Acid and natural extracts, to reveal a more radiant and luminous complexion in just 4 weeks.
They smell nice, and are smooth and easy to apply and feel good on my skin. The day cream doesn't feel greasy and absorbs well, and has an SPF added. It does look a little "white" on application but that absorbs and rubs in and you can't see it when it's soaked in and make up can be applied easily on top. The night cream is rich but gentle, and my skin feels soft and smooth when I wake up.
The eye cream can be used day and night and a little goes a long way, I have found. Again, price wise, it's very competative with other brands and it smooths and soothes the eye area. I have darker shadows around my eyes from lack of sleep (thanks to being a mum) and so I am alwasy looking for treatments that can help with that. So far, I am impressed and my eyes do look a little less tired, no thanks to my children…
The treatments contain impressive and familiar skin brightening and anti-aging ingredients and my skin does tend to be a little sensitive but these have not irritated or upset any of my face or eye area which is brilliant. I will be continuing to use the FadeOut skincare for another few weeks then will share about how I think they have worked for me. They have several ranges to suit skincare needs so it is well worth seeing if they have something to meet the needs of your skin where it is at.