Getting up close and personal with a wasp for the sake of a good photo.
When I was about 11, at school, I was stung by a wasp. It hurt, a lot. It crawled up my leg by my skirt, I didn't realize, brushed it and it stung me. My knee was sore and swollen but we thought nothing of it. A few years later when I was about 22, a wasp landed on my neck and stung me, again because I brushed it off and annoyed it. That time, it was apparent that I was allergic to wasp stings. My skin became red and swollen, my mouth and tongue were swollen and my face and eyes started to swell and close. I became wheezy and felt very weird. Fortunately, I was working in a hospital at the time (I was on a smoke break in the hospital staff garden, yes, I used to smoke, I don't anymore) so was able to get treatment pretty fast and recovered, but now wasps and I are not really good friends and I try to avoid being stung.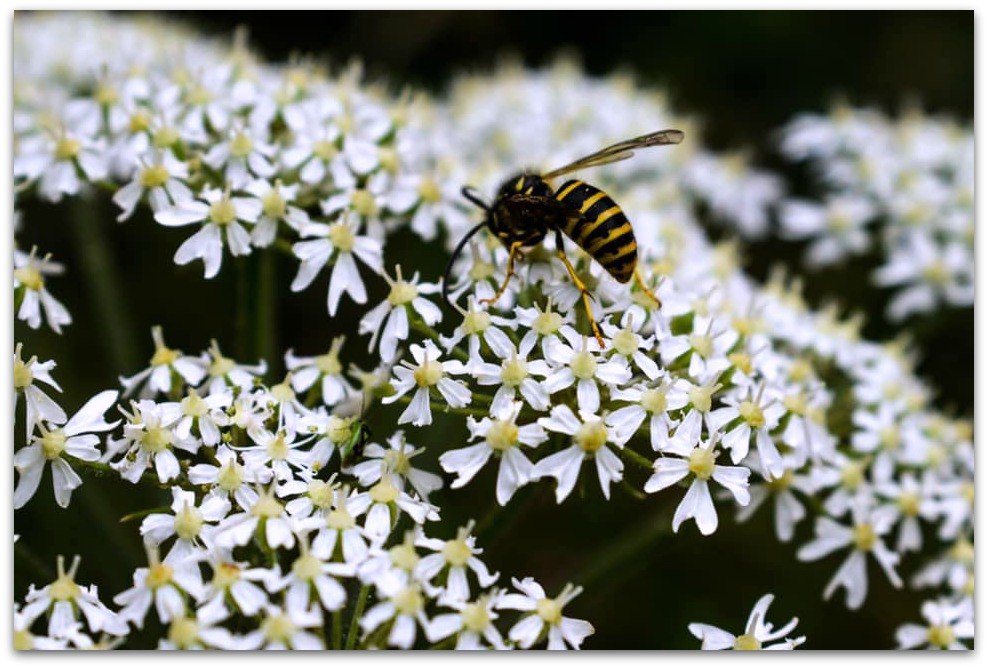 WASup is something we use for normal wasp and bug stings, of course, I carry an adrenalin pen, and strong antihistamine these days for me. I am pretty live and let live about wasps and don't kill them, and we always try to scoop them up and move them out to the garden when they find themselves in my house. It's not their fault I am allergic to them, after all.
When we were at Wakehurst Place this weekend, I took my proper Nikon DLSR camera to take lots of photos, and I spotted this little wasp busy and not bothered by me, so I got up close to take some shots. The husband and kids tend to flap and freak around wasps (which usually annoys me because I am the one that shouldn't get stung and probably will) so I waited 'til they had walked ahead and took some photos.
Wasp was too busy to sting me and I got a good shot. Win all round and no stings.