*I was kindly asked to review Meee in a Minute, the Meee in a Family Minute book*
I am always on the lookout for things that challenge my perspective or help me look at how I can parent or help us live family life better and I think the Mee in a Minute books might be a handy pocket-sized tool to help with that.
Written by Sid Madge, these books are easy to read, practical, realistic and handy…
Sid Madge is a brand strategist and founder of The Meee Programme. His first book 'Meee in a Minute – 60 ways to improve your life in 60 seconds' became a best-seller and celebrates the work of the Meee Programme. It draws on his knowledge of branding and expertise from neuroscience, psychology, education, business and sociology.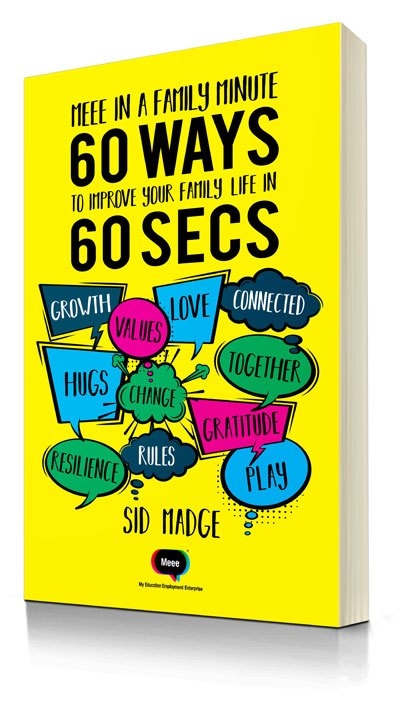 Meee in a Family Minute – 60 ways to improve your family life in sixty seconds is a brilliant little pocket guide full of snippets of advice and perspective that might give you some tips, tricks, and ideas on how to make family life a bit easier or even give you a new view on how to do simple things to improve routines, relationships or family values.
Meee in a Family Minute: 60 ways to improve your family life in 60 seconds is a book bursting with useful tips and strategies to appreciate, engage with, enjoy, connect and reconnect with your family, and get back on an even keel. There is no right or wrong way to be a family. What matters is that whatever family we have – it is our first 'tribe'. This book is therefore designed with family in mind. Sometimes all we need is a little nudge to reframe our thinking so we can see a different perspective and access a different outcome or opportunity.
Snappy, realistic chapters with life advice and ideas, that are easy to read and also easy to put into practice. As I read I felt rather pleased to note that we already doing some of the things Sid suggests.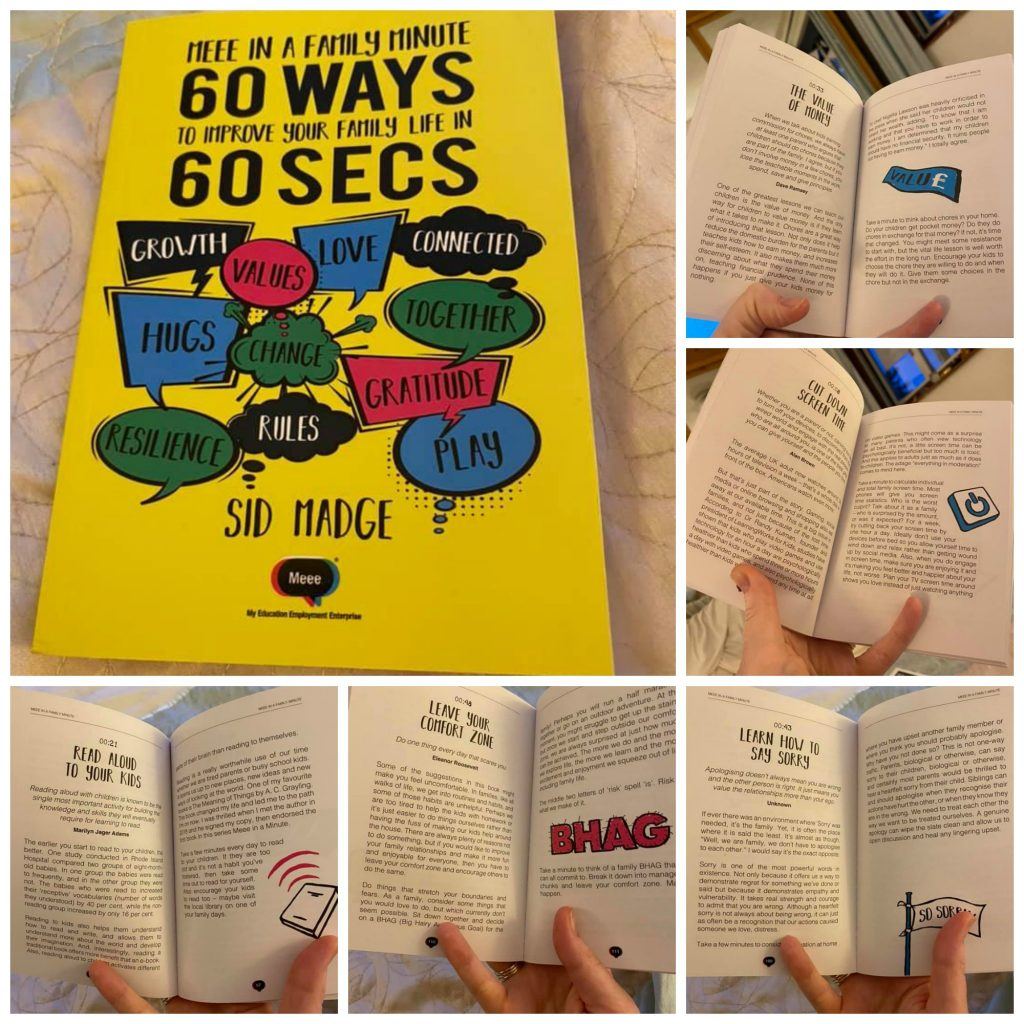 It's easy to read this with your kids or family, or pick it up and have a read through whilst drinking your coffee. You could pick a section a week and try and implement Sid's suggestions.
Some of them are simple to do, and easy to put in place. I was delighted to note that we already read aloud to our kids even now but didn't realize the extended benefits of this. I also always try and say sorry to my children when I am wrong too. There are more challenging things about comfort zones and family values that we as a family can definitely work on. Things like screen time limits I already try to do but could do better.
I really like how honest Sid is but also he comes across as sympathetic and helpful too. He's not just another "expert" telling you how to fix life issues.
This is a handy little book and I have found lots of tips and ideas to help our family and me and I think it's something everyone could do with getting their hands on. Sid has written some other books too, which looks helpful and interesting and as useful.
We have a copy of Meee in a Minute, the Mee in a Family Minute book to giveaway too, to one lucky reader of our blog. All you have to do is share one piece of advice or wisdom that helps your family and why you'd like to win a copy then click on the link below to enter.
Mee in a Minute, the Mee in a Family Minute
One winner will be chosen on the 1st September 2020 and sent a book of their very own to enjoy and get input from.
Terms & Conditions:
UK entrants only
No cash or alternative prizes available
Spam and incomplete entries will be deleted.
Please see our GDPR and privacy policy for how we store and use your data.
Winner will be contacted via email and has 28 days to respond.