This recipe for Gluten-free strawberry crumble is easy and you can actually use any fruit you like, but we opted for strawberries as they were freshly picked and in season. I have to confess I have never made a crumble before until recently, but this recipe is dedicated to the mum of a good friend of mine, who used to feed me her homemade crumbles when I stayed with them, and that I still remember from my childhood.
I use gluten-free oats for this and gluten-free flour. You can of course skip that if you don't have an issue with gluten and we also use a dairy-free butter substitute but you can use butter if dairy isn't an issue.
Crumble is seen as a winter pudding, but this one is full on taste of summer and depending on what fruit you use if not using strawberries then can be an all year round dish too.
You will need:
125g plain gluten-free flour
220g dark brown soft sugar
60g gluten-free oats
1/2 teaspoon cinnamon
generous pinch nutmeg
110g butter or dairy-free spread
1 pinch salt
1kg strawberries, hulled and sliced
100g caster sugar
2 tablespoons cornflour
225ml water
For the crumble:
Take the butter or spread, oats, flour, spices, and brown sugar, and using your fingers lightly rub them together until the ingredients are combined and even. Layer half the mix in an ovenproof dish and set aside.
For the strawberry filling:
Take your strawberries, the salt, the cornflour, white sugar and water and combine in a pan on a low heat, and stir through until the sugar and cornflour have dissolved and you have a thick glossy sauce. This takes about three minutes. Turn off the heat and let sit for about another two minutes. Then pour into your crumble dish and spread it evenly. Add the remaining crumble on top and bake in the oven (preheated to 180 degrees) for 35-40 minutes. It should be golden on top and the strawberries will be soft and the sauce sweet and sticky.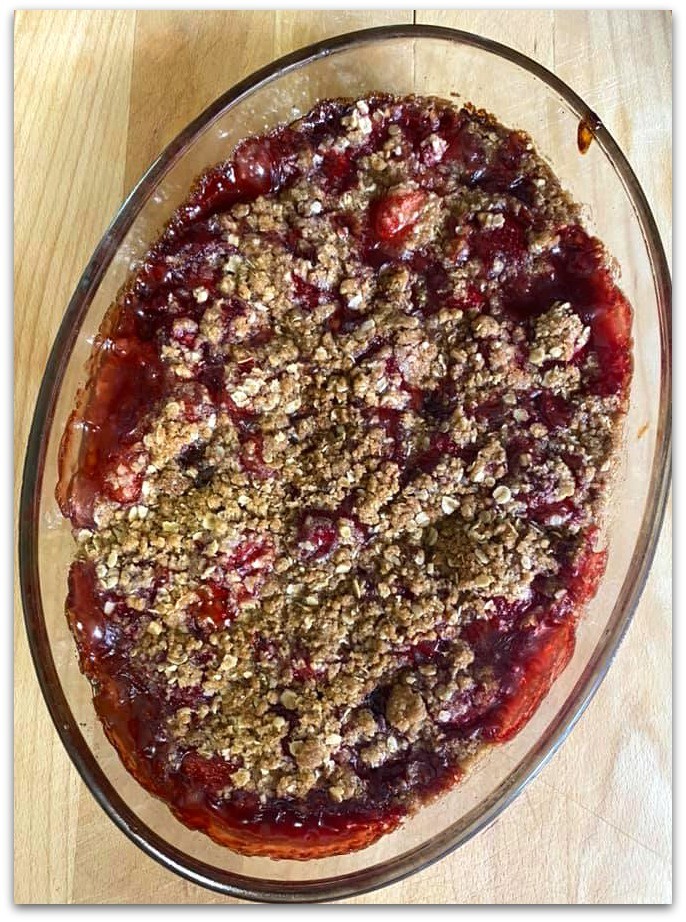 Serve with your choice of ice cream, custard, or cream. We use a dairy-free ice cream.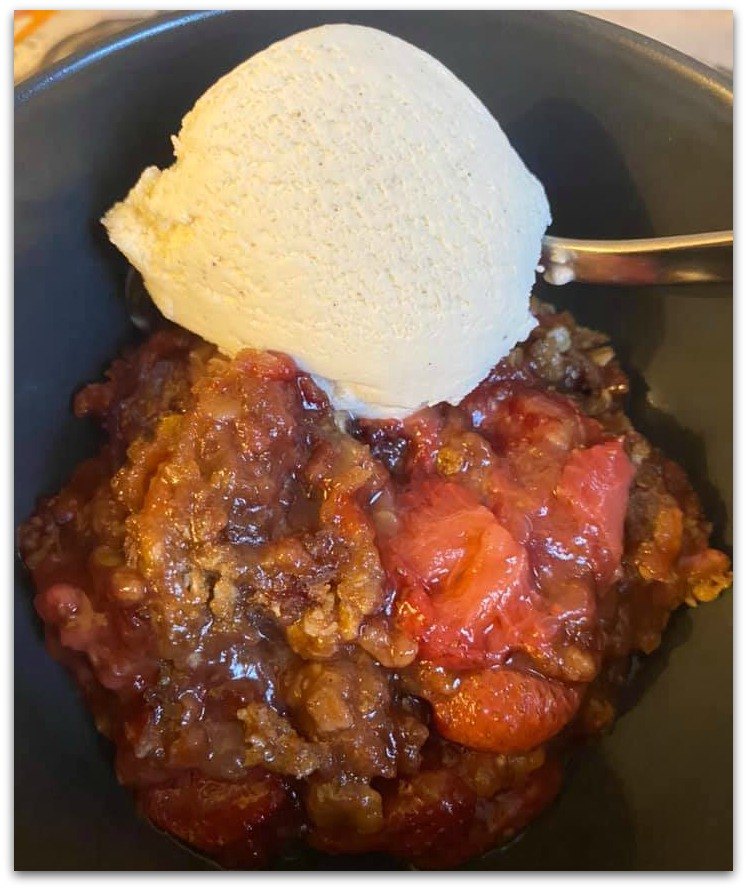 There will be no leftovers…
We also have a dairy free ice cream sundae recipe you could try too…