How would you like to make an exploding rainbow?
STEM Ambassador and secondary science teacher, Leonie Briggs brings science to life with fun DIY experiment  from STEM Learning to help parents, carers and teachers to keep children inspired in science, maths, and computing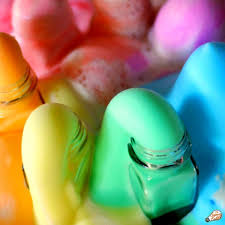 Rainbows have become a common sight in recent months, adorning windows as a thank-you to the NHS, and appearing throughout June to celebrate Pride.
Now, science teacher and STEM Ambassador Leonie Briggs is demonstrating a new way to have fun with rainbows – by making them explode!
In a film released today by STEM Learning, Leonie presents a step-by-step guide to making an exploding rainbow, using everyday household items that cause a chemical reaction. All that's needed for this easy and enjoyable experiment is seven small transparent containers, food colouring, baking powder and white vinegar. (See details attached).
The film is part of a range of home-learning resources made available for parents and teachers by STEM Learning at www.stem.org.uk/home-learning to help keep children engaged in science, maths and computing over the summer.
STEM Ambassador and science teacher at Darton Academy in Barnsley, Leonie Briggs said: "The beauty of STEM Learning is its inclusivity, bringing inspiring, challenging and fun resources to millions of learners. As a STEM Ambassador, I've been proud to help young people continue their learning at home and allow them to develop the skills of the future in an interactive and engaging way."
Fran Dainty, STEM Learning's Head of Education added: "From exploding rainbows and designing a menu for astronauts, to making a bridge from pasta and crafting the perfect paper plane – there are so many enjoyable STEM activities that can be done at home. We hope the last few months of home learning have given children and parents alike a chance to have fun together and boost their STEM knowhow. Our free home-learning resources are available for anyone to use at any time and we hope families will continue to have fun using them over the summer and beyond."
STEM Learning is a non-profit organisation dedicated to raising young people's engagement and achievement in STEM, increasing the numbers progressing in STEM studies and STEM-related careers. It is the largest provider of STEM education and careers support to schools, colleges and community groups working with young people across the UK, engaging with every primary and secondary school in the UK.
STEM Learning has an area of its website dedicated to families and teachers. Here people can find a range of materials such as free resources, family activities and tips from subject experts. All materials listed have been reviewed and can confidently be used by teachers and by parents or carers searching for fun, educational activities for young people. www.stem.org.uk/home-learning.