This recipe for Gluten-free cinnamon chips is easy, and they are really delicious and moreish. They are great for lunchboxes, as a snack when you want something sweet and if you love Cinnamon Grahams then you will like these too. I am a fan of a certain American brand of cinnamon flavoured breakfast cereal, but because we boycott Nestle, we don't buy them, anymore but when we make these, it just about makes up for missing those. My kids enjoy making these AND eating them.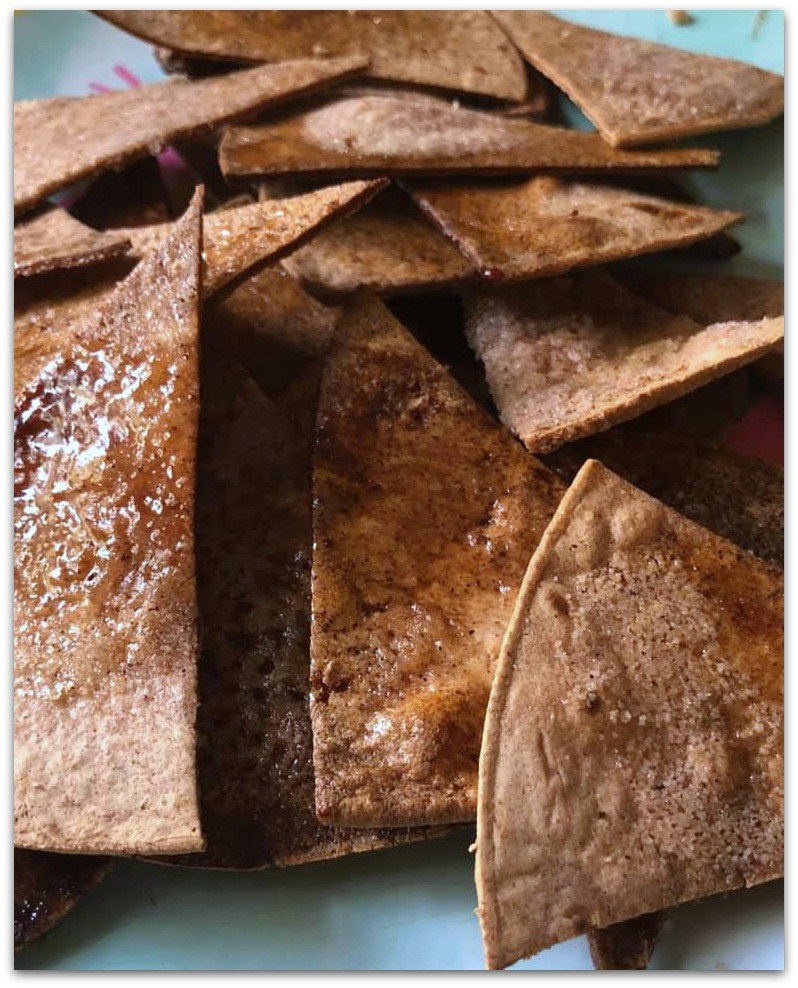 You will need:
Gluten-free tortillas – we use these
8 (makes enough for 4 people or snacks) cut into 8 equal triangle shapes
Line a baking tray with a silicone liner or baking paper.
Melt 25g of butter and brush it over the tortillas.
30g caster sugar and tsp of cinnamon mixed together. Sprinkle over the tortillas
Bake in the oven for ten minutes until the tortillas are slightly golden and the sugar and cinnamon has made them all crispy.
Remove from the oven and allow to cool slightly before eating.
You might have to fend your impatient family off until they are ready. You could serve them with a cream cheese dip if dairy isn't an issue for food allergies.
You can see our how to video here…
These Gluten-free cinnamon chips keep in an airtight container for 48 hours but they never last that long in this house. You could also dust them with cocoa powder and sugar for a chocolatey version and you can double the recipe if you want to serve these as a party snack or for more people.
We also have a really easy recipe for homemade savory crisps too, you might want to try those…