*Nyonya Recipe kindly asked us to taste test their range of delicious vegan, gluten-free treats and share about them for this blog post*
Living with family members with food allergies has its challenges. When I first knew the husband, there was very little out there that was safe for him to enjoy, and he had a rather basic staple diet. Over the years we have been able to expand that and I have learned what works and what doesn't and what's good and what's not, and thankfully we now have a wide range of food allergy foods both sweet and savory that he and our son can enjoy safely.
Nyonya Recipe is a home-based company we know and love, and we have Taste tested before. I have to say I have never been disappointed in anything I have bought or tried from them. I think her words describing her food and cooking sum it up well. Malay flavours and foods, cooked with love and delivered to your door for you to enjoy"
"Nyonya cooking is a blend of Malay food cooked the Chinese way, if you were to ask me. So now I shall be cooking British Food the Nyonya way and hopefully it is palatable."
Their new Signature Collection is available and well worth trying out.
We particularly love their carrot cake with a spicy twist. Gluten-free carrot cake can be hit an miss but this is definitely hit, and it comes with a delicious icing dotted with hazelnuts and is a very generous portion. My fussy about carrot cake husband declared this delicious and was disappointed when it was all gone.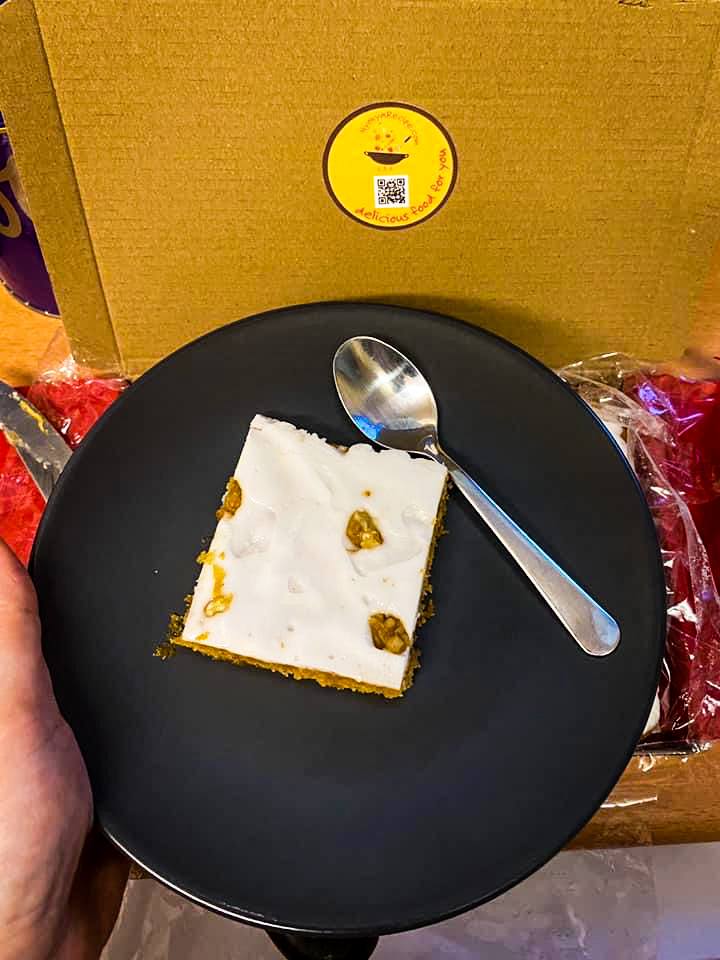 We also recommend their chocolate cake. It's moist, more ish and has just the right amount of icing so that each slice is just right. The texture works really well and it's great as a treat or for a special occasion.
The cakes come packed carefully in boxes that slide through your letterbox and are wrapped and protected for delivery so they arrive in perfect shape for you to eat them and the size of the cakes is generous. We were able to get 6-8 slices from each.
When they arrive. Pop them in the fridge for half an hour, then unpack, slice, and eat. They would make a great gift idea for someone too, and being vegan and gluten-free are great if you want to treat yourself or someone else who needs those options.
There are also some other options to choose from on their site, and because it's a small, home run busuiness you are getting the personal service expected and products made with thought and care. The packaging is eco friendly too, which is always a good thing to know.
We highly recommend them, and we think if you want something allergy or food choice friendly, but that little bit more interesting then you should check them out.
The only problem you will have is what to choose to have delivered…