*This is a review post for no-fuss delicious pancakes in collaboration with Griddle and Jim-Jams*
We are big fans of pancakes in our house and I normally like to whip up a homemade batch or two for brunch, but sometimes I want no-fuss pancakes. Also whilst we are not averse to sweet treats in this house I do try to manage our sugar consumption a bit and not go too overboard.
 JimJams chocolate spread is a great solution when we want something chocolatey but to ease back on the sugar.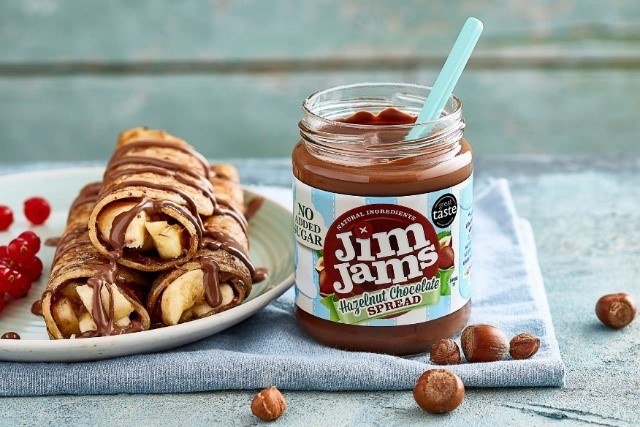 The Great Taste Award Winning Chocolate Spreads with No Added Sugar!  JimJams Spreads are receiving rave reviews for their smooth, creamy Milk and rich, nutty Hazelnut Chocolate Spreads.  
 
JimJams have also recently launched two amazing new Vegan No Added Sugar Chocolate Spreads, a delicious Dark Chocolate Orange and Dark Hazelnut Spread. 
All made with 100% plant-based ingredients which means they are kinder on your teeth, gluten free and contain 83% less sugar than the leading chocolate spread brand. The perfect way to satisfy those chocolate cravings, guilt-free!  
JimJams – 0.5g sugar per teaspoon  
Leading Chocolate Spread- 3.2g sugar per teaspoon 
JimJams is on offer for just £2.00 (normally £2.60) throughout February as an answer to all your pancake prayers! Currently available at Sainsburys, Morrisons, Waitrose, Asda & Ocado and coming soon to Tesco. 
And if you combine them with Griddle Vegan Pancake mix you have easy no-fuss delicious pancakes that even the kids can get involved with making. They can be made vegan or using eggs depending on your dietary needs and you can use plant-based milk. They work beautifully and cook up easily.
I always think it's a shame we only make a fuss about pancakes for one day in the year, my kids would have pancakes more than once a week if I let them, I can't really say I blame them, they are easy to make and you can add whatever you want to them, sweet or savoury.
Of course chocolate spread usually always wins for toppings in our house if we have to make a vote on it…