This recipe is my go-to, for foolproof and delicious chocolate brownies. This is the recipe I pull out when I want to take a treat to someone or make cakes for work. Everyone loves chocolate brownies, I am fairly sure of that. These store for about 72 hours in an airtight tin, and are great warm with ice cream but also are good for when you want something rich and chocolatey.
This cuts into 16 pieces. You can use coconut oil, which gives it a lovely rich flavour, or butter, or a dairy-free spread if you prefer. This is the coconut oil I use, or we use Pure spread.
170 good dark chocolate (at least 70% cocoa solids)
200 g  unsalted butter ( I actually used coconut oil, in this weeks batch, 'cos we had run out of butter, no-one noticed)
125g of light brown sugar
1 tsp pure vanilla extract
2 whole eggs 
200g plain flour
2tbsp of coffee (use from whatever coffee you prefer, I just save a little from our morning brew of coffee, but instant works fine too) 
Melt the chocolate, and add the coconut oil, and mix well, add the vanilla, coffee and sugar to the mix,  then beat in the eggs. I do this by hand, but you can use a mixer (mine died, I am hoping for a posh new one for my birthday! 😉 ) then sift the flour in and mix thoroughly.
Pour into a lined baking tray or tin, I use a 7 inch round or square tin.
Bake at 180 for 30 or so minutes until the brownies begin to crack around the edges. They will not be "baked through" and a test with a cake skewer won't work, they are meant to be "gooey" in the middle. Leave to cool, and then cut them from the tin.
You can add a tbsp or two of cocoa powder instead of coffee, but I find that the coffee brings out the flavour of the chocolate and works better. I use a 70% chocolate for all my chocolate based recipes. You can also add chopped nuts of your choice (I usually use hazelnuts  but didn't this week, just in case anyone had any nut allergies. Usually 100g of chopped nuts of your choice will work for a batch of 16)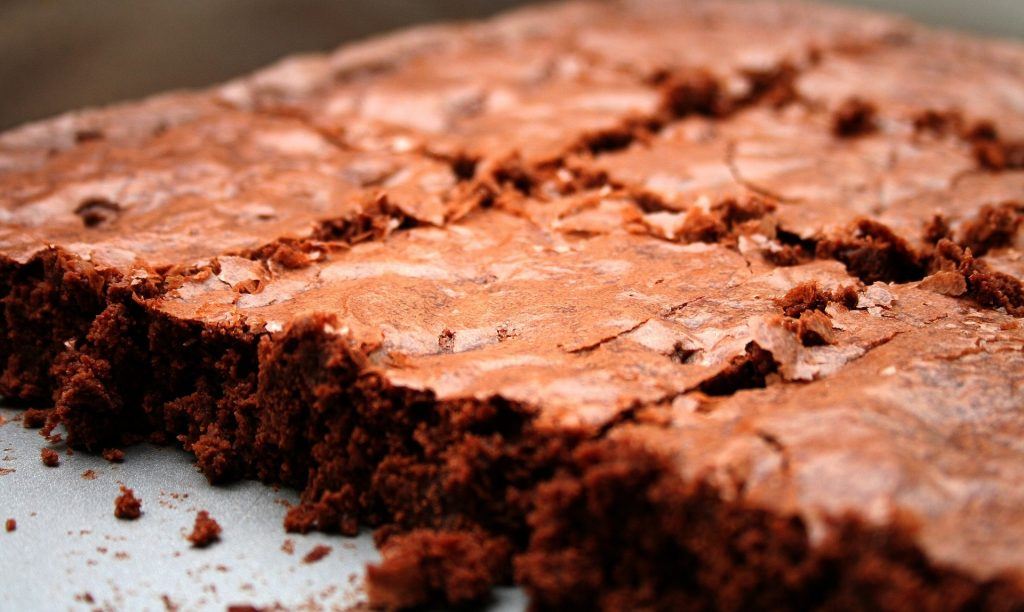 Serve with ice cream, cream, or simply eat them straight out of the cake tin, when no-one is looking…. (not that I EVER do that!)
These Foolproof and delicious chocolate brownies are not gluten-free, but don't despair. We have a recipe for that here…