*This Digital Easter Egg Hunt post is in collaboration with Learning Resources UK*
This Easter why not try something different and fun when in real life Easter Egg hunts can't happen as easily.
As a home school family we are big fans of Learning Resources UK and the amazing range of education resources they have for a wide range of ages. Their products are great quality and perfect for fun learning from simple maths to more complicate science. I have relied on them to find all sorts of useful things to help us in our learning and curriculum as we move through the school years and recommend them to friends often.
They have a brilliant digital Easter Egg hunt happening right now and we are delighted to be sharing about it. I think we could all do with a bit of fun and who doesn't love an Easter egg hunt, and this one is easy because it is all online and you could win a fabulous prize bundle just in time for Easter.
It's almost Easter, and Bopper the Bunny is ready to play! Here's the game: Bopper hid four eggs throughout our website. Can you find them all?
On each egg, you'll find a letter. Find all four, and you'll have a promo code that you can use to save 30% on smart Easter toys!
How Can I Play?
Follow the clues that Bopper left below to find out where the hidden Easter eggs are located. Each egg has a letter that you'll need to spell out a special word!
Will you be the first one to find all four eggs and win the prize bundle of brilliant kit to enjoy?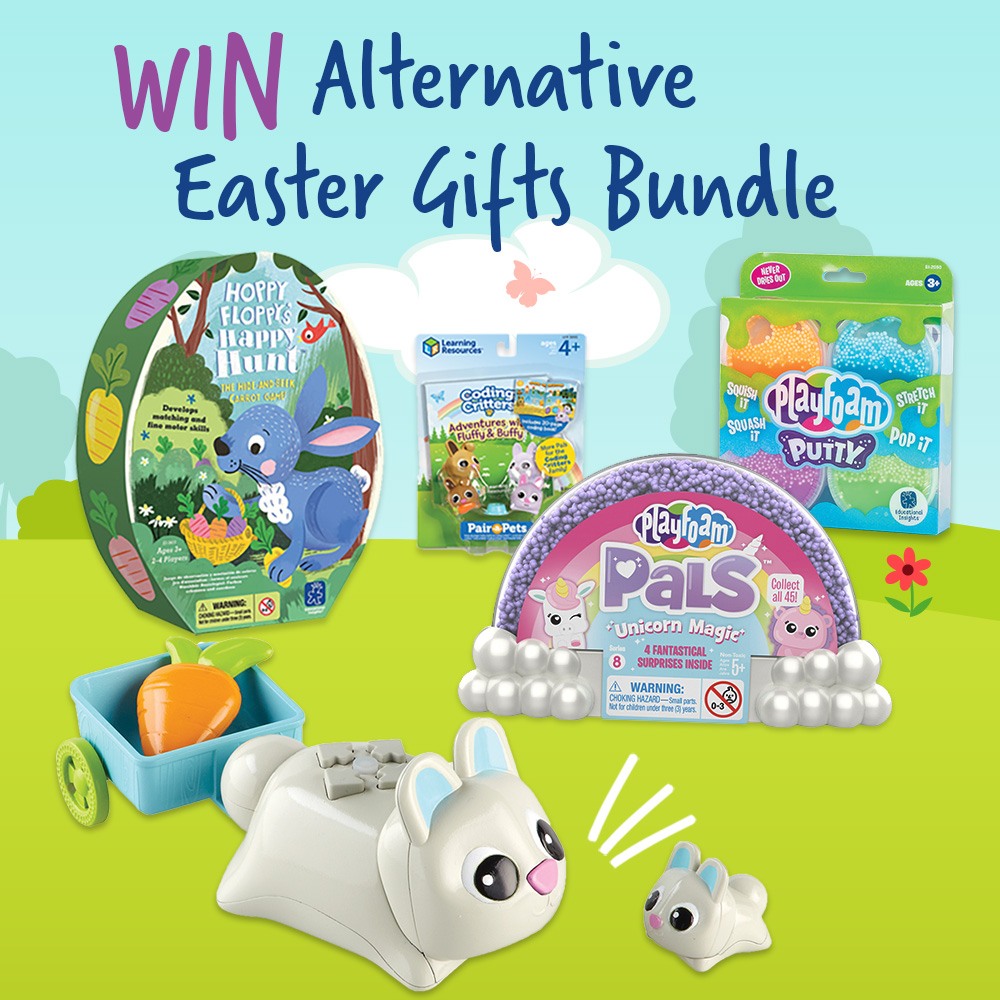 The prize bundle will contain:
1x Coding Critters Bopper, Hip and Hop the bunnies
1x Coding Critters Pair-A-Pets Adventures with Fluffy and Buffy the bunnies
1x Hoppy Floppy's Happy Hunt Game
1x Playfoam Putty 4-Pack
1x Playfoam Pals Unicorn Magic 2-Pack
Click on this egg three times to crack it open and find the letter…
[lreaseteregg]
By entering the letters and their email address, each participant with the correct word will receive a
unique one-use discount code for 30% off on our website to be used by the end of April. By ticking
an additional tick-box to sign up for our Newsletter, they will be entered into a prize draw to win the
bundle of Alternative Easter Gifts. Both the Egg Hunt entry and the tick-box for the prize draw will
close at 23:59:59 on Monday 29th March 2021.
Each entrant will receive an email with their discount within 48 hours of the competition closing. The
winner of the prize draw will be notified on Tuesday 30th March. These details will be shared on the
landing page along with the terms and conditions.