*We hope this collaborative post sharing some tips on the best spacious SUV's for all the family is helpful*
While SUVs were once a niche type of car bought by farmers and those living in rural, hard-to-reach areas, they're now very much a mainstream product. All kinds of buyers want SUVs these days and they're seen everywhere from cities to villages.
The main reason is that these cars are really practical and good for family life. They tend to have big boots that are easy to load up, since the ride height is a little higher. They're also easier to get in and out of for the most part, since the seats are higher up.
Drivers also love sitting higher up, with a more commanding view of the road. There are some drawbacks, of course – SUVs are more expensive to run and often more expensive than an equivalent hatchback, but that won't matter to many buyers.
Here we're going to pick out some of the best SUVs for family life. All our picks are spacious and of good value, so you can negate one of those drawbacks, at least.
Before you buy a used car you should work out a budget. The first place to start is understanding how much your car is worth, and there are plenty of online tools that can help with this now such as Parkers' Value My Car tool. Once you've got a valuation you can set yourself a budget and come up with a shortlist of models to test drive.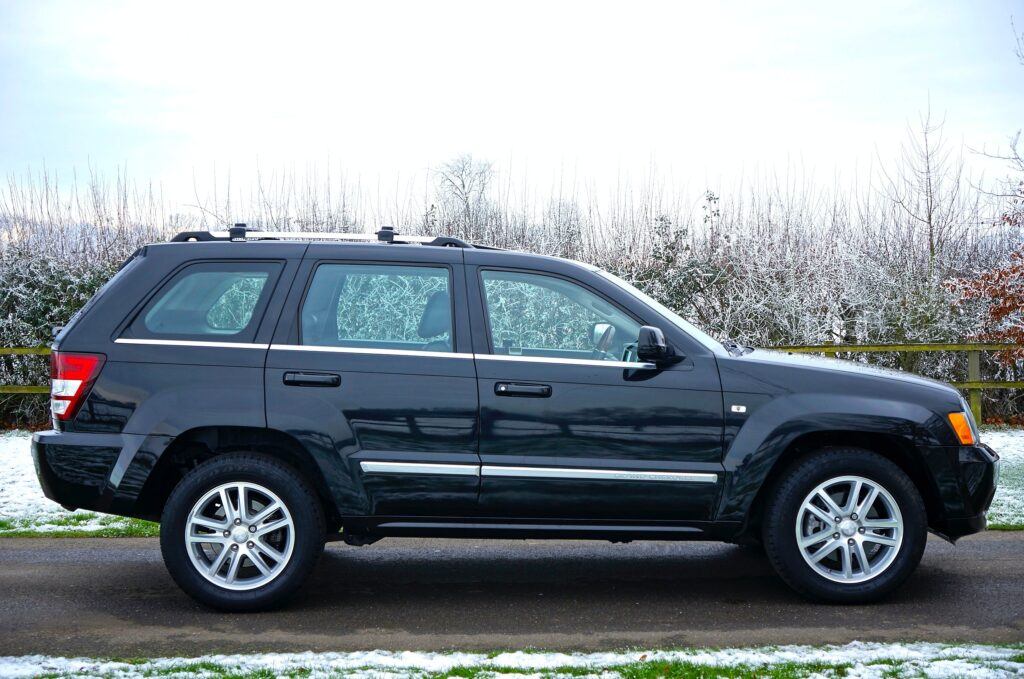 Read on for the top ten spacious SUVs for family life.
10. Ford Kuga
The Ford Kuga is good to drive, spacious and comfortable, so it makes a great family car. There's a good amount of space in the rear seats and a comfy driving position, so it's nice and easy to drive as well.
9. Mazda CX-3
The Mazda CX-3 is one of the most enjoyable SUVs around to drive. The manual versions in particular are excellent because of the slick gear shift, but all versions are fun in corners and comfortable over bumps. There's a decent amount of space but the CX-3 is a small SUV so larger families won't fit.
8. Nissan Qashqai
The Nissan Qashqai is equipped with loads of safety kit for the money and is really roomy inside. It has a big boot as well, which means it's perfect for families. Stylish looks and attractive prices on the used market are good news for buyers too.
7. Suzuki Vitara
The Suzuki Vitara is quite small but has a good amount of space inside. It's reliable, well equipped and has a range of quiet and efficient engines, so it makes a great everyday choice. The interior is a little plain but it's hard-wearing and well-built.
6. Kia Sportage
The Kia Sportage is huge inside, so it's great value for money. There's a big boot and loads of legroom and headroom in the back seats, so even if your kids are growing up fast they should have no trouble fitting inside.
5. Hyundai Tucson
The Hyundai Tucson is really reliable, which is a big factor in its appeal, but it's also practical, smart-looking and well-equipped. Higher-spec versions have an excellent sat-nav media system that's really easy to use and looks modern.
4. Fiat 500X
If you love the Fiat 500 but need something more practical for family life, consider the roomier 500X model. It's not ideal for large families but has much more space than a 500 city car and retains its funky looks and fun driving experience.
3.Renault Captur
The Renault Captur is good value and has a decent amount of space inside for the money, though it is on the smaller side. There's still plenty of room for kids in the back, though, and a big boot for this type of car. It's cheap to buy and run, which is at the heart of its appeal.
2. Mitsubishi Eclipse Cross
The Mitsubishi Eclipse Cross looks like really good value second-hand because it's often overlooked. It's good to drive, practical and looks distinctive, so it's one to consider that you might not have thought of.
1. Dacia Duster
The Dacia Duster is a bargain SUV with rugged appeal – it's really cheap to buy but also brings lots of interior space, a comfortable driving experience, a hard-wearing interior and low running costs.