*This is a collaborative post with Dodo Pad, we are delighted to be sharing about them and why we think it's a brilliant way to keep organised.*
I have to be organised and I have a very busy family life as well as a work one. Both my children have very active social lives, and I play taxi and manager to that, and I also home educate my son, which involves a lot of activities that I need to keep track of. Add in things like the usual family appointments, vet checks for our pets, medical appointments, work calendars and events and you have a lot of logistics to manage. We use our phones for some of this, but I like things written down, all in one place, where I can see and manage what's going on, and keep it all neatly running (well, I try, most of the time) even the simple act of managing myself some "me time" needs to be planned and diarised or it doesn't happen.
Dodo Pad is going to help me run life more smoothly and keep track of our busy, busy life.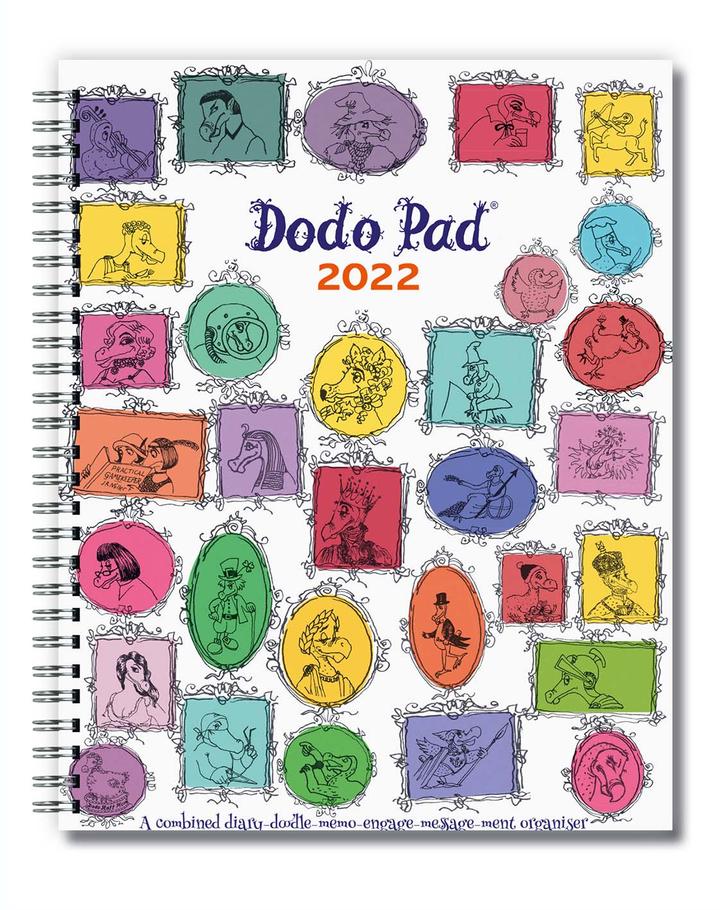 Dodo Pad, a stationery company with a great heritage is celebrating going against grains of all types – even their own! Faced with a business extinction event in early 2020, Lord Dodo has found his very own Noah's Ark in the care of new owner Mafalda Spinola. Now the company will most definitely NOT be going 'the way of the Dodo', and are changing up the sourcing and production process to make sure it doesn't contribute to any other extinctions.
Created in 1965 by Sir John Verney, the Dodo Pad has been saving people from 'extinction due to the pressures of modern life' for over 55 years. The diaries and organisers help 'Dodo Padlers' to get their various schedules in order, while also providing whimsical divertissement to prevent organisational overload. It's gentle humour and non-prescriptive style has won the Dodo Pad a cult following, with customers passing on the tradition to family members, work colleagues and friends.
The week to view grid on the right pages helps with divvying up appointments between different family or work-team members, or indeed different areas of one person's day. The blank left hand pages leave plenty of room to scribble, list, doodle and design. Most importantly, the non-prescriptive nature of the Dodo Pad means you are free to use the diary in the way that best suits YOU.
These much-loved features remain, as to the unique illustrations, dates of interest and funnies on every page. However, changes are afoot in other areas to bring the Dodo up to spec (or should that be peck?) for a sustainable future.
I love notebooks, journals and planners. When you find one that works and helps keep your life on track then you know you are onto a good thing and you want to stick with it.
I love the quirkiness of Dodo Pad because it makes it different but it works beautifully for keeping everything you need to plan and diarise in one place. The illustrations make it stand out from the normal and rather standard diaries you can buy. You can use their stickers as well to customise and make your diary your own.
It's a good size. I don't like planners or diaries that are too small, and you don't want something you can't slide into a bag or keep tidy on your desk. I also like the green credentials they are working towards as having less impact on the environment is really important to our family.
The planner is laid out so you can use it for your family or if you run your life with multiple activities and need to keep track. It's super handy for me to be able to jot down what the kids are doing, appointments, things for me, and things I need to make sure all of us are coordinating on too. There's space for special events and birthdays too. They have a range of super handy and fun planners, and diaries and calendars to choose from, not just this one.
If you are looking for a planner that helps you keep on top of life but is also fun, and easy to use, then we think Dodo Pad is for you. In fact we love them so much we have one to giveaway. One lucky winner from our blog will recieve a Dodo Pad to keep their lives on track for the year ahead.
To enter all you need to do is comment on our blog saying why you would like to win one then simply click on the link below and follow the instructions.
Dodo Pad Giveaway
A winner will be chosen at 11pm on 19th December and the prize will be posted to you in time to start 2022.
So why not go enter. The dodo itself might be extinct but Dodo pad will help stop your planning and organising from becoming extinct too.