*This is a collaborative post sharing 7 tips for cleaning your home before you move out that we hope are helpful*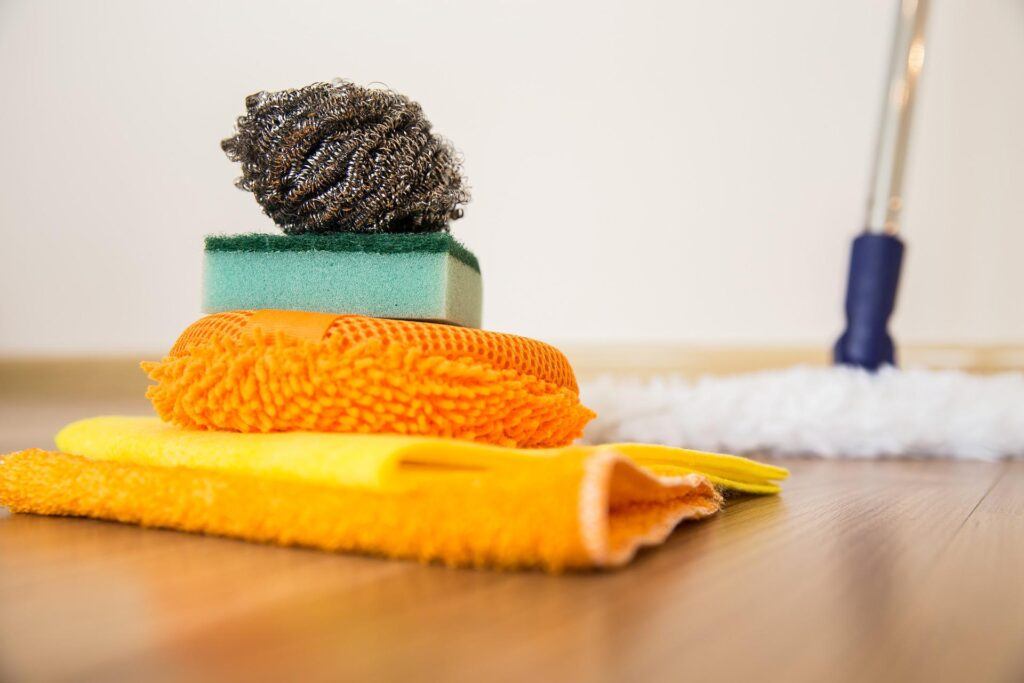 Cleaning your home before you move out is essential, and leaving it to the last minute will only add to your stress levels. But with a bit of forward planning, you can make the whole process as pain-free as possible.
Logistically, there's no point cleaning your home until all your bulky furniture has been dismantled and packed away before tackling room-by-room.
To help make your job easier, we're sharing our top tips for cleaning your home before moving out. Read on to find out more:
Before you get started
Cleaning your home before everything is packed away is a big no. So before you grab all your cleaning materials, clear the decks.
Make sure everything is out of the way – whether that's storing everything in one room to attend to later or putting your belongings into storage, you want to be able to deep clean without any stumbling blocks.
Hiring a local rubbish removals team will ensure all your junk is moved hassle-free. They will take care of everything from a complete house clearance to delivering your donated goods to a local charity – leaving you to focus on what matters.
Gather your cleaning toolkit
To clean your house from top to bottom, you need a cleaning toolkit – nothing elaborate or expensive, just basic cleaning materials should be enough to leave your home sparkling ahead of your move.
Items to consider:
Heavy-duty bin bags
Dustpan and brush/broom
Vacuum cleaner and all its accessories
Mop and bucket
Multi-surface cleaning spray
Bleach/toilet bleach & brush
Rubber gloves
Glass cleaner
Microfibre cloths, sponges etc.
Brushes
Extra bucket
Limescale remover
Feather duster
Asking a small group of your friends and family to help will make the cleaning process run much more smoothly. Plus, they'll remind you to refuel with a cup of tea and a sit down! By taking on one room at a time, you'll have your home looking spotless in no time.
Deep clean your kitchen
Your kitchen will likely be the one room that requires the most work. Start by clearing out all your cupboards (if you haven't already), and then wipe away any leftover crumbs, debris or stains from the shelves. Follow this up by spraying them inside and out before washing them down with a clean cloth.
Addressing your appliances should be the next step, particularly if they are built-in ones such as an oven, freezer or dishwasher. These will probably need more than just a wipe down, so invest in a heavy-duty oven cleaner, defrost the freezer and spray everything down with a dedicated spray before wiping down clean.
Your next stop should be scrubbing down any worktops, baseboards and other smaller fixtures that need attention.
Finally, vacuum and mop your kitchen floor and you're done!
Bedrooms & living spaces
For most people, their living spaces are where they spend most of their time. As a result, these can become problem areas for when you want to move out.
First, you need to clear everything out – all of your furniture, books, rugs, you name it. Then you will be able to assess how much work needs to be done, especially if there are stains on the carpet or walls that require more than a spray and wipe!
Stained carpets may need professional help to restore them back to their former glory. Likewise, you may need to invest in a small pot of paint and poly filler to fill in any holes or refresh stained walls.
Don't forget to dust, wipe down and clean any built-in shelving, stands, cabinets and fireplaces before you go.
Focus on your bathroom
If you regularly clean your bathroom, this won't take as long as you think! Essentially, you need to make sure the bathtub, showerhead and apparatus, toilet and sink are clean.
Using a good limescale spray or diluted bicarbonate of soda solution will help take care of any mould buildup on metallic surfaces, such as taps and showers.
If you have any broken plugs or attachments, be sure to buy a cheap swap, particularly if this is a rented property, to avoid any additional charges later from your landlord.
Finally, make sure that the water can flow easily. Any blockages should be addressed before you go.
Spruce up your garden
Tackling your garden may not be on your radar, but arguably it's as essential as the rest of your home, especially if you want to leave a good lasting impression on landlords or future owners.
If you have a shed, make sure you clear out any rubbish and sweep away any leftover debris from the worktops or floor.
With your heavy-duty bin or garden waste bags in hand, clear away any trailing branches and trim any plants or bushes that are looking a bit forlorn or overgrown. Mow the lawn, sweep away any mess, and you've instantly transformed your garden space.
Don't forget stairs, hallways et al.
Stairways, patios, windows and under stair storage are easily forgotten, but they are still features of your home that are essential to clean before you move out.
Your goal ahead of any house move is to ensure all your belongings are removed and that you have left the premises in good clean, working order. That means replacing any dead batteries or lightbulbs and dusting everything from light fittings to skirting boards.
Most of the T.L.C. required for staircases and hallways is no more than a vacuum. Move outside to your patio space, and all you need is a sturdy brush to sweep away any dust or debris.
If mould or mildew has built up, windows and window sills may need extra attention. But with a mould fighting spray to hand and a bit of elbow grease, you'll quickly budge any stubborn mould away. All that's left is to clean your windows, top to bottom, with a glass cleaning spray or natural solution such as bicarbonate of soda, vinegar and lemon.
Cleaning your home from top to bottom is a must if you are about to move house. With a few simple tricks up your sleeve, you'll leave your home in better condition than when you moved in!