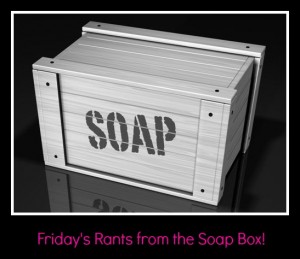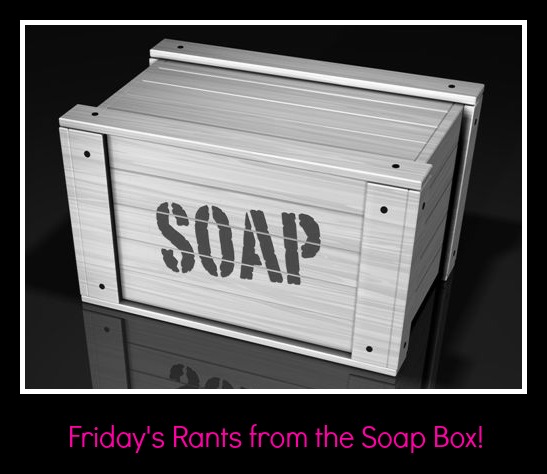 Welcome to my Friday's Rants from the Soap Box in my Living Room. A small space in the week where I can have a chunter about things that have made me twitch with annoyance or made me question if the world has gone mad or not….
I also  linked up with MummyBarrow for her Ranty Friday. You can find her blog and link up here if you'd like to join in. A good rant can be therapeutic.
As I have mentioned before on the blog, LSH has is dairy intolerant, and we strongly suspect that Small Boy is too. I am used to feeding a family on a dairy (cows milk product) free diet, and I have become an expert in working out what is in food, and analysing food labels. I try to feed my family fresh meals cooked from scratch, but sometimes, buying ready-made meals or sauces is convenient, and quick. I have no problem looking at labels, and making sure that they are "safe" for LSH and Small Boy, but what really makes me cross is when foods have dairy products in them, that they really don't need to have. Below, is a sample of the ingredients of 3 items bought from a local supermarket (I won't name and shame them, but lets just say that "Every Little Helps" is not the case here)
These items are not foods that when I cook,  I expect or need to add cows milk products to  and, traditionally, they shouldn't have milk products in . The supermarkets bulk out their foods with cow's milk, because it is cheaper, and easier to use than the right ingredients. (I have spoken to someone who works in the food industry and knows this is what they do)
So, below, you have Thai Green curry soup, with milk in it. Thai soups are not traditionally made with milk, they use coconut milk, cows milk is not an ingredient you expect to find in a Thai soup. It's bulked out the soup and made it "creamy" in place of the coconut milk, which is more expensive. That's all well and good, but a person with a dairy allergy or intolerance can't eat this item. The other list of ingredients is a Thai Curry sauce, also with milk products added, for similar reasons.
Chicken Stock, Milk, Onion, Cooked Chicken (5%), Coconut, Fish Sauce, Sugar, Ginger Purée, Cornflour, Concentrated Lime Juice, Lime Leaves, Lemon Grass, Spices, Garlic Purée, Vegetable Oil, Potato Starch, Wheat Flour, Green Chilli, Coriander Leaf, Black Pepper, Chicken Stock contains: Water, Chicken Skin, Chicken, Sugar, Cornflour, Salt, Chicken Fat, Onion Concentrate, Cooked Chicken, contains: Chicken, Cornflour, Fish Sauce contains: Water, Anchovy Extract, Salt, Sugar
Water, Coconut Cream (17%), Coconut (4.5%), Sugar, Green Thai Curry Paste (2.5%), Modified Maize Starch, Double Cream, Onion, Soy Sauce, Acidity Regulator (Lactic Acid), Lime Leaves, Ginger Purée, Garlic Purée, Lemon Grass, Salt, Tamarind Concentrate, Coriander Leaf, Onion Extract, Carrot Extract, Flavouring, Capsicum Extract, Celery Extract, Leek Extract, Maltodextrin (Turmeric Extract), Coconut Cream contains: Coconut, Water, Green Thai Curry Paste contains: Coriander, Vegetable Oil, Garlic, Lemon Grass, Shallot, Galangal, Water, Wild Ginger, Green Chilli, Salt, Sugar, Kaffir Lime Peel, Thai Basil, Turmeric, Coriander Seeds, Cumin, Acidity Regulator (Citric Acid), Soy Sauce contains: Water, Salt, Sugar, Wheat, Soya Bean, Acetic Acid
This next list of ingredients is from a Mexican chilli sauce. I was making a meal for a group of people, at the last-minute, and to save time, bought some sauce, so I didn't have to cook from scratch, in a hurry. This has lactic acid in it. This is a milk by-product, and again, for some dairy allergy sufferers and people with dairy intolerance, renders the food inedible. It is used as a preservative and for "flavour", but is it really necessary. Proper Mexican chilli, doesn't have milk in it, why do the supermarkets and food manufactures feel the need to add it, and make it almost impossible for those of the population with food issues to eat their products??
Tomato Purée, Water, Kidney Beans (10%), Red Pepper (4%), Modified Maize Starch, Onion, Sugar, Salt, Lactic Acid, Citric Acid, Garlic Powder, Chilli Powder, Cumin Powder, Fat Reduced Cocoa Powder, Oregano, Thyme, Acidity Regulator (Potassium Carbonate)
These are just a couple of items, but I can tell you that almost every time I go shopping, I find something with milk products in it, that really doesn't need it. It's frustrating, and time-consuming having to avoid certain things, and for someone with a serious dairy allergy (LSH is not in this category, thankfully) it could be potentially fatal, if they are not aware, or the labelling is not clear. Lactic acid doesn't leap out as potentially an issue, but it actually is a problem, for LSH and other people with a dairy intolerance, we know, we have tried and tested, and he cannot eat foods with it added.
The food industry, generally needs to get its act together. With the recent horse meat scandal hitting the headlines, I am again reminded of how much I want to buy healthy, wholesome, fresh, locally sourced, organic produce, good quality meat, and foods that don't cause health issues. It would be wonderful if I could live on a self-sustaining farm, and never have to enter a supermarket again, but sadly, that isn't likely to happen, and I have to shop to feed my family and I have to battle with ingredients in food, that really shouldn't be in them.
I'd be interested to hear from other people who have struggled with the same issue, or similar issues with ingredients in foods, when they have an intolerance or allergy. I am thinking of contacting various supermarkets and food companies with this issue.
Also, feel free to click on the Linky to join the other Rants, on Mummy Barrow's blog….