This casserole can be cooked from frozen in a slow cooker, or on low in a casserole dish in the oven.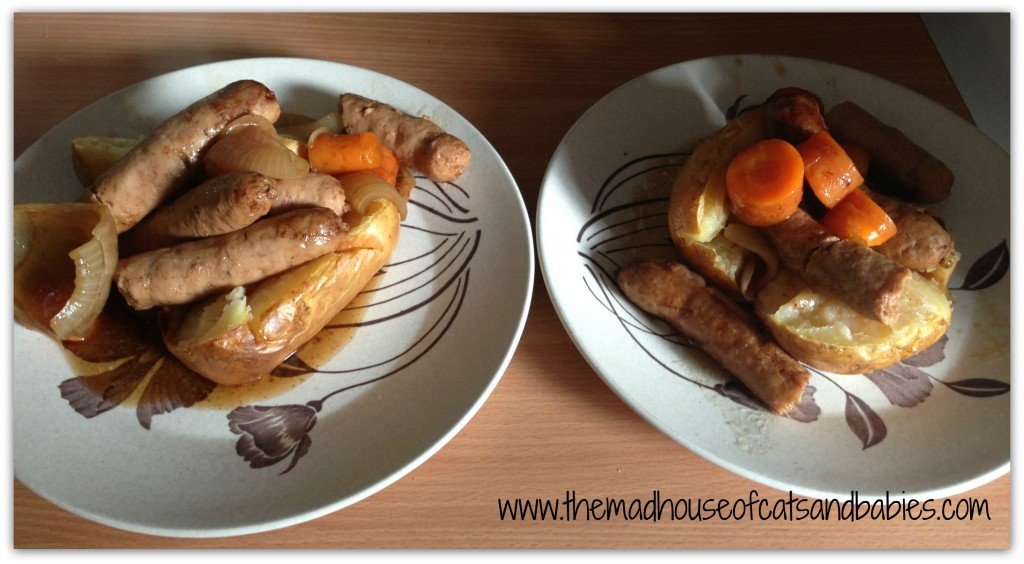 Frozen sausages (I use Farmer's Choice Gluten free pork sausages, they are really nice, and keep their shape well when cooked in a casserole)
800mls of good stock (or whatever you have to hand, I had some in the freezer but I also use  stock pot things, they work well and I buy the gluten free ones)
Small glass of red wine (to put in the casserole, not to drink, although  was tempted)
4 carrots, cut into chunks, (I washed them, but didn't peel them, this is a lazy recipe)
One onion, cut into chunks
2 cloves of garlic, roughly chopped (and peeled, it's probably the fiddliest bit of the whole recipe)
Throw it all in the slow cooker, or casserole dish, and cook on high for 6-8 hours if slow cooking, (check your manual for times)  and 4-5 on about 160  if in the oven. Stir it occasionally to make sure the sausages all cook evenly.
Serve with baked potatoes (which, if you want to make the best, crispy skinned, but fluffy on the inside potatoes, coat them in olive oil, and a little salt, put them in a 200 degree oven for 20 mins, then turn down to 180 for another 40)
Easy, peasy and very yummy! You can also make this with vegetarian sausages and use vegetable stock and it works well too.