It's no secret that after LSH's bike accident, where he came off his bicycle on a dark, wet road, almost 4 years ago, and was badly concussed, after hitting his head, that I am PASSIONATE about everyone wearing a correctly fitted helmet when cycling, no matter what age they are. Thankfully LSH was wearing his helmet, as you can see in the pictures it took the brunt of the impact, and although he was concussed and suffered from some minor issues, he lived to tell the tale. I still remember the cold feeling I had, when the Neurology Consultant came to check him over, in A&E, that night and told me that if he hadn't been wearing his helmet, he likely would have either been very badly injured or killed.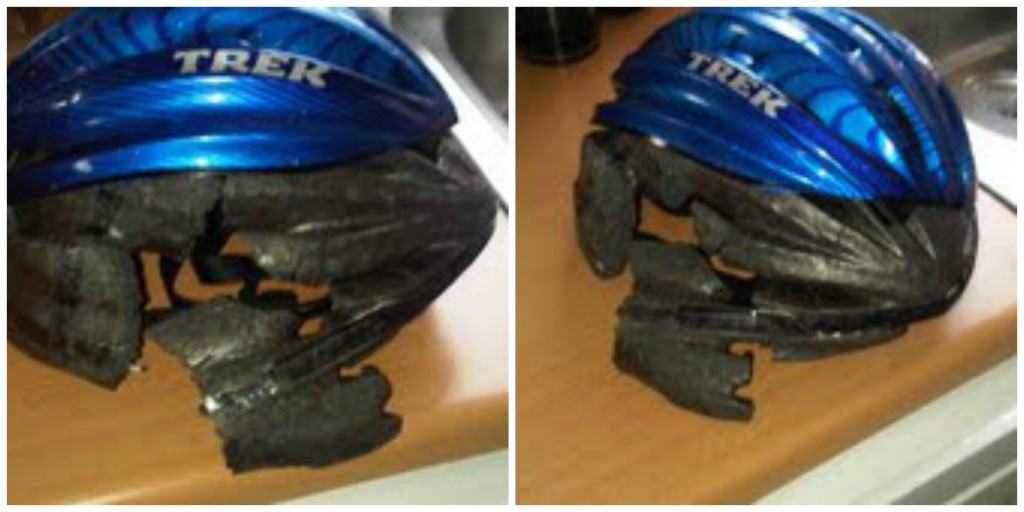 Little Man chose a bicycle as his birthday gift this year. The bike has arrived, and is ready for him, but I stupidly forgot to order a helmet, when I placed the order for the bike, but I am actually glad that I did, because it meant we HAD to go to a bike shop, and find, try on and fit an appropriate helmet for him and I learned a few helpful things, when we did this, after some reading and research, and also speaking to the very helpful man in our local bicycle shop.
I cannot help but cringe, when I see children (and adults)  riding on bikes, especially near busy roads, without a helmet on. In the UK it is not a legal requirement for helmets to be worn. The Government suggests the following on it's website:
You should wear
a cycle helmet which conforms to current regulations, is the correct size and securely fastened
appropriate clothes for cycling. Avoid clothes which may get tangled in the chain, or in a wheel or may obscure your lights
light-coloured or fluorescent clothing which helps other road users to see you in daylight and poor light
reflective clothing and/or accessories (belt, arm or ankle bands) in the dark.
I personally think, having seen what happened to LSH when he WAS wearing a helmet, that pretty much saved his skull, from being smashed, that it should be compulsory, particularly for children, but sadly not everyone shares my (and many other people's) opinion, so for now, we all have a choice. In our house the rule is "No helmet, no bike" and until the children are old enough leave home and be responsible for themselves, that is the rule we stick to. I know some people and organisations disagree, and claim that helmets don't make any difference in an accident or if someone falls off their bike, but having been through our own experience, I would prefer to risk helmet hair, and enforce the rule of helmets being worn correctly, and I think my children are safer wearing their helmets.
These statistics from Headway, on bicycle accidents and head injuries is also pretty convincing for me:
A Cochrane review considering five case-control studies from the UK, Australia and the USA illustrates a large and consistent protective effect from cycle helmets, reducing the risk of brain injury by up to 88% and injury to the upper and mid face by 65% (Helmets for preventing head and facial injuries in bicyclists, Thompson et al.. Cochrane Database Syst Rev. 2000)
After introducing a helmet law for children under 14, the US state of New Jersey reported that bicycle-related fatalities for that group fell by 60%. For riders over 14, who were not required to wear helmets, the reduction was a mere 5% in the same period. (Trends in Pediatric and Adult Bicycling Deaths Before and After Passage of a Bicycle Helmet Law, Wessen et al)
I found this website, the Bicycle Helmet Initiative  most useful, and their information on how to fit a child's helmet, was helpful, when we were choosing Little Man's, and I am now realising that Big Girl probably needs a new one, so we will be getting her one soon, when she gets her new bike, in the summer holidays.
Ensure the helmet is the correct size. It should fit snugly and be comfortable. Hair accessories may need to be removed, to allow the helmet to fit properly.
When the child shakes, nods or moves their head, the helmet should not move and should remain secure.
The helmet rim should sit on the forehead, just above the eyebrows
The helmet SHOULD NOT be tilted backwards, allowing the forehead to be exposed, or tipped too far forward so the child's vision is obstructed.
The straps should fit snugly, and not allow the helmet to move around on the head, and should not be twisted
The helmet should not obstruct the child's ability to hear.
The helmet should be replaced if it is damaged, or scratched in an accident, or dropped and damaged.
Always make sure you buy a helmet that is genuine, and conforms to current regulations. Buying or using a second hand helmet is not advisable.
The website is also useful, for other information, like when your child needs a new helmet, what you need to do if the helmet is dropped or damaged, and where to buy them.
This video is also useful, for a quick "how to" on fitting and putting on a child's helmet.
Little Man really likes his new "cool" helmet, and as you can see, we are helping him to learn how to put it on, although I will always check it, because he is only 4 and still needs adult help. The helmet is not strapped on fully, in the photos. He was too busy posing and refused to let me do it up properly. The straps should fit snugly, but not too tight. (excuse the laundry and messy kitchen, in the background!)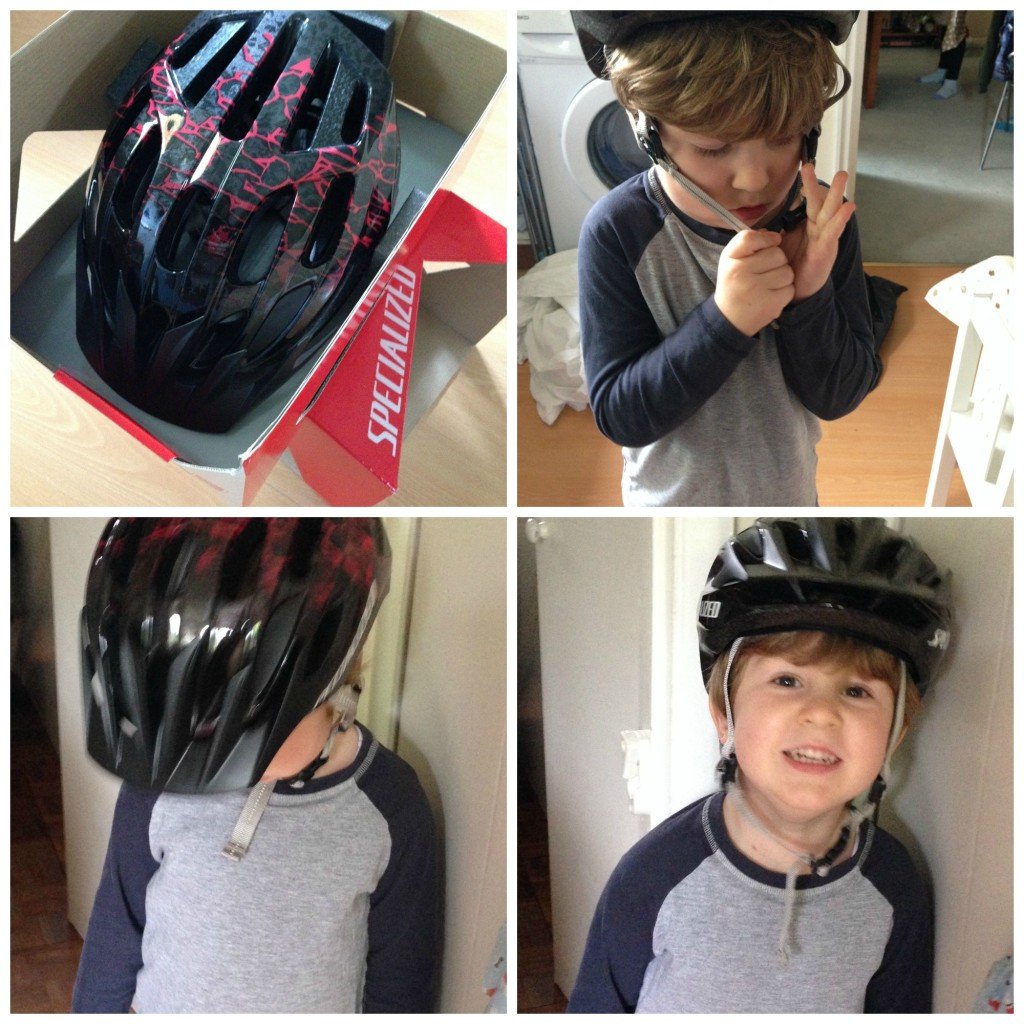 Now  we just need to teach him how to ride a bike….
*That's our basic how to on fitting a child's cycle helmet. We are not professionals, it's always a good idea to have a helmet checked by an expert, either in your local cycle shop, or from a safety awareness group that has a qualified advisor. We had our helmet checked to fit  in the shop  where we bought it, and also LSH checked it when we got home, to make sure it fitted correctly based on the advice above*