A slow-cooked gluten-free meatball recipe, with gnocchi, a change from pasta. This Slow-cooked Gluten-free Meatballs & Gnocchi meal is one of our favourite family meals!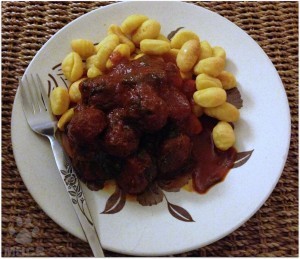 This recipe is an easy and very tasty one, and because it is gluten-free. My kids love it and it's a reasonably quick meal with a little prep.
You will need
 olive oil for browning the meatballs and coating the gnocchi
1 medium-sized onion, finely chopped
1 garlic clove, crushed
500g  minced beef
200g (7 1/2oz) minced pork
1 slice of gluten-free bread, food processed, until a fine crumb-like texture. You can also get gluten-free breadcrumbs.
1 tsp dried oregano
1 egg, beaten
1 medium onion, chopped finely
1 garlic clove, crushed
2 packets of ready-made gluten-free gnocchi
1 jar of garlic/basil passata (700g)
1 glass of red wine (not for drinking!)
Optional – 300g of raw spinach
Thorougly mix the minced meat, breadcrumbs, herbs, onion and garlic with the beaten egg, and then using your hands, roll out balls of the mixture, sligthtly smaller than golf balls. You should get about 20 meatballs. I find if you put them in the fridge, for an hour, to "set", before you brown them, helps to keep them the right shape, but you don't have to. I didn't take any photos of this stage.
If you have a slow cooker that you can use to pre-cook or brown food in, brown the meatballs, otherwise brown them in small batches in a frying pan, then put them in the slow cooker pot. Pour the jar of passata over the meatballs, and add the glass of wine (told you, you shouldn't have drunk it!) and then set to cook on high for 6 hours. After six hours, you may need to add a little extra liquid, usually 200mls or so of water, if needed, and then let it cook for 2 more hours on low.  You can add the spinach as an optional extra, about 20 minutes before the end of the cooking time.
I roast our gnocchi. It's like baby roast potatoes, the kids think it's a massive treat and it works well with the meatballs. It goes crispy on the outside, but soft in the middle, a bit like mini roast potatoes. Coat them lightly in olive oil, and put them in a baking dish, and bake for 40 minutes at 180 degrees.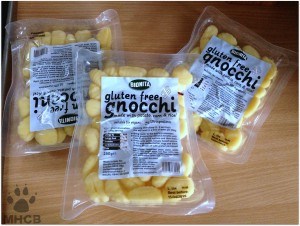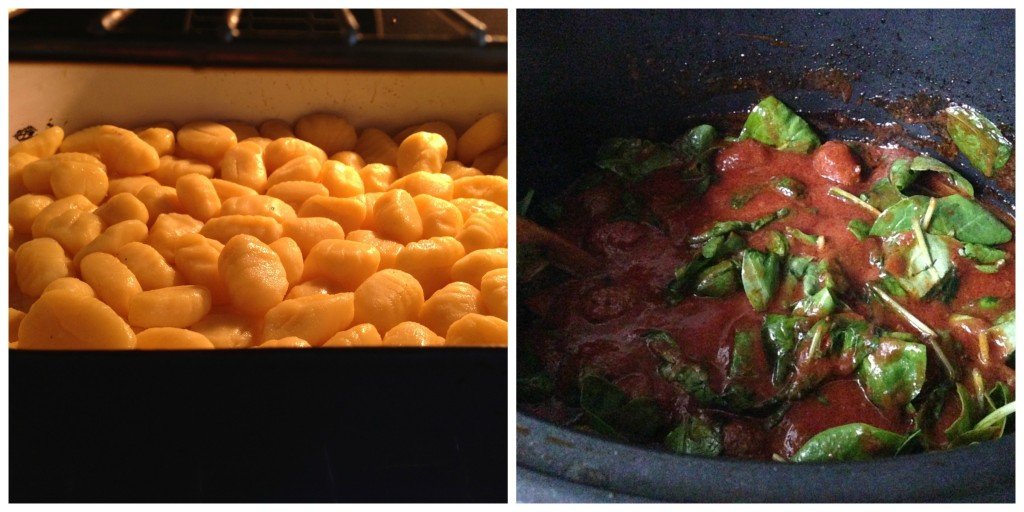 Cheat hints – You can buy gluten-free meatballs from farm shops and some supermarkets. If I don't have time to make them, I have used BlackFarm gluten-free meatballs, before, which work well, with this recipe. You can also just serve this with gluten-free pasta, if you don't have time to cook the gnocchi.