*we were sent some Fruit Bowl products to try. All opinions and words are our own. Dietary information available on the Fruit Bowl website*
I am fairly strict with my kids, on sweets and sweet treats. Like most children, they like something sweet to eat, and whilst I am not averse to buying them chocolate, or sweets, sometimes it's nice to find something that doesn't have huge amounts of sugar, or other nasties like artificial colours or flavours.
We have recently tried some tasty snacks from Fruit Bowl and really liked them.
There are lots of products in their range, but we particularity liked the Fruit Peelers, which are ideal for lunch boxes and snack time.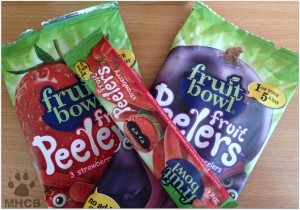 They meet the Mummy list of approval because:
they have no added sugar (any sugar is from the dried fruit itself)
because they have no added sugar they can be sent to school as part of a sensible packed lunch (our school is happy with dried fruit products if they are not loaded with sugar)
they have no yucky artificial colours or flavours.
hey also count as one of a child's five-a-day, contain a lot of fruit, unlike other dried fruit products, which have more sugar and less actual fruit.
they contain less than 60 calories per snack, which I have found useful, for me, when I want a sweet snack, but not something loaded with calories.
They meet the kid's approval list because they taste nice, are a good sweet treat, without all the sugar,  and are easy to open, and fun to peel and eat – who doesn't like food you can play with first? 🙂
We also really like Fruit Sours. In fact, the children and husband will squabble over them. They are a nice alternative to something really sweet, and again because they have no added sugar or nasties, and contain a lot of fruit, I feel happy to let the kids (and the husband 😉 ) have them as a treat.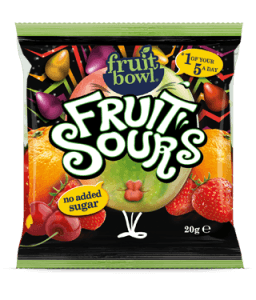 So, if you are looking for something to add to your child's lunch box, as a treat or to top up their daily fruit and veg intake, without worrying about what they are eating, the residents of the this house would say that Fruit Peelers are a definite weekly shopping list must and Fruit Sours are a great treat.
They are also ideal for traveling, because they come in individual packs, are not messy, or too sticky, and don't need to be kept cold/chilled. Handy for a snack in the car, or plane, or when out and about, as a treat. We have stocked up for our holiday.