Reading is something we are very passionate about here in the Mad House of Cats & Babies and we love books. A personalised book is something extra special….
Little Man loves reading, and has in fact, just learned to really read, himself, working hard at school and with us to master this very important skill. He loves being read stories, and we encourage our children to enjoy reading all sorts of books.
When his personalised book from Penwizard arrived, he was very excited, and so was I.
These books really are lovely. I have to say, I have read many children's books in my time, and some are great, some are average and some just don't cut the mustard with us. This book is made special because it is personalised, and written around a child's name, but the book itself is excellent quality. The pages are smooth and a lovely texture, ideal for small hands to grip and I personally really loved the beautifully drawn illustrations. The book we chose, is about a little boy who wakes up one morning and can't remember what his name is, it's got lost and he goes on adventure, meeting strange and not so strange creatures along the way, collecting alphabet letters. At the end he finds his name. Our book, of course was made for Little Man, so his name was at the end. He was delighted!

I think books like this add that extra sparkle to reading. They encourage imagination and creativity, and because they are personalised, can be kept as a keepsake, even after a child has grown older. If you are trying to encourage a love of reading, or get a child to enjoy it, I think this would be a great idea, to help them. They also would make a wonderful, original birthday or Christmas gift, or just a special treat for a child who loves to read or be read to. I have already recommended them to friends and now Big Girl is asking for one too, claiming that she isn't too big to have a book made for her!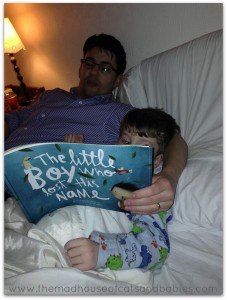 Two tired boys, one big and one small, reading our book, at bedtime. It's been read many times, in the past few days, since it arrived.
I also managed to get Little Man to share what he thought of the book, in a short video, too.
They have other styles of books, that can be personalised, on their website, to choose from. We would definitely give them the thumbs up, here.
*We were very kindly sent a personalised book for Little Man to review*