This is a review post in collaborative post with Vita Coco Kids*
As a parent, I have become increasingly aware of how important good nutrition and a balanced diet is, for my family, but particularly for my children. It's a real minefield out there, with all the advice and input you have to wade through to work out what you should be feeding your children and what is bad for them. It's also confusing when you see adverts or promotions in supermarkets saying something is "healthy" or "contains real fruit" or "no added sugar" because you automatically think they are better options, when actually, in reality, they often are not, and sometimes you feel like need a degree just to read food ingredient labels to decipher what is what and work out if the things listed are nasty or nice. Is your head exploding yet? I do feel like mine might, on a regular basis…
One thing we have cut back on, based on what I have learned, about healthy eating, is sugar. I confess as a family, we were drinking a lot of juice, cordials and squash, and because I feel very strongly that sugar substitutes like aspartame are not really that good for us, we use real juices. However, there is a lot of sugar in juice, and we know that sugar isn't good for us, when we have too much of it, even from real fruit juices or good quality juice drinks, so we cut almost all of what we were drinking out. It's been good to learn to see juice as a treat, not a thing we HAVE to have and to encourage my children to drink more water, but I do want to have some options up my sleeve.
When Vita Coco asked us if we would like to try out their new Vita Coco Kids drinks range, I jumped at the chance. They have done some research into what parents are letting their kids drink, based on the news that too much sugar isn't good for us, and found that like me, a lot of parents have cut back on juice drinks and worry about the sugar content of the juice drinks they buy. Vita Coco Kids have two new drinks, which of course contain their famous fresh coconut water, but also real fruit juice. The beauty of these drinks is that when compared with other leading brands of drinks they contain a LOT less sugar. Vita Coco Kids typically has around 50 percent less sugar and less calories than other chilled kids juices and smoothies. This is music to the ears of parents looking for lower sugar drinks, for snack time, as a treat or to put in school lunch boxes (and our school is very strict on what goes in lunch boxes, so this is great news). So you get all the benefits of coconut water but also something kids will love, with less guilt over sugar consumption. I would say that is a win all round.
The juice drinks come in two flavours.  Apple & Blackcurrant or Mango & Pineapple. When you take a vote in our family, the children really like both. When I tasted both of them I was very pleasantly surprised. I like coconut water, and the added flavour of fruit juice makes it very refreshing. These drinks are perfect chilled in a lunchbox or for an after school snack, or with a meal. When you look at the amount of sugar these drinks contain, per carton (9g) compared to other juice brands, (some of which have almost double that amount) it makes Vita Coco Kids drinks seem like a really good choice. You also get the added goodness of coconut water, which has naturally occurring potassium in it. For me, starting back at running, and needing a drink that will help rehydrate me after I have exercised, this is a great option too. Vita Coco doesn't add anything artificial to it's drinks, either.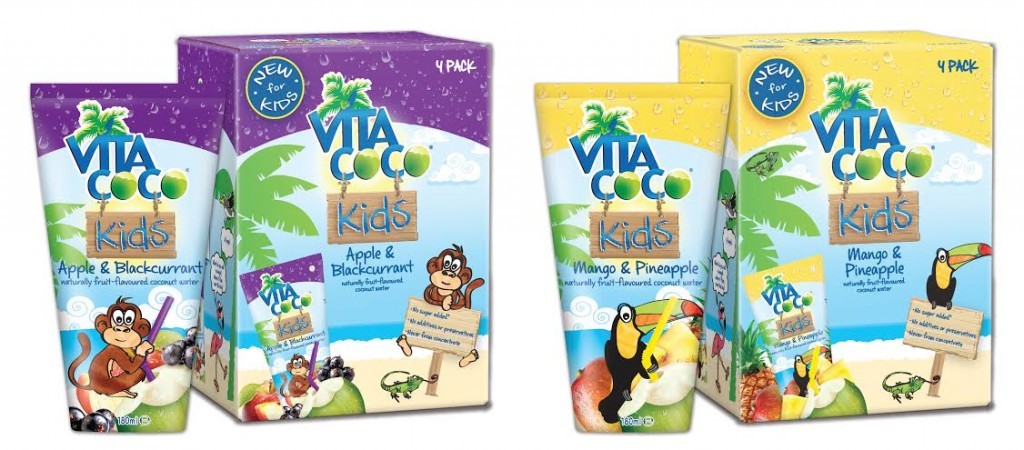 They have also launched something called the Sugar Maze with nutritionist Amanda Hamilton, which is a simple but very effective way to work out what choices to make when choosing what drinks to offer your children. It helps to take some of the confusion out of what is the right choice in terms of sugar. You can more about that here
It is good to know there are lower sugar, no added nasties, drinks out there, that taste good, and that we can have the option of a juice drink for our kids (or ourselves) that is a better choice. In the minefield of working out what we should and shouldn't let our children eat and drink, it's nice to have something we feel confident in. Vita Coco Kids gets the big thumbs up from the kids and the adults in the Mad House of Cats & Babies.