This is the blog post where I share a confession and talk about waxing my legs…
Summer is on it's way, it's time to think about summer clothes, and getting my legs in shape for warmer weather. Little Man and I are also starting swimming classes for him, next week, at the local pool, and in the back of my head I have had a mental to do around, ahem, deforesting my wintery legs. I get lazy over the winter, and don't make much effort, seems a bit pointless when your legs are hidden under tights and warm clothes, doesn't it?
So when I was asked recently if I would like to try out some Veet products, I rather enthusiastically said yes. I hate shaving my legs, but to be honest, it's the "easiest" option. I haven't waxed my legs since I was at school, a LONG time ago. I was trying out for the school swimming team, and my  friends and I decided we needed to wax our legs to prepare for this. We bought an enormous tub of wax and some strips in a kit, and set about trying to use it. We overheated the wax, which then melted all over the microwave in the prefects kitchen, and then we actually tried to apply the stuff, it was too hot. When we finally did get it together enough to apply the wax properly, and attempt to remove hair, it HURT and was messy. I distinctly remember screeching as my best friend rather gleefully ripped the strips off my legs.
However, waxing products have come a long way, thankfully and now there is a rather clever roll on system that it much easier to use, less fuss and definitely suitable for people like me with slightly bad memories of teenage waxing exploits.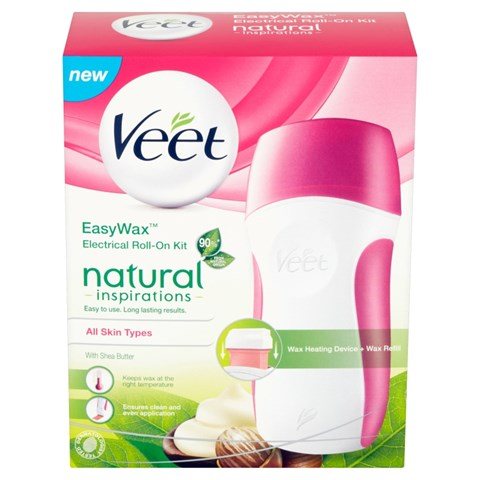 Veet Easy Wax Electrical Roll on kit.
• 90%* from natural origin
• With shea butter of natural origin

• Keeps wax at the right temperature
• Ensures clean and even application

• Easy to use. Long lasting results

• Dermatologist tested
This clever device has the wax in a special pack, that is heated up, to the correct temperature, and then you use the clever roll on end to evenly roll the wax onto the area you want to remove hair from. You apply the strip, following the very clear instructions and then pull the strip off, and the hair comes too.
It's SO easy to use. It does take about 20 minutes or so to heat up the wax, but I just plugged it in, set the timer on my phone to remind me, and pottered about doing other things whilst I waited.
The instructions are clear and easy to follow. It is recommended that you exfoliate your skin 24 hours prior to waxing, which I did, and also that you make sure you have no oily skin products or moisturisers on the skin you are waxing, because the wax will not adhere to your skin and be able to remove the hair.
I have to say, I was impressed on all counts.
It's fuss free, and easy to set up and use. The wax is heated to the right temperature, so there is no worry about bringing yourself (and it keeps warm for 15 minutes after your turn the heater off, or you can keep it heating, it will stop heating once it reaches the temperature it should be to work) so it's much safer than heating your own wax. The roller application is brilliant because it distributes the wax you need evenly, so there is no messing about spreading wax with a spatula to try and get it even. The strips are a good size and easy to put on and pull off and the most important thing for me was that it didn't actually hurt too much and it removed all the hair from the area I wanted. You can reapply the strip to catch and remove any straggling hairs, but I didn't have to. There are special wipes in the packet the kit comes with to remove any traces of wax when you are finished treating the areas you need.
Yes, I know, ew, hair, but it really does show you how efficient the wax and strips are at removing hair and making your legs smooth.
I'm really very impressed with this product and the results. I was a little worried that waxing my legs would be a bit harsh on my skin, which tends to be a little sensitive but was delighted to find that I didn't need to worry. My legs feel smooth and the results are supposed to last much longer than shaving, so I am pretty delighted.
So that's me set for the summer and swimming lessons. Now if Veet could just make the weather perfect so I can actually wear my shorts….
*this is a collaborative post*